So, we're out of the Confederations Cup. Two draws and a one goal loss against Germany, Chile and Cameroon rated three, four and 32 respectively against our plucky 48.
It was better than some of us could have hoped for, and to be fair to Ange – he talked up our prospects and got the players to buy into the dream, and the system – notwithstanding the doubts of many (including me).
Ange was disappointed that we didn't get out of the group – "shattered" he said, while most of the rest of us were feeling a blend of relief and pride: relief that we hadn't been embarrassed and pride for a team that had regained the traditional Aussie fight, mixed it with a bit of skill and strategy, and matched it with the big boys. Just a little more quality or luck could have seen us in the semis.
Ange is beginning to see results in his new system.
I have certainly been critical of the system so far, but not the system itself – critical of the fact that it didn't seem to suit our players and was therefore exposing us wide at the back. I do not resile from those comments, however I have to agree that the performance against Chile was a major step forward.
So what was different?
Two things: the personnel and the press.
The three at the back included guys who know how to play in the wide fullback role. All of Milligan, Sainsbury and Ryan McGowan have played plenty of times as fullbacks in a four at the back system as well as in central defence. They knew when and how to slide and to close the space and were far more mobile than the previous trios. They all had strong games but Milligan and Sainsbury were two of the best on the pitch.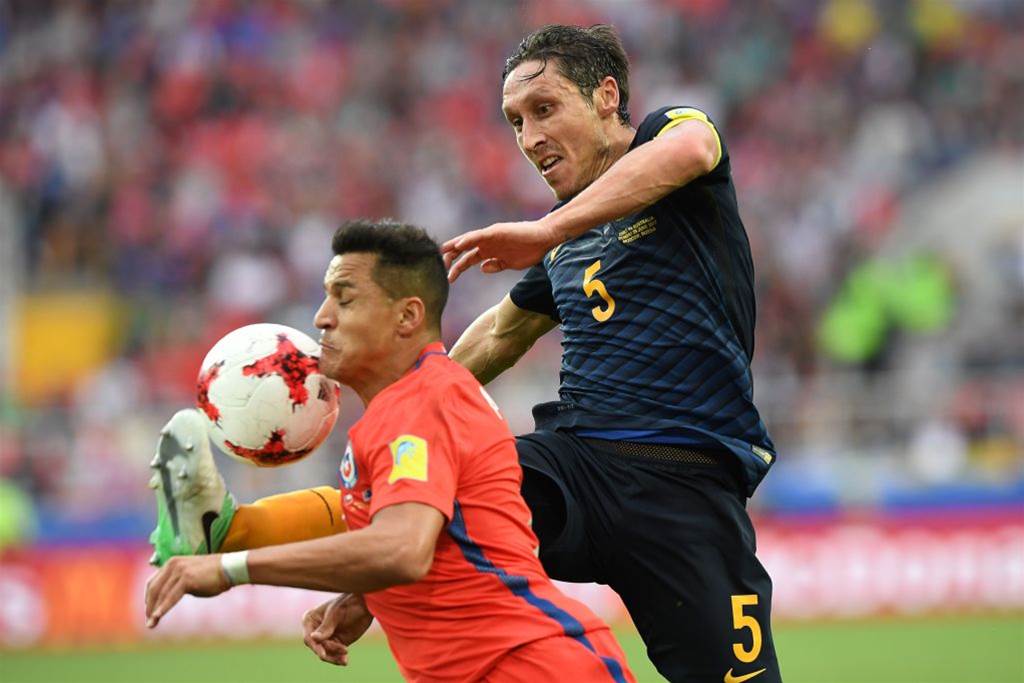 In front of them were Irvine and Luongo. Luongo had a good first half but tended to lose possession in the second, which could have cost us. Irvine, though, has found his spot. That was an exceptional performance and I hope to see him next to Mooy in future line-ups. If Mile Jedinak is to fight his way back into the team it can only be as the centre of a back three with Sainsbury and Milligan either side.
I was surprised to see Alex Gersbach lose his spot as left wingback after his performance against Cameroon. Behich did well enough (except losing the header for the goal) but Gersbach gives us a lot more going forward – taller and faster also.
One of the more pleasantly surprising aspects of the Chile game was Robbie Kruse. I always find him such a frustrating player to watch – never seems to trust his speed enough to get around defenders but tries to take them on with sleight of foot that he doesn't quite have. And so wasteful in front of goal! He missed his usual couple of chances against Chile but he defended really well. Maybe there is a future there for him, but I would prefer Rhyan Grant be given a go. Much better engines, much better defender and a very decent hitter of crosses.
James Troisi was MOTM against Chile and what a game he had – you'd almost think he was playing for a contract somewhere! Timmy Cahill also rolled back the clock with a far more effective performance in a deeper role. He can get isolated when playing by himself – even though he is capable of scoring important goals – you tend to forget that he made his name at Everton as an attacking midfielder and that's where he was against Chile. He did well enough to convince me he will be on the plane back to Russia should we get there.
Because that is still by no means in the bag. With the team dispersed and on holiday they will lose the sharpness and understanding they've developed over the last few weeks. Coming back to a crunch match in Japan could put the uncertainty back into their hearts (and legs) and you just know it'll be a white-knuckle ride in Saitama.
I'm still not convinced about Tomi Juric. He did reasonably well in the tournament but he's a long way from being the lethal predator that a top side needs. I seriously wouldn't mind seeing Tom Rogic get a go up front. Or Troisi.
Jamie Maclaren needs further opportunities to get his confidence up at this level. He did at least make some very dangerous runs when he came on so if the team can learn to spot his runs and he can relax enough to finish off the chances, that may be a good option going forward.
I think therefore that our best team right now would be:
Ryan/Langerak
Sainsbury   Jedinak   Milligan
Mooy   Irvine
Grant                                                   Gersbach
Rogic               Troisi
 Juric
This side does give me confidence – especially using the highly organised press that Australia implemented so well against Chile. We never stopped getting in Chile's faces but the key was the co-ordination. Previous attempts to press (with the three at the back system) saw too many players going one out – or just one line pressing – leaving holes when the opposition beat the first defender.
Chile saw us pressing in a unit and expertly cutting the supply lines to the playmakers. Troisi in particular was excellent at stopping the ball getting to the Chilean midfielders in space and therefore obliging a long ball that we had a fair chance of winning back. It was the closing of channels without the ball as much as what we did with the ball that made this performance so effective.
And credit for that has to go to Ange and his staff. The three at the back system is so reliant on the players understanding their roles and getting the press right because it is effectively asking three players to do the work of four; five players to do the work of six; seven players to do the work of nine. If you get that right you will seem to outnumber the other team when you win possession. You will also be able to afford more attacking players up front to take advantage of possession (although they also have pressing duties).
So in the end, I would call this a successful tournament. Goodish results against very good teams and a clear evolution in playing style that is starting to pay off.
Well done Ange. You've thrashed John the Pragmatist.
For now.
Adrian's latest book Political Football: Lawrie McKinna's Dangerous Truth is in the shops right now or available through Booktopia. Adrian also wrote Mr Cleansheets.