It's a tale of two seasons. The joy of victory, swiftly followed by the agony of defeat. Leicester has become the poster child for the cruel swing in form that football can deliver. As the 2017 season opener beckons, every A-League team has been remade. But are the recipes there for success or failure?
Can Sydney FC repeat last season's feat? Or does their destiny lie elsewhere? Perhaps Newcastle, chastened by the wooden spoon, will spark a Leicester-like revival? What are the ingredients that could drive your club to the top? Or are the off-season changes going to be the ones your coach rues come May?
The A-League, just like Leicester, can be unpredictable. So just like the Leicester of old, here is how your club could win this year's championship OR - like the current Leicester - how they could lose it.
Sydney FC (2016/17 finish: 1st)
Last season's champions
Surprise Player: Andrew Redmayne - two-time A-League premiership winner and three-time championship winner.
Why They'll Win: Bernie Ibini was a crucial piece in Sydney's championship success last season. With Ibini now in the MLS, Charles Lokolingoy will take his place on the bench. Last year in the second tier of the NPL, Lokolingoy scored an incredible 27 goals from 25 matches. Then this season in the NPL - a significant step up - he still bagged seven. Lokolingoy's pace means it'll be like Ibini never left the club.
Why They'll Lose: No more Rhyan Grant means hello Luke Wilkshire. Grant was one of the most consistent performers in the A-League last season, culminating in a maiden call-up to the Socceroos squad. But he is out for the current campaign with an ACL injury. Now 36-year-old Wilkshire has been called up to take his place despite just 12 games in the 2016-17 season. His age and potential vulnerability could be a major contributor to a Sydney FC downfall.
Melbourne Victory (2016/17 finish: second)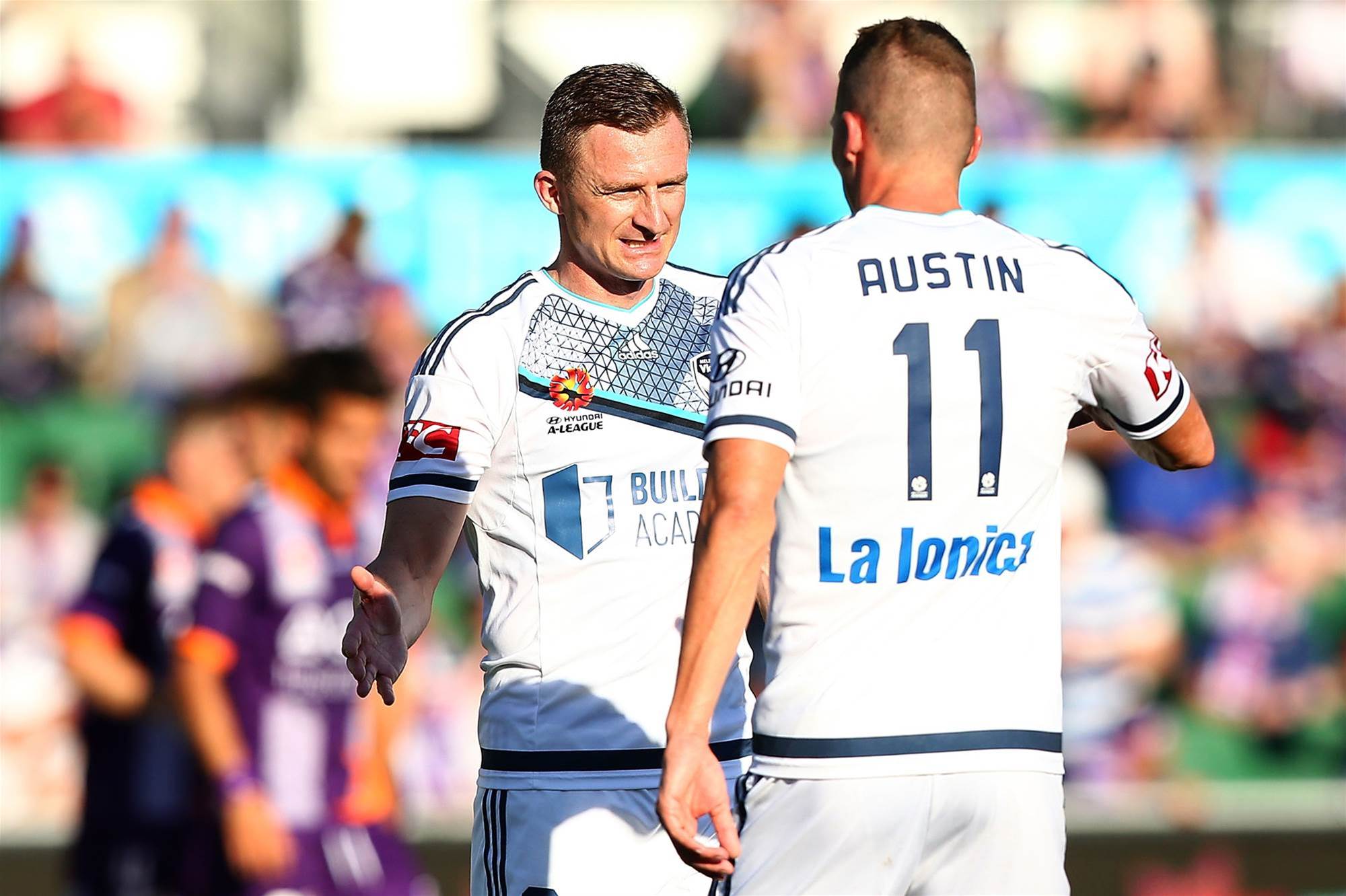 Key players for Victory - Besart Berisha and Mitch Austin
Surprise Player: Mitch Austin - He scored eight goals last season along with 12 shot assists.
Why they'll win: An extremely talented and competitive squad. Up front is three-time A-League championship winner Bersart Berisha plus the likes of Kostas Barbarouses and Mitch Austin. In the middle is marquee-man Mark Milligan joined by James Troisi and captain Carl Valeri. At the back there is Socceroo Rhys Williams and the young but talented duo of Thomas Deng and Jason Geria. With more players to be added before the season starts, the Victory will be extremely confident in going one better this season.
Why they'll lose: Bersart Berisha. While he could easily win Melbourne the championship this season, he could just as easily lose it for them in a moment of madness. With four career red cards and a history of not taking a step back and playing aggressively his tendency to be feisty and milk penalties could potentially cost the Victory big this season.
Brisbane Roar (2016/17 finish: 3rd)
Surprise Player: Corey Gameiro - Was a member of the Fulham team from 2011-2013.
Why They'll Win: John Aloisi. With two A-League championships, an NSL championship and an A-League premiership as well as being a constant feature in the Socceroos, he could be the Roar's magic ingredient. Yet to win anything as a manager and following a terrible first outing at the helm of the Melbourne Heart, his team struggled with injuries. Now at Brisbane he is looking for his first success and will be ably backed by key veterans including Michael Theo, Jade North, Matt McKay and Brett Holman. Aloisi's experience and his desire to prove himself as a winning manager make Brisbane a real dark horse to take out the title this season.
Why They'll Lose: Marquee player Massimo Maccarone. At 38 years of age his career has been patchy, scoring only two goals in 18 games for Palermo and just six goals in 38 attempts for Sampdoria. With him as striker Brisbane could struggle up front which would severely hinder their attack. The move to make him their marquee player is a real head-scratcher from Brisbane and goes strongly against its (namely ex-coach's Ange Postecoglou's) reliance on youth.