Would this year's Rabbitohs beat the club's last minor premiers?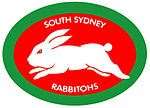 With the South Sydney Rabbitohs looking like good things for the 2013 National Rugby League minor premiership, we thought it would be fun to ask the question: would this year's team beat the club's last minor premiers, the outfit which graced Sydney's fields back in 1989?
The 2013 boys have a bye this week, then there's eight more games ahead of them in which to keep the rampaging Sydney Roosters (26 points) and defending premiers the Melbourne Storm (25) at bay to secure the JJ Giltinan Shield (which used to be the actual premiership trophy once upon a time).
The 1989 Rabbitohs won 18 games, lost just three and drew one, finishing with 37 competition points from 22 matches. They scored 390 points and had 207 scored against them for a differential of +183. This year's squad is well and truly keeping up with the '89 side, boasting a points "diff" of +194.
Would the likes of Greg Inglis, Adam Reynolds, Sam Burgess and Nathan Merritt be able to handle blasts from the past Bronko Djura, Phil Blake, Craig Coleman, Jim Serdaris and Graham Lyons? As well, would current coach Michael McGuire be able to outsmart the most Rabbitoh of all Rabbitoh coaches, George Piggins, who guided the '89 Bunnies around?
One thing all Rabbitohs fans are hoping for in 2013 is that their side does not mimic the club's semi-finals performance of '89 – the Bunnies were knocked out in straight sets by Balmain (20-10) and ultimately by eventual premiers that year, the Canberra Raiders, 32-16 at the Sydney Football Stadium.
To be fair to the current squad, that '89 outfit didn't have to contend with the likes of today's star-studded Storm, or a bloke called Sonny Bill, but there were football gods the likes of Wally Lewis and Peter Sterling roaming the Earth, so we'll call it even …