It's our BUMPER World Cup issue and it's on sale NOW... you can't afford to miss this one!
This is probably our GREATEST World Cup issue ever – and we've put together some crackers in the past.
But before we even look inside the mag, look what you get in this bundle!
There's the mag, of course – but we've also got a BONUS 68-page World Cup guide, with in-depth analysis of EVERY nation taking part (and a special focus on Australia, naturally!)
And there's also the inevitable Panini sticker album (got, got, NEED!) plus a packet of stickers, a shiny gold Socceroos trading card PLUS a sheet of exclusive Socceroos stickers too.
But we've ALSO got a massive World Cup wallchart so you can follow every game and every result every day of the tournament. Look, I know we're biased, but this is BLOODY AMAZING!
And then there's the mag itself.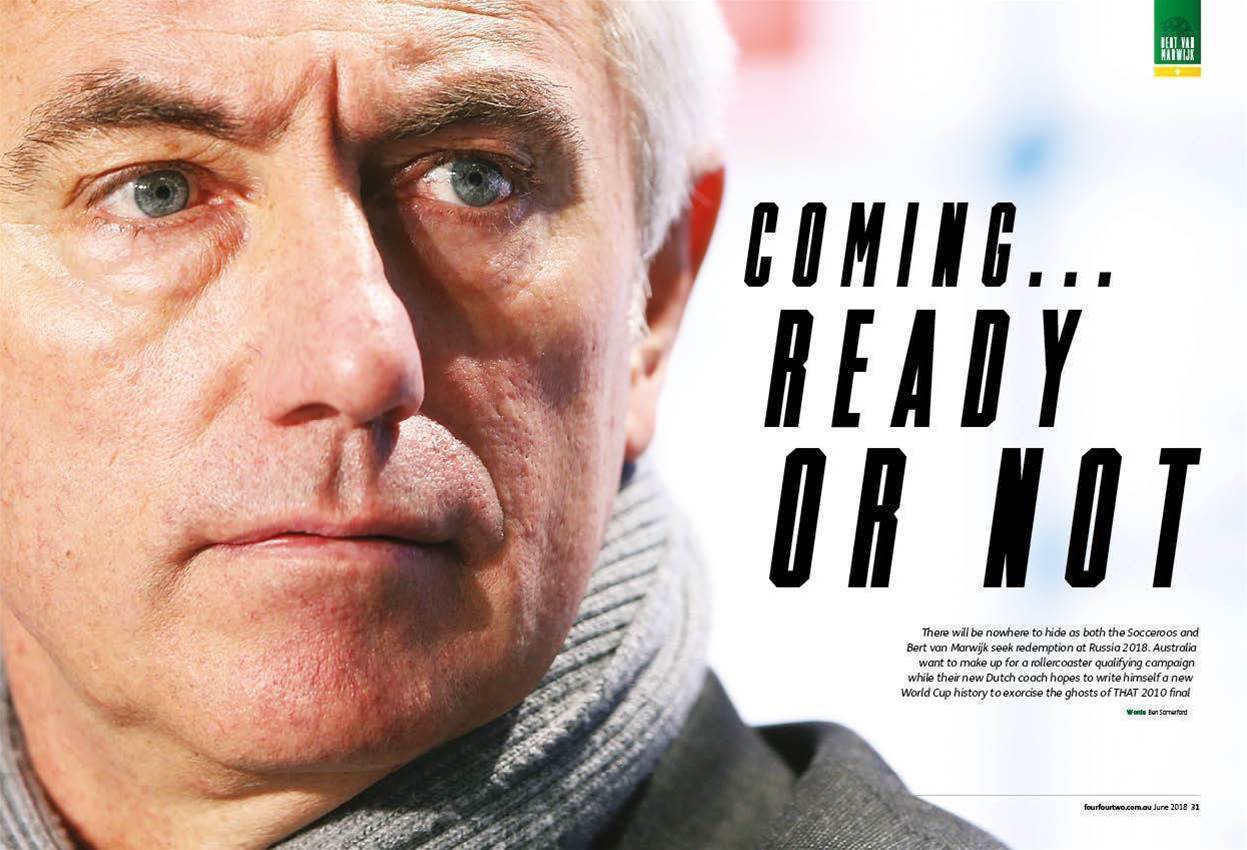 We've got the BEST exclusive chat with new Socceroos boss Bert van Marwijk - who he is, where he came from, what he's done and what his mission is and how he'll carry it out with Australia.
Plus we analyse the five Roos with a point to prove in Russia – and we also look at Ange Postecoglou's legacy after four years in charge. What did he achieve and what's he left Bert and incoming new coach Arnie?
We also pull apart our World Cup group stage rival France, Denmark and Peru - what are their strengths and weakness and how do we hurt them without hurting ourselves? Find out in the new mag.
And we go on the road with global green and gold army, meeting the fans who have travelled the world supporting the Socceroos at World Cups past – and the scrapes they found themselves in, not to mention the amazing memories.
We also give you the low down on Russia and the cities the Roos will be playing in and a quick survival guide to the local lingo. Vy slepi referi???
And we ask the big stars of Russia 2018 who will be the new icon of this World Cup? Will it be Kane, Neymar, Messi or Ronaldo? Read it and find out...
Plus we chat one on one to Luke Wilkshire about his life in Moscow and as a Socceroo – and how he fell out of favour when Ange came in...
Melbourne Victory's Besart Berisha tells us about his Greatest Goal (you might well remember this one!) and Con Boutsianis looks back on his career At The End Of The Day, while Clint Bolton picks his Perfect XI, and we meet Chris Ikonomidis's best mate.
All that and so much more, you'll struggle to carry this issue it's got so much in it! Get it now - on sale in newsagents right now!