Former Head of the A-League, Archie Fraser, runs the rule over the 10 successful shortlisted bidders for expansion and gives his verdict on which two teams will make the final cut.
NSW
South West Sydney
The geographic representation heads as far south as Bowral, including Campbelltown while also taking in Bankstown, Liverpool and Fairfield – where former NSL clubs Marconi Stallions and Sydney United also reside.
The bid is also proposing to take advantage of the expected population boom and location of the second Sydney airport at Badgerys Creek.
The area has been a nursery for Socceroos and Matildas with former national team player and Sydney FC star Nick Carle backing the bid.
Archie Fraser's Verdict:  Too close to the Western Sydney Wanderers.
United for Macarthur (Sydney)
Backed by Campbelltown City Council, the team plan to play out of 20,000 capacity Campbelltown Sports Stadium which in the past has hosted a number of Sydney FC and Western Sydney Wanderers matches.
One of the bid's most high profile supporters is Brett Emerton who grew up and played his youth football in the region.
Archie Fraser's Verdict: Backed by businessman Lang Walker who is heavily invested in the area long-term and no doubt will surround himself with people that can make it happen.
Southern Expansion (Sydney region)
The highest profile of the NSW teams with SBS presenter and ex Socceroo Craig Foster, Liverpool star Craig Johnston and former NSW Premier Morris Iemma behind the bid.
Many see the three regions the bid encompasses as its main issue and it has resulted in a war of words with Sydney FC.
Sky Blues Chairman Scott Barlow described the model as "deeply flawed" claiming it would cannibalise his team's support as 32 % of their fans come from the St George and Sutherland Shire area.
Archie Fraser's verdict: Football is tribal if you are going to build a team you need to give the fans something to follow. You have to be decisive in what you are and what you stand for and make it work in one location rather than being in two or three regions. I just don't think this will work.
Wollongong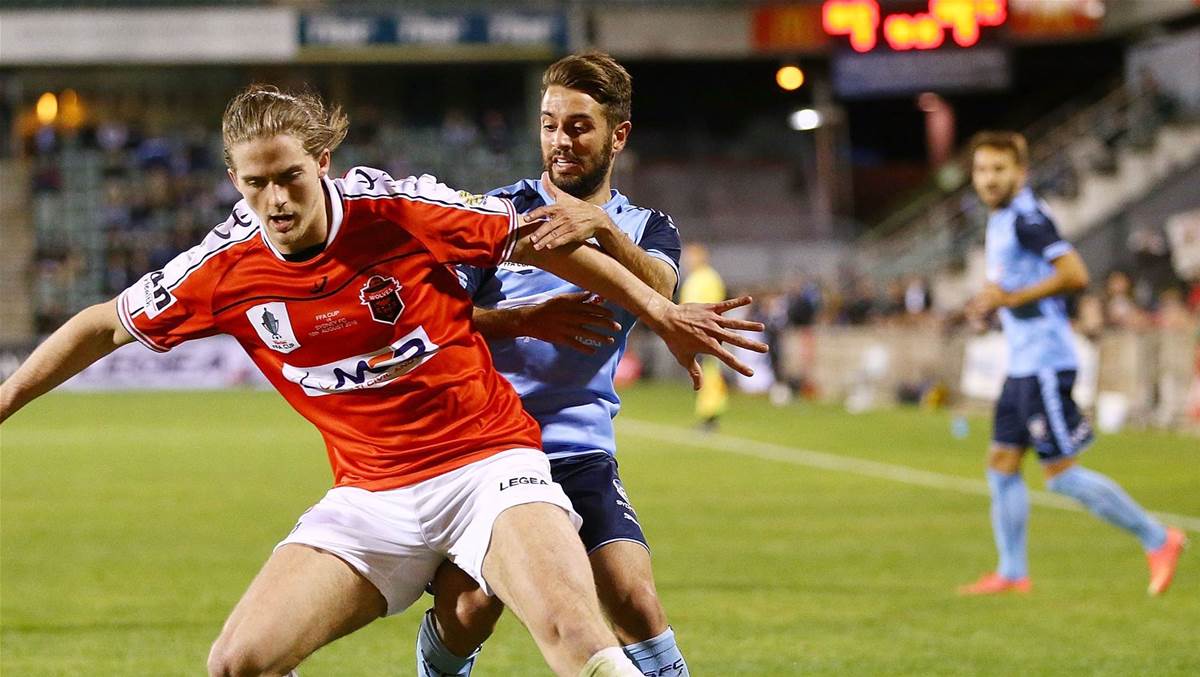 The former NSL club have the best supporters group name of all the A-League aspirants who go by 'The WOLFPACK'.
In a major boost for the bid, spokesperson and former Socceroos defender Luke Wilshire recently announced that Football South Coast have declared their support for the standalone A-League expansion team.
Archie Fraser's Verdict: At least they want to play out of the one stadium. The history with Wollongong means they are worthy of serious consideration.
Have a good story to tell and can invigorate the town and football in an area that has always had a really strong football culture.  But might get rolled by Canberra if we go regional. Not this time.
ACT
Canberra & Capital Region
Australia is the only country with a football league that doesn't have a team in their capital city.
With backing of former Socceroo and Sydney Olympic defender Andy Bernal, Canberra are looking to the club model of the German Bundesliga which has fans owning a controlling stake in the team.
Archie Fraser's Verdict:. FFA should fund it as this would repay 100 times over the infrastructure invested in the game nationally. Therefore, unlikely it will happen as that is too strategic. Might not get it this time but will be high up the rankings next time.
Victoria
Team 11 (Melbourne)
The geographic area is based in south-east of Victoria with a population base of over of 1.5 million people and more than 22,000 registered football players.
The bid is backed and run by the Greater Dandenong, City of Casey and Cardinia Shire councils.
Businessman Gerry Ryan of Jayco Caravans - who previously had stakes in Queensland Roar and Melbourne City - has pledged to financially support the club.
Archie Fraser's Verdict: There is not much that Gerry touches that doesn't work well. It wouldn't surprise me if this got up. Maybe needs a little extra sizzle as it is coming from a standing start. But region is expanding and local councils are behind this bid.
South Melbourne
The former NSL powerhouse has its own stadium, Government support, a passionate supporter base, a social club, Futsal centre and an administrative headquarters.
It also has a strong track record in youth development and a coaching structure that sees the club running a schools programs that is the largest provider of football programs in Victoria.
Archie Fraser's Verdict: It would solve FFA issues with the Asian Football Confederation (AFC) and FIFA if South Melbourne replaced Wellington in the A-League as Wellington Phoenix are not a club within the AFC.
It's not a franchise or a made up brand, it is a club with fans, followers and 59 years of football knowledge and history.  
Western Melbourne Group
Wyndham Council is backing the bid by providing them land in Tarneit - 25km west of the Melbourne CBD where they are proposing to build a 15,000-seat football-specific venue.
Formerly Geelong Patriots the bid has some big names in football and finance including Steve Horvat (Former Socceroo), Lou Sticca (Tribal Sports Group), Tania Orr (KPMG Director, Infrastructure and Projects) and Andrew Zinni (Construction Director Probuild, Former Socceroo).
Archie Fraser's verdict: These are the best drawings I've ever seen. Magnificent social and paid media campaign and it is great to see this sort of thinking in football again. 
Geelong standalone bid would have been a better option for me this time. Ambitious plan, but for next time round. 
Queensland
Brisbane City FC
The former NSL club is nicknamed 'the Gladiators' and plans to play out of Ballymore Stadium and has secured approval by council for refurbishment
The club is currently coached by former Socceroo and A-League mentor John Kosmina with ex Brisbane Roar star Thomas Broich planning to assist with coaching the club's NPL and youth academy teams.
Archie Fraser's Verdict: - Long-time great club with NSL history and good people. A long shot as I don't believe Queensland will get one of two spots, maybe next time round.
Ipswich Pride FC
The second Queensland team is another of the clubs that sits within a population growth area with estimates of 435,000 people living in the region within the next 15 years.
19 Socceroos have come from the area including the first ever Alex Gibb, With no direct connection to the city of Brisbane its sees itself as ready-made rivals to the Roar.
There are also plans to redevelop their home ground North Ipswich reserve.
Archie Fraser's Verdict: Not this time round. 
Archie Fraser's verdict on the two teams for A-League Expansion 
South Melbourne
Established Club with a structure and stadium already in place. It would be proof and a case study for FFA that existing clubs could step up and what the process and criteria would be for this to happen in the future.
It is a low risk strategy, it delivers more local derbies and therefore more interesting content for broadcasters, FFA and the A-League brand.

Macarthur 
Growing region of Sydney. More local derbies, Low cost to produce for broadcasters as its capital city based.
Low risk as this is the FFA existing model; find a multi-millionaire who can fund a club from scratch and hope he gets it right.