Australia are heading into the Word Cup in hotter form than the 2014 winners and top-ranked team, Germany.
Japan's 4-2 win over Paraguay in Austria this week heralded the conclusion of the World Cup warm-up friendlies that have taken part around the globe over the past few weeks.

So we've crunched the numbers and constructed a full form table for all 32 nations at the tournament, taking into account each team's last six results - which is, conveniently, the same amount of matches that it takes to reach a World Cup final.
Popovic: How Roos can shock France!

Courtesy of their back-to-back wins since arriving in Europe, the Socceroos sit in 12th, above the likes of Germany, European champions Portugal and Group C rivals Denmark.

Denmark appear set to be hard to break down, though - their defence has let in just one goal in six games, a record matched only by Peru and Brazil.
Brazil are in top form heading into the World Cup

Brazil are in the finest form - Tite's team have warmed up with victories over Croatia and Austria in the last fortnight and, for all their talent up top, are also on a run of five straight clean sheets. Peru match their fellow South Americans for results, but drew their final friendly, 0-0 against Sweden, last weekend.

The signs are that the Swedes' matches won't be the most enthralling to watch - they've arrived in Russia on the back of two consecutive goalless draws and three in their last six matches, scoring just twice over that period.

Conversely, Argentina's Group D clash with Iceland on Saturday night demands your attention - they are both, on current form, the great entertainers, with Argentina's last six fixtures peppered with 24 goals, and Iceland's bringing about 23.

European nations have won the last three tournaments and, thanks in no small part to Romelu Lukaku's red-hot scoring streak of eight goals in four wins and two draws, Belgium are the continent's form side. They sit fourth in the table behind North Africans Morocco.

Mohamed Salah returned to training yesterday and Egypt need their talisman fit to play as soon as possible - the Pharaohs have mustered just three goals and are winless in their last six.

Hosts Russia, the lowest-ranked team in the tournament, are also in the worst form. They have won just two of their last eleven fixtures, against South Korea and New Zealand.
The big surprise is to find Germany beginning the tournament in such tepid form, given they won all 10 of their World Cup qualifiers. They sought sterner tests in their final preparations for Russia, only to draw with England, France and Spain and lose to Brazil and neighbours Austria.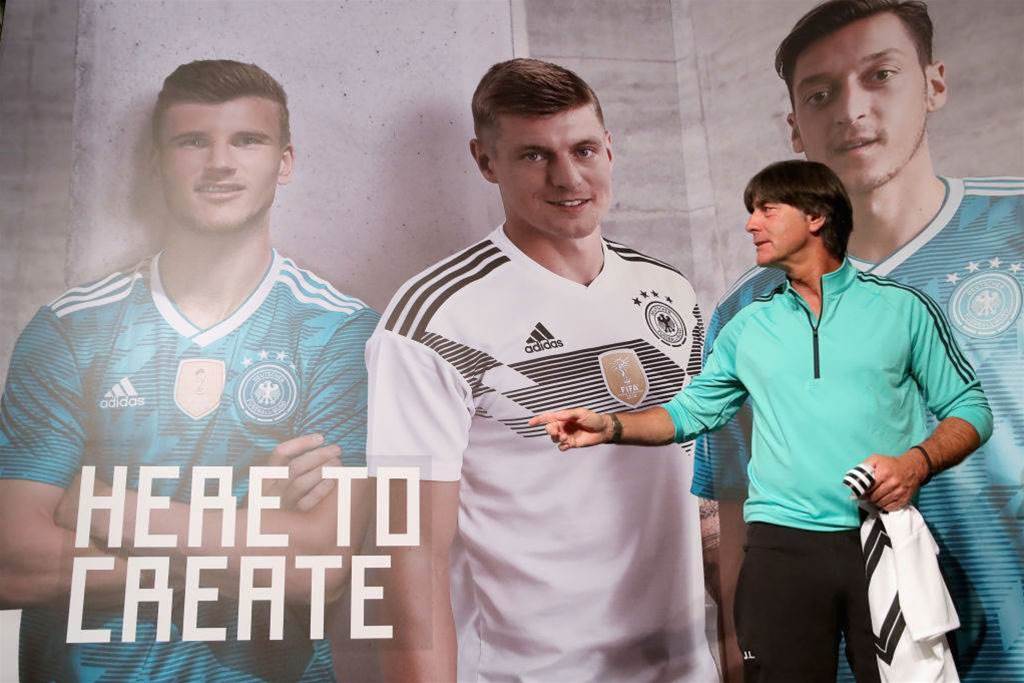 Joachim Low, head coach of Germany, looks on after the Germany press conference

They will hope they're saving their best for the tournament. It starts tonight.
The full table:
1 Brazil (WDWWWW) - W5 D1 L0 Pts16 G12 A1 GD+11
2 Peru (WWWWWD) - W5 D1 L0 Pts16 G12 A1 GD+11
3 Morocco (WWWDWW) - W5 D1 L0 Pts16 G11 A3 GD+8
4 Belgium (DWWDWW) - W4 D2 L0 Pts14 G15 A4 GD+11
5 Switzerland (WDWWDW) - W4 D2 L0 Pts14 G11 A1 GD+10
6 Uruguay (WDLWWW) - W4 D1 L1 Pts13 G11 A4 GD+7
7 Spain (WDDWDW) - W3 D3 L0 Pts12 G17 A6 GD+11
8 Iran (WLWWLW) - W4 D0 L2 Pts12 G8 A4 GD+4
9 England (DDWDWW) - W3 D3 L0 Pts12 G6 A2 GD+4
10 Argentina (WWLWLW) - W4 D0 L2 Pts12 G13 A11 GD+2
11 France (DLWWWD) - W3 D2 L1 Pts11 G13 A8 GD+5
12 Australia (DWLDWW) - W3 D2 L1 Pts11 G10 A6 GD+4
13 Serbia (WDLWLW) Pts10 W3 D1 L2 G11 A5 GD+6
14 Denmark (DDWDDW) - W2 D4 L0 Pts10 G4 A1 GD+3
15 Mexico (WWLDWL) - W3 D1 L2 Pts10 G5 A3 GD+2
16 Croatia (WDLWLW) - W3 D1 L2 Pts10 G7 A7 GD0
17 Colombia (DLWWDD) - W2 D3 L1 Pts9 G9 A5 GD+4
18 Senegal (WDDDLW) - W2 D3 L1 Pts9 G6 A4 GD+2
19 Portugal (DWLDDW) - W2 D3 L1 Pts9 G8 A7 GD-1
20 Tunisia (DWWDDL) - W2 D3 L1 Pts9 G6 A5 GD-1
21 Poland (DLLWDW) - W2 D2 L2 Pts8 G9 A6 GD+3
22 Nigeria (WWLDLL) - W2 D1 L3 Pts7 G7 A8 GD-1
23 Germany (DDDLLW) - W1 D3 L2 Pts6 G6 A7 GD-1
24 Costa Rica (LWLWLL) Pts6 W2 D0 L4 G5 A8 GD-3
25 Saudi Arabia (LWWLLL) Pts6 G6 A11 GD-5
26 Panama (DLLWDL) - W1 D2 L3 Pts5 G2 A9 GD-7
27 Sweden (DDLLDD) - W0 D2 L2 Pts4 G2 A4 GD-2
28 South Korea (LLWLDL) - W1 D1 L4 Pts4 G6 A10 GD-4
29 Japan (LDLLLW) - W1 D1 L4 Pts4 G7 A13 GD-6
30 Iceland (DWLLLD) - W1 D2 L3 Pts3 G10 A13 GD-2
31 Egypt (DLLDDL) Pts3 G3 A5 GD-2
32 Russia (LDLLLD) - W0 D2 L4 Pts2 G5 A12 GD-12

*points allocated merely for the purposes of organising the table.