Bit stiff from sitting at a desk all day? Try this simple cat stretch - it's safe, easy and can be performed anywhere.
Got a fitness question? Our fitness coach is here to help. Stop by each week for valuable training tips and if you have a question for Amy, just use the form below.
Hi Amy,

I have a desk job and I find my back gets really sore and stiff during the day. Can you recommend any easy back stretches I can do as a warm up before hitting the gym.

Michael, Surry Hills
Hi Michael,
There are two schools of thought on pre-workout stretching. Our muscles shorten during exercise which puts strain on our joints. Some believe that by lengthening muscles through stretching, prior to shortening them through exercise, you're actually creating additional stress on the joint.  However others (myself included) believe that we need to warm up our bodies correctly before any exercise and always stretch and cool down correctly.
While you are at your desk all day, your body is, on a whole, inactive with the front of your body in a flexed, or bent forward state.  This means those muscles in the front of your body are shortening while the opposing muscles at the back of your body are lengthening.
So while I will give you some back stretching exercises I would also recommend stretching the opposing muscle groups to essentially 'even yourself out' prior to exercise, or putting your muscles and joints under additional load.
You can stretch your back a few ways.  A cat stretch is safe and easy and can be performed anywhere.  You kneel down with your knees directly beneath your hips and place your hands on the ground directly beneath your shoulders. Close the front of the body and tuck your chin so your back is rounded and your pelvis is tucked (photo 1) hold for a few breaths then arch your back and look towards the ceiling tilting your pelvis (photo 2) .  I found this stretch in Yoga and think it is wonderful as it is dynamic and stretches all the muscles in your back.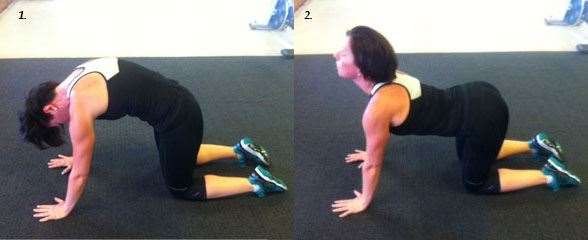 I would recommend close and wide grip rows, lat pulldowns and back extensions when you are working your back. You'll definitely need to get the back of the shoulders and your upper back working. I also suggest you stretch your chest at the end of each day if you are seated at a desk for prolonged periods.
HINT:  Don't forget the hip flexors while stretching!  I used to have a desk job too - but I spend a lot of time cycling now, so I am essentially still, in a forward-flexed state for long periods of time.  I found my hip flexors got tight again - so I now stretch them every day.
Amy Jones is a Sydney-based Personal Trainer and Fitness Instructor. She holds Cert III, Cert IV and Master Trainer qualifications from the Australian Institute of Fitness and teaches a range of class styles, from dance and freestyle aerobics to specialised strength and conditional programs, including core. She also specialises in bootcamps and tailored, individual fitness plans. Amy has a passion for nutrition, sports science, happiness and overall wellness through healthy living.
Got a fitness question? Then send it through using the form below.