"Some players think they are better than they are…and we lose games."
Markus Babbel's post-match comments summed it up fairly succinctly after his listless Wanderers side went down 3-1 at Central Coast Stadium in the penultimate game of a nightmare season for both sides.
Matt Simon was the hero for the Mariners, scoring two of their three goals – all of which came from set pieces.
There was time for a Mark Bridge consolation strike up the other end, as the retiring veteran struck his 63rd goal in 250 A-League games from the penalty spot.
A red card for an ugly Kye Rowles challenge was the only other blot on an otherwise joyous night for the home fans in Gosford, who celebrated just their third win of the campaign.
BEST
Matt Simon
Yes, he's a human battering ram with the first touch of a forklift. Yes, he has razor sharp elbows and is not afraid to deploy them. And yes, he may not appeal to your latte-sipping, ivory-tower, Cruyffian sensibilities, but for better or worse the man is the heart and soul of Central Coast, and he stood up and took this game by the scruff.
Defending from the front with dogged determination, Simon launched himself in the direction of every loose ball, and made a nuisance of himself to win the free kick from which the Mariners opened the scoring.
Pulling rank over Andrew Hoole and Jack Clisby on the dead ball, the "Wizard of Woy Woy" came off a ludicrously long run-up and leathered it in trademark fashion, through an anaemic Wanderers wall and past Jack Greenwood with the aid of a deflection.
Of course, he was also on hand to bury a penalty in much the same fashion. It's Matty Simon's world, and we're all just living in it.
Aiden O'Neill
With all due respect, the Olyroos midfielder looks destined for far bigger things than dead rubbers in front of the sauce bottles. The 20-year-old is still on the books of English Premier League outfit Burnley, and while the bright lights of the EPL might prove a step too far at this stage of his burgeoning career, he has already outgrown Gosford.
O'Neill has a bit of everything in his locker – work rate, technical ability, and real tenacity and steel in the middle of the park. It was all on show tonight, albeit against a pedestrian and disinterested opponent.
Alen Stajcic
The former Matildas manager hasn't reinvented the wheel since taking over as caretaker – he hasn't radically altered the style of football or even the personnel.
What he has done is pick these Mariners players off the scrap heap and imbue them with a sense of self-belief. Success will not come overnight for a club so serially under-resourced, but Stajcic has shown enough in his short reign to suggest he is right man to take the club forward. 
Whether the funds will be available to turn their fortunes around next season is another matter entirely.
WORST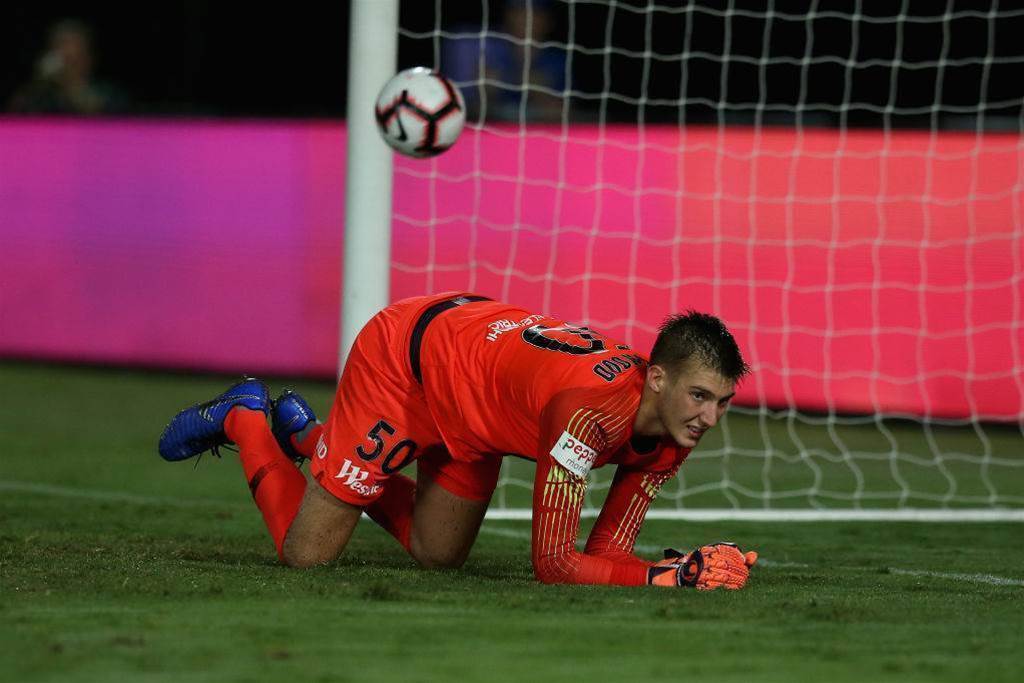 Kye Rowles
It seemed to be going oh so well for Kye Rowles – his first A-League goal, and heading for his first win in 28 A-League games. That was before he opted to launch himself two-footed, studs showing, straight at Alex Baumjohann's shins.
The German marquee was unhurt, and the Mariners ultimately emerged with a rare win regardless. But his red card left his team in the lurch, and more importantly showed a lack of respect for the safety and wellbeing of a fellow professional.
Roly Bonevacia
Virtually any of the Wanderers' underperforming midfield could've been singled out here, but it was nearly an hour into the contest when Bonevacia got a touch on the left wing, and this writer had to double-check whether he'd started the game or come on as a substitute.
Roly Bonevacia could dominate in this league, but he rarely seems to feel like it. An anonymous, lethargic performance from a visa player who is capable of so, so much more.
End of season dead rubbers
Don't get me wrong – this game delivered plenty of entertainment and many talking points. Several goals, a red card, two penalties, and a Matt Simon free kick is right in the A-League sweet spot.
This fixture, however, combative as it may have been, was plagued by the overarching feeling that none of it really matters – that it was all academic. The lack of stakes at play for teams already out of the finals race means the A-League regular season tends to peter out in its last few weeks, right when the competition should be coming to a climactic finish.
Promotion and relegation cannot come soon enough.
Copyright ©FTBL All rights reserved.