Australia striker Billy Konstantinidis talks to us about his more than a decade long career in Greece and his recent relegation heartbreak in Japan.
Konstantinidis first left Australia for Greece in 2004 as a 19-year-old and for over a decade has played for some of the country's biggest clubs such as Iraklis F.C and Aris Thessaloniki.
The 32-year-old is currently with Greek second division side Irodotos who are based on the picturesque island of Crete.
But prior to that Konstantinidis had a short stint playing in Japan with J-League club Ventforet Kofu which proved to be one of the more memorable moments in his 14 year career.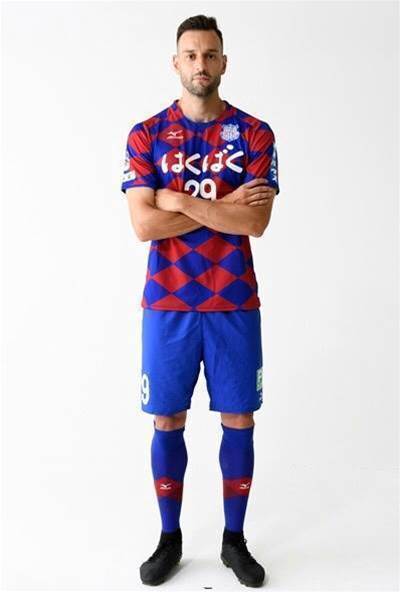 "I was involved with some incredible scenes and what happened was just ridiculous to be honest," he told FTBL.
"I got transferred over there in the last third of the season for the remaining nine matches after Japanese scouts saw me play with Veria FC who at the time were in the Superleague in Greece.
"They were in search of a striker to score some goals for the club and possibly help their situation which was to avoid relegation
"Everything was riding on the last game. We scored a goal in the last minute and we thought we were going to remain in J1.
"But unfortunately results in the other games didn't go our way and we got relegated which was a bit of a bummer.
"It was a packed house in front of 70,0000 people and everyone was crying."
Now back in Greece, Konstantinidis is enjoying the setting of his current club but revealed that playing in Japan is unlike anything else he has experienced.
"The respect between each other and the customs they have is just incredible, and football wise it's at an elite level," he said.
"Their attitude was very positive from first game to the last game. Every game you play is in front of thousands of fans who encourage the team.
"You are obliged here in Greece to win three points whereas in Japan even if we lost a few games we still made a victory lap and the fans still cheered for us."
A number of Aussies who have tried their luck in Greece have come back home after facing challenges on and off field.
But Konstantinidis says his longevity is down to having a strong mentality.
"What I've managed to achieve in Greece has come from my attitude," he said.
"Greece is not a country that is forgiving in terms of your performance. They are not going to say, 'Well done' after you play.
"In Australia there is a very supportive environment.
"However in Greece you are under a lot pressure to perform and if you don't, unfortunately you are going to hear about it from the fans.
"It's very raw environment and you have to dig deep inside you to say, 'I don't care, I'm blocking these things out – I'm going to keep going forward and keep continuing,"
Copyright ©FTBL All rights reserved.