Ambitious Canberra talent Jacob Quinn, 17, has signed for English club Sutton United and will join the national league club's academy this July.
The teenager will move by himself to England as he sets out on a path he hopes one day will take him all the way to the Premier League.
Quinn is English-born and raised, but also lived in Spain as a child where he played in the junior set up at Spanish Segunda Division outfit Malaga.
"When I went to school in Spain all we'd do is play on the streets," Quinn told FTBL during a break from his Year 12 studies at  St Francis Xavier in the capital. 
"I love watching Iker Casillas play and as I'm a Manchester City fan, I loved watching Joe Hart. But now I look up to Ederson, the City goalkeeper."
Since arriving in Canberra as a nine-year-old, and after moving from striker to between the sticks, the keeper has caught the eye representing ACT each year at the nationals. 
As an example of the difficulties for young players getting A-League opportunities, Quinn briefly trialed with Central Coast Mariners late last year but nothing came of that.
And with no A-League club in Canberra, options are limited.
Luckily, the Canberra and Capital Region A-League bid has extensive overseas connections and after Quinn reached out, an agent in Asia got involved.
And soon former Wimbledon player-turned-football consultant Dean Holdsworth was on the case.
From that, the youngster trained late last year at Sutton – a semi-pro club – and after a couple of days impressed enough to sign a contract with United's youth academy for two years under keeper coach Seb Brown.
Quinn, at 17, is on his way.
The first rung in England at a fifth-tier club that hopefully will end with Quinn fulfilling his dream of making it to the Premier League.
"I can't wait." he said. "It's an amazing feeling and football in England everywhere you go it is a priority.
"It's a risky step but I have to trust myself and the process."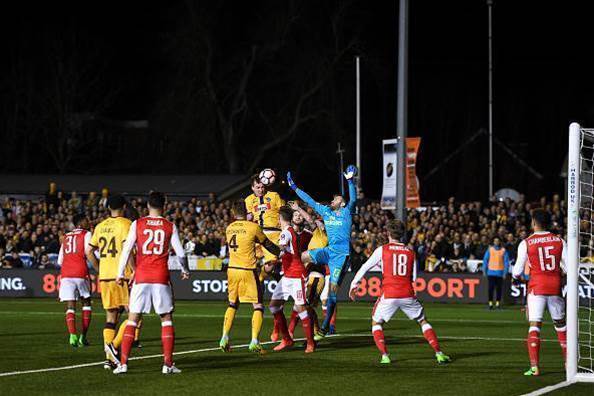 Sutton United hosted Arsenal in the FA Cup 2017
Quinn shows the talent base in Canberra continues to produce. 
Tom Rogic (Celtic), Leo Mazis (Celtic) and George Timotheou (Schalke) are three recent examples of many Canberrans who have left the ACT for professional football abroad. 
One day, if their A-League bid gets the green light, youngsters like Quinn may have the option of representing their city and region on the national stage.
Quinn added: "There's no pathway here."
Copyright ©FTBL All rights reserved.