Kenjok 'King Kenny' Athiu admits it has been a challenging transition to the A-League, but childhood friend Thomas Deng has helped him ease into it.
Athiu scored 21 goals in 28 matches in NPLVIC for Heidelberg United this year joining Melbourne Victory on loan after almost joining Perth Glory on the same deal.
The South Sudanese-born striker, was based with his family in Narre Warren while juggling retail work with Harvey Norman and Heidelberg.
Athiu left his seven siblings and now lives with Deng in Collingwood, both families having known each other since the players were children.
Deng rejoined Victory after a season-long loan with Jong PSV and was living with his parents in Melton before moving in with Athiu.
"Tommy D, our families have known each other for a long time and he was the first one who knew about (the Victory deal)," Athiu told FourFourTwo.
"Victory contacted me, I couldn't leave because we were entering our finals series. I didn't speak with Kev (Muscat) until the season had finished.
"He messaged me and there was that whole debacle with Perth Glory. It was a pretty easy choice to come here to be honest.
"Perth were an option, but I was pretty happy with how everything went. Personally I wanted to come to Victory, it's a big club and when they come to you, it's hard to turn down. I also wanted to stay closer to my family."
Deng said it was important that football should embrace ethnicity and was rapt Athiu was finally given a chance at A-League level.
"It's always good especially being recognised for the hard work he's putting in and I was very happy for him," Deng told FourFourTwo.
"Our families are really happy, I'm sure the community is as well, to see more South Sudanese players progress and become professionals is important.
"Especially knowing him for so long, he's been working hard at Heidelberg for the past few seasons now. He got rewarded for his work and hopefully he can keep pushing on and get a good start to his career."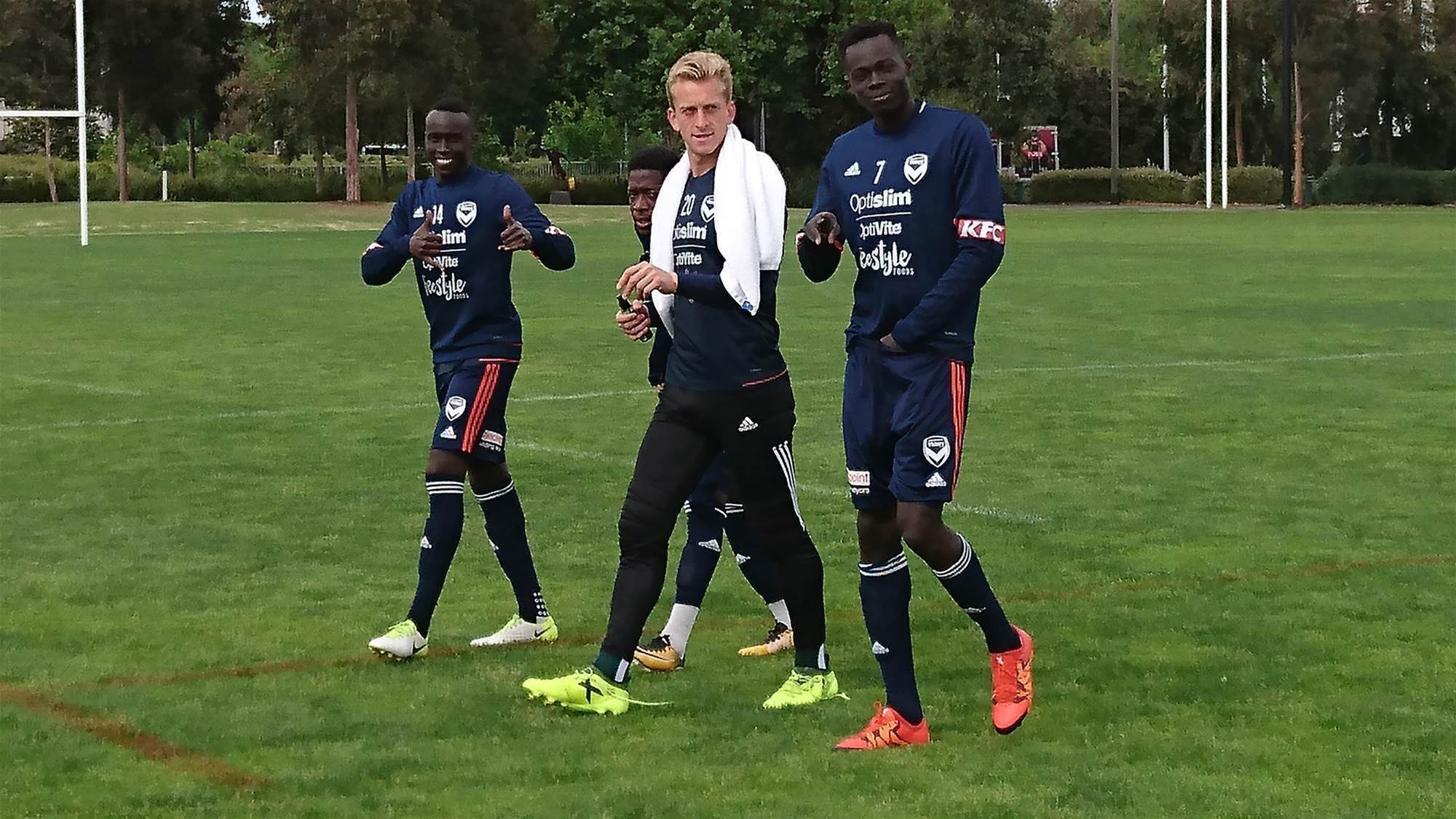 Athiu, Deng, Lawrence Thomas and Leroy George prepare for training
Athiu was also grateful to the Bergers for the opportunity he had in the NPL.
"Coach George Katsakis is like a father figure to me, he's always looked after me and usually when I need something I'll go and speak to him," he said.
"We're all pretty close, but Andrew Cartanos is someone I'm really close to, we always shared rooms every time we went on away trips and we always hung out."
When Athiu arrived at Victory, Muscat said it would be a while before the fans would see him in the squad.
However Victory were forced give the attacker his debut in the Round 5 clash with Western Sydney Wanderers due to an absence of key players. The 25-year-old came on for Matias Sanchez in the 72nd minute.
Athiu considers himself a calm person, however it all changed when he stepped onto the turf of Etihad Stadium.
"I didn't think I'd be in the squad to be honest, I only had two sessions under my belt and I wasn't ready because my body wasn't in the right shape," he said.
"We were down in numbers and the coach put me in the squad and I guess that's part of this environment, you always have to be prepared whenever you're needed.
"I get excited, but I can control my emotions most of the time. Coming into the game, I was pretty chill about the whole situation until they put my name up and the noise was just ridiculous when I was came on, that kind of put me off a bit.
"I was calm the whole time and then the whole crowd started screaming. I heard people stood up, most of my family were in the crowd as well.
"Of course I reflect on how far I've come, it's part of life. I guess reflecting back on all those things makes me feel like I'm moving on and not just becoming a better footballer, but becoming a better person and achieving things in life.
"You always have to look back and say 'you know what? I was a better person than I was yesterday' and that contributes to your happiness in life in general I guess."
Athiu said he is also learning from the A-League's all-time top goal scorer Besart Berisha, however was adamant he would not be second-fiddle to the veteran once he is fully fit.
Athiu in action for the Bergers this year. By Milan Krmpotic
He said he enjoyed the balance the Kosovan offers to the club.
"You do get a negative image of Bes through media, but he's a really nice guy," he said.
"I actually sit next to him in the locker rooms, he's always trying to help me every day, always teaching me what to do and on the pitch he's an animal.
"Even at training, just his concentration, he's just so focused, he just wants to win and he's a winner.
"I would love to start in the future, but right now I have to be honest with myself. I'm nowhere near ready to be in competition with him.
"I want to get my body right and get better through training and we'll see from there. There will be competition eventually, it will be good for both of us if the competition is there."