The Three Lions' 6-1 mauling of Panama was the most goals England have ever scored in a World Cup match and moved them level with Belgium at the top of Group G.
The Three Lions took the lead in the eighth minute when John Stones, who was free in an area as wide as the Panama Canal (thanks Martin Tyler),  headed Kieran Trippier's corner into the back of the net.
England then doubled their lead 10 minutes later when Jesse Lingard was brought down in the box and Harry Kane smashed the resulting penalty into the top right hand corner.
The game settled down but came to life on 36 minutes when excellent combination play between Raheem Sterling and Lingard saw the Manchester United midfielder score a screamer to make it 3-0.
It got embarrassing for Panama towards the end of the first half when another headed goal from Stones and another Kane penalty made it 5-0 at the break.
England dropped their intensity in the second half but got a fortunate sixth when Ruben Loftus-Cheek's long-range shot deflected off Kane and wrong-footed  Panama goalkeeper Jaime Penedo.
The rest of the match then petered out until Panama created history in the 78th minute when 37-year-old substitute Felipe Boloy hit a well struck half-volley that flew past Jordan Pickford from 12 yards.
It was a historic first goal for the Central Americans but it was all about England and their fans are starting to believe.
England
Jordan Pickford – (GK) 6
Wasn't really troubled at all except for a couple of half chances.Should leave the sweeper keeper stuff for the Germans after he almost  came off second best when he left  his post in the second half.
Kyle Walker 7
Gave the ball away early but was steady after a shaky start.
John Stones 7
Superb header for the opener and then latched onto the rebound for the second. Didn't put a foot wrong in defence. A dream game for the defender.
Harry Maguire 6
Was troubled a couple of times early on but another calm and composed game at the back, even though he was partly responsible for Panama's goal.
Ashley Young 6
Was given a tough time early on but didn't see much of the play as the main action mainly occurred on the other side of the field.
Kieran Trippier 9
Some nice set pieces and through balls for his teammates, including three great deliveries that all led to goals as well as a nice chipped pass to set Lingard away to win a penalty.
Jordan Henderson 7
Dominated the midfield and delivered a lovely chip pass that led to England's fourth goal.
Jesse Lingard 9
After copping a stray elbow early on, he recovered and was responsible for England's second after being brought down when he was through on goal. His beautiful strike for the third goal was breathtaking.

Ruben Loftus-Cheek 7
Didn't stand out like his teammates but still played well and his strike led to England's sixth goal.
Raheem Sterling 8
Helped control the game for England in the final third and played a prominent part for the Three Lions' third, fourth and fifth goals.
Harry Kane 8
Kane scored a hat-trick and looks on track to win the golden boot. He almost broke the back of the net with his two penalties and his third came via a very lucky deflection.
Subs
Vardy 5
Didn't create much as England went down a few gears in the second stanza.
Delph 6
Was solid when he came on but did nothing of note.
Rose 5
Was partly responsible for Panama's goal when he played Boloy onside.
Panama
Jaime Penedo (GK) 5
A nightmare for the goalkeeper who couldn't do anything about the carnage that took place in front of him.
Michael Murillo 5
The right-back wasn't the worst Panama player on the field but wasn't the best either. When he found himself through on goal in the second half his dink didn't trouble England's goal.
Roman Torres 5
The captain wasn't at his best, first leaving Stones free for England's first and was also partly responsible for the penalty. Lost possession a few times and missed a sitter in the 76th minute.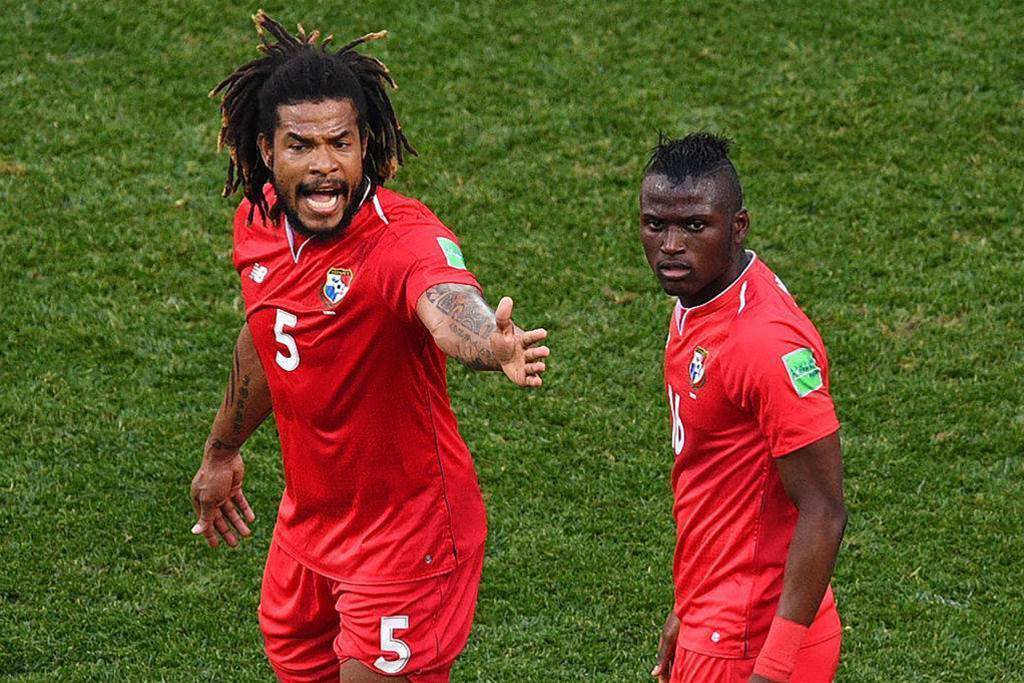 Fidel Escobar 4
The central defender gave away a blatant penalty to Lingard and it got worse from there.
Eric Davis 4
The left back struggled to deal with the waves of attacks that came down England's right.
Gabriel Gomez 4
The defensive midfielder got an early elbow on Lingard and was swamped by the Three Lions midfielders who ran him ragged.
Armando Cooper 4
 Was busy at the heart of Panama's play but was overshadowed by England's midfield.
Anibal Godoy 4
Wasted  a gilt-edged chance when he was put through by Barcenas but fluffed the shot inside the box. Who knows what could've happened if he hit the shot properly. Lost possession a few times as well.
Edgar Barcenas 5
The right winger had a dig from 25 yards that caused problems in the 16th minute and set up  Panama's best chance midway through the second half. Was probably his team's best player.
Jose Luis Rodriguez 5
The left winger lacked composure when he got an opportunity midway through the first half and was mostly anonymous after that.
Blas Perez 5
The striker wasn't really given much of a chance with England on the rampage.
Subs
Arroyo 5
Nothing of note but was decent for Panama when he came on.
Felipe Baloy 6
A nice half-volleyed finish that created history when he scored Panama's first ever goal at a World Cup.
Ricardo Avila 5
Was solid when he came on but didn't really add anything to proceedings.