For a former Porto player and lifelong Liverpool supporter, ex-A-League midfielder Cameron Watson has a foot in both camps ahead of their UEFA Champions League second-leg tie in Portugal.
Watson signed with Porto in 2005.
As a rising star in Australia's development system, he'd already caught the eye of Werder Bremen as a 14-year-old.
But after just a few days at Porto's training base, the Portuguese powerhouse saw enough and inked a deal with the 17-year-old Aussie to their reserve and U19 sides.
A year earlier, Porto had won the UEFA Champions League and had a brand new stadium built for EURO 2004.
For Watson, he'd hit the big time.
Could he crack the star-studded first team?
The first step was to impress their youth and reserve side coaches.
"My first day at the club was a Friday the day before a game, and everyone was kinda staring and wondering who this guy is and where is he from?" the 31-year-old former Adelaide United and Newcastle Jets midfielder told FTBL.
Porto's training base
"Once they were told I was from Australia you could see the looks on their faces.
"They probably wondered why I was over there and why I'd come so far. And could I even play?
"Luckily it was a lighter session before game day and it went well for me. And I'm thinking, 'this isn't that hard!'
"That was a bad thing because after the weekend game on Monday training was 100mp/h.
"Maybe I touched the ball four or five times in total! And I thought, 'Oh shit, here we go'," he recalled, laughing.
With the help of another Aussie, who'd later sign for Melbourne Victory, he began to find his feet.
"Diogo Ferreira was at Porto in a younger youth side.
"Having another Aussie there really helped me, we hung out a lot. And he could speak fluent Portuguese."
A few days later an intra-club game at Porto's training base gave Watson his chance to step up and show why he was invited.
The game was a dream, with Watson bossing the midfield and showing an impressive technique against some of the best Portuguese talent.
Watson stole the show and Porto immediately knew they had to sign the Aussie unknown. 
The midfielder came from footballing stock: his Dad played professionally for Scottish side Stirling Albion and passed on the love of football to his son.
Watson in full flight with the Reds of Adelaide
For Cameron, that love of football found expression in Liverpool. Their history, passion, and Reds fans had him hooked early. 
But once he signed with Porto, he was a blue and ready to die for the azuis e blancos. 
"I always had that dream.
"Getting up with my Dad to watch European football in the middle of the night in Australia.
"It was all I had in my mind was to go and play in Europe.
"And when it happened for me, it happened very quickly, it was quite surreal.
"Within a week of getting a phone call, I was training with one of the biggest clubs in Europe.
"And once I got there, I wanted to stay. Nothing was going to stop me.
"I was a small fish in a big pond coming from Australia being surrounded by the players they had.
"But after three or four days, they signed me. I rang Dad immediately. I woke him up! 
"Dad was more ecstatic than me.
"It was the start of an adventure."
He was now part of Porto's official U-19 squad and training with the reserve team, who had first-team stars occasionally train with them.
"Diego, the Brazilian, really was a standout.
"I trained with him on two occasions, he was frightening running around on the same pitch as me!
Diego, a Brazilian international, later played for Atletico Madrid and Juventus.
"At the time they had Quaresma, Bosingwa, Pepe, the first team were doing well.
"Mourinho had left the club by the time I was there. He was a God with the fans and the club after what he'd achieved there.
"And they were still riding on a high from winning the UEFA Champions League.
"I'd come from the AIS which was full-time. But this was so, so much more competitive.
"Training with the reserves, sometimes first team players would train with us.
"You excel as a footballer purely through the intensity of training. As a foreigner, you're expected to perform week in week out.
"It showed how difficult the level was to make it.
"There is so much at stake for players in Europe. It's their livelihood.
"And you grow as a person being overseas for the first time on my own.
"You only realise later how lucky you are to be surrounded by the players Porto had.
"But you do take it one week at a time because things can change so quickly."
Watson for the Jets against Wanderers
So true.
Despite his obvious talent - a talent Porto recognized immediately - a stellar career in Europe and perhaps the Socceroos never materialized.
After a season, Porto canned their reserve league side. He was set to stay with the club for another season. 
Who knows what might have happened?
Watson went on to play briefly in Holland with VVV Venlo before his main stints in the A-League with the Reds of Adelaide - for five years from 2010 - followed by a season with Newcastle Jets in 2015.
Since 2016 he's been playing in India's ISL with Bengaluru and Mohun Began.
During his career post-Porto, injuries at inopportune times and scuppered deals meant he was forced to play NPL football too.
Baffling for a player who clearly was good enough to play in Europe, though Watson is intelligent enough to realise a footballer's life is very much about luck.
"You can think about many things in hindsight.
"Maybe if the set up at Porto had remained the same, maybe I'd have been there another year. I was told that anyway, I was told before the structure had changed.
"But you don't know what might have happened - I may have had a serious injury? You can't look back like that, it was my path and where you end up is for a reason."
Watson has ended up back in Melbourne.
Now 31, he has a few good years left and hasn't closed the door, including returning to India if the right offer presented itself. 
But he's also planning his life after football.
The recently married midfielder is studying a degree in Business.
He is also keeping fit playing for Moreland Zebras in NPL 1 (Australia's third tier).
But come this Thursday morning in Australia, he'll be in front of a screen in the middle of the night - just as he did as a kid growing up - watching Liverpool's second leg tie in Porto.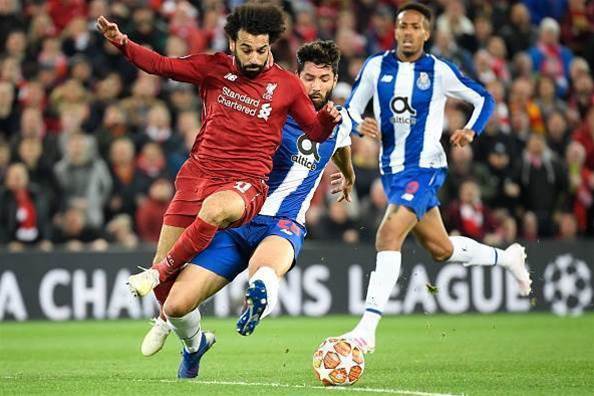 Salah versus Porto in the first leg
With a 2-0 advantage after the first leg at Anfield, the Reds are in the box seat for a semi-final against either Manchester United or Barcelona.
"I watched the first leg in the early hours.
"I'll always have a soft spot for Porto. But I've been a Liverpool fan all my life.
"But there's probably a bit more favoritism for Liverpool getting over the line.
"I can't see Liverpool losing the tie 3-0 away from home."
Copyright ©FTBL All rights reserved.