The story of Hakeem Al-Araibi, an Australian refugee who was on a honeymoon with his wife in Thailand, then captured by Interpol and detained in Bangkok since November is as unique as it is baffling.
Hakeem's previous conviction relates to vandalising and firebombing a police station, which he denies, saying he was participating in a televised football match at the time.
After fleeing Bahrain, where he was jailed and allegedly tortured due to those charges, he was granted political asylum in Australia and was a permanent resident awaiting full Australian citizenship.
One of the protesters in Sydney last week was Fox Sports commentator Simon Hill, who was wearing Al-Araibi's number five shirt in solidarity.
Five years ago when Hakeem arrived in Australia, Hill interviewed the Bahrainian footballer, who at the time was very critical of Sheikh Salman, the current President of the Asian Football Confederation and member of the House of Khalifa, the Royal Family of Bahrain.
"As per journalist practice I tried to get in touch with Sheikh Salman's people for comment and we were immediately hit with a legal writ from his lawyers in London," he told FTBL.
"So the story never ran. But I have followed his progress. I wanted to come out to show my support and to get that story out there.
"That important and powerful people with money behind them can stop the free press from holding powerful people to account by threats and that's wrong.
Hill added: "Hakeem needs to be freed because this is wrong on a very basic human level, it's wrong what happened and he should be back with his family in Melbourne and playing for Pascoe Vale."
One of the first people Hakeem spoke to when he came to Australia and when he was arrested in Thailand was Ghassan Khamis, who works for the Gulf Institute for Democracy and Human Rights.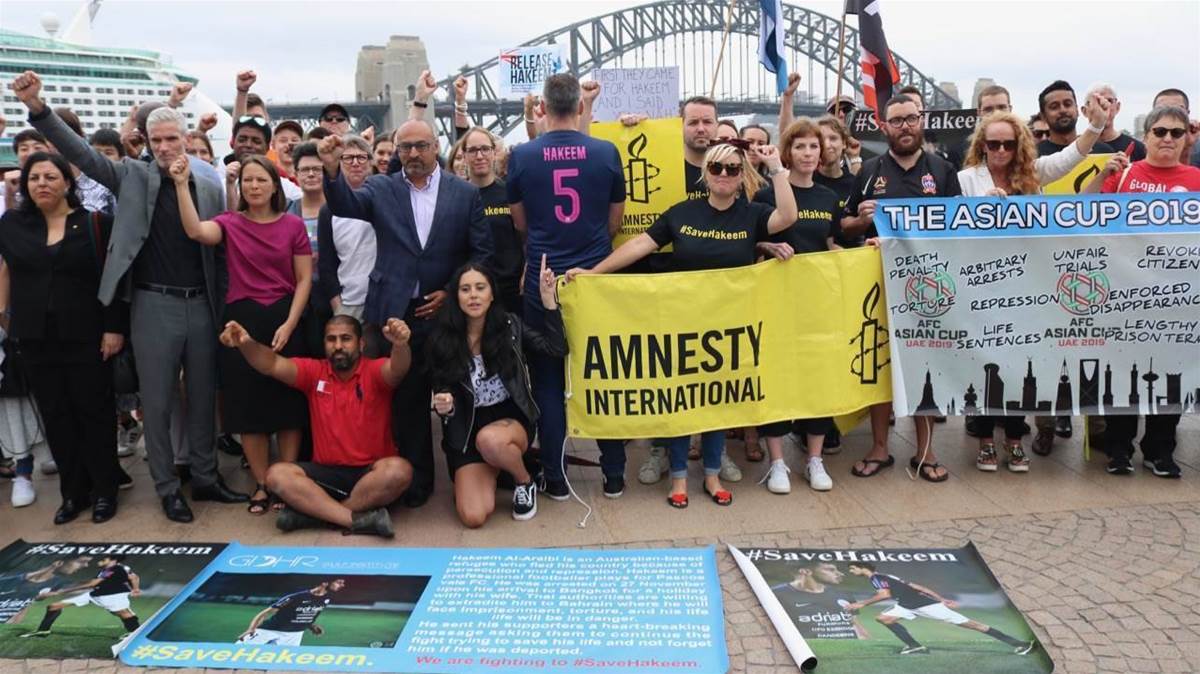 "When he was arrested in Bangkok I personally received a call from him," he told FTBL
"I speak the same language as Hakeem and he told me, 'I went from Melbourne to Thailand to enjoy my honeymoon and I've been arrested. I was told that my name is on an Interpol red notice list, please help me. 
"They want to send me back to Bahrain. I have done nothing wrong in Bahrain but if I go back I will be tortured again and I will be sentenced to 12 years in jail."
Thailand's Ministry of Foreign Affairs released a statement yesterday blaming Australia for Hakeem Al-Alraibi's extradition, reiterating that Australian Interpol had originally alerted Thai authorities to Hakeem's red notice.
"We would not have become involved in the issue had we not received the red notice alert from Australian Interpol," Thailand's statement read.
"It took several days after the arrival of Mr. Hakeem before the Australian authorities informed us that the red notice had been cancelled. By that time, legal proceedings in Thailand regarding Mr. Hakeem had already started and could not be reversed."
Khamis rejected the claim that Thailand were unable to reverse the process, instead maintaining that the Thai government's role in extraditing Hakeem to Bahrain was financially motivated.
"We believe the Thai government have economic interests in Bahrain and they don't want to lose them," he said.
"In 2019, Thailand will launch Thai-mart which is the biggest economic centre in Bahrain and the import and exports between Bahrain and Thailand are expected to be worth around US$400m annually.
"Thailand don't want to upset Bahrain and lose their investment."
Vision of Hakeem with his feet shackled together as he arrived at court, begging Thai authorities not to send him back to Bahrain has sent shockwaves around the world.
Thai prosecutors submitted a request to the Criminal Court over Bahrain's request to extradite the 25-year-old Australian refugee footballer, meaning he will stay in prison until his next court date on April 22.
In a cruel sense of irony, Pascoe Vale takes on Heidelberg in the first match of the Victorian NPL season on February 14 - Valentine's Day.
It's an unwelcome reminder that Hakeem's nightmare began when he travelled to Thailand on his honeymoon with his wife.
Labour MP Peter Khalil's electorate of Wills is in the heart of Hakeem's Victorian NPL club and he revealed that Hakeem's teammates miss the right back immensely.
"They are all mates and football clubs are like second families," he told FTBL.
"They are doing their best to focus on the season. I was down there at training recently. For them the most important thing is that Hakeem gets out of jail.
"They are missing a really good right back but most of all they are missing a friend. Gonzalo Abascal Munoz visited him in Thailand and he talked about his morale and how he was doing it tough."
Meanwhile, arguably Hakeem's greatest advocate for the last two months, former Socceroo Craig Foster,called on FIFA - who he visited - and the IOC to place sanctions on Bahrain and Thailand.
With Thailand looking to host a joint World Cup with Indonesia in 2034, Foster believes their chances of success are seriously damaged by what's been occurring.
"You are going to have refugee players in and through Thailand and elsewhere, and you can't guarantee their safety, so we think the 2034 World Cup bid is in serious jeopardy and that Thailand needs to understand that now," he told FTBL.
"If this is allowed to run through the court system, it means that Hakeem will be incarcerated.
"That is already a sentence and that's why it is imperative that it does not happen. They need to expel this case now and ensure that justice is done, by letting Hakeem come home."
Copyright ©FTBL All rights reserved.