Former Melbourne City head and assistant coach Michael Valkanis has spoken out for the first time since leaving the club and has backed his football philosophy in embarking on a new journey.
Valkanis was assistant to John van't Schip last season, however was promoted to the head coaching role in January after the Dutchman returned home to spend time with his sick father who later passed away.
City went onto finish fourth in the league and bowed out 2-0 in the Elimination Final to Perth Glory.
In June, City appointed Warren Joyce as Valkanis reassumed his assistant role, but eventually left in November along with Joe Montemurro who became head coach of Arsenal Women.
Valkanis admitted Joyce had differences in his philosophy and clarified it was a mutual termination after there were reports he was asked to leave by the club.
"We thought it was best for both that we part ways," Valkanis told FourFourTwo.
"One, to let Warren work the way he wants to and two, although we worked hard, to be quite honest in the last six months I wasn't really happy with the football.
"A second statement came out from the club to clarify how we ended, I was disappointed with what was insinuated when Warren addressed the media that week. I can't control what's communicated and what he says.
"I came in from Adelaide United to work with JvS (van't Schip) to implement a style and philosophy the City Football Group (CFG) believe in.
"I really enjoyed it, the guys with me worked hard – Pep (Montemurro) and Joe Palatsides. They're all really good coaches and Pep has proved it by going to Arsenal Women."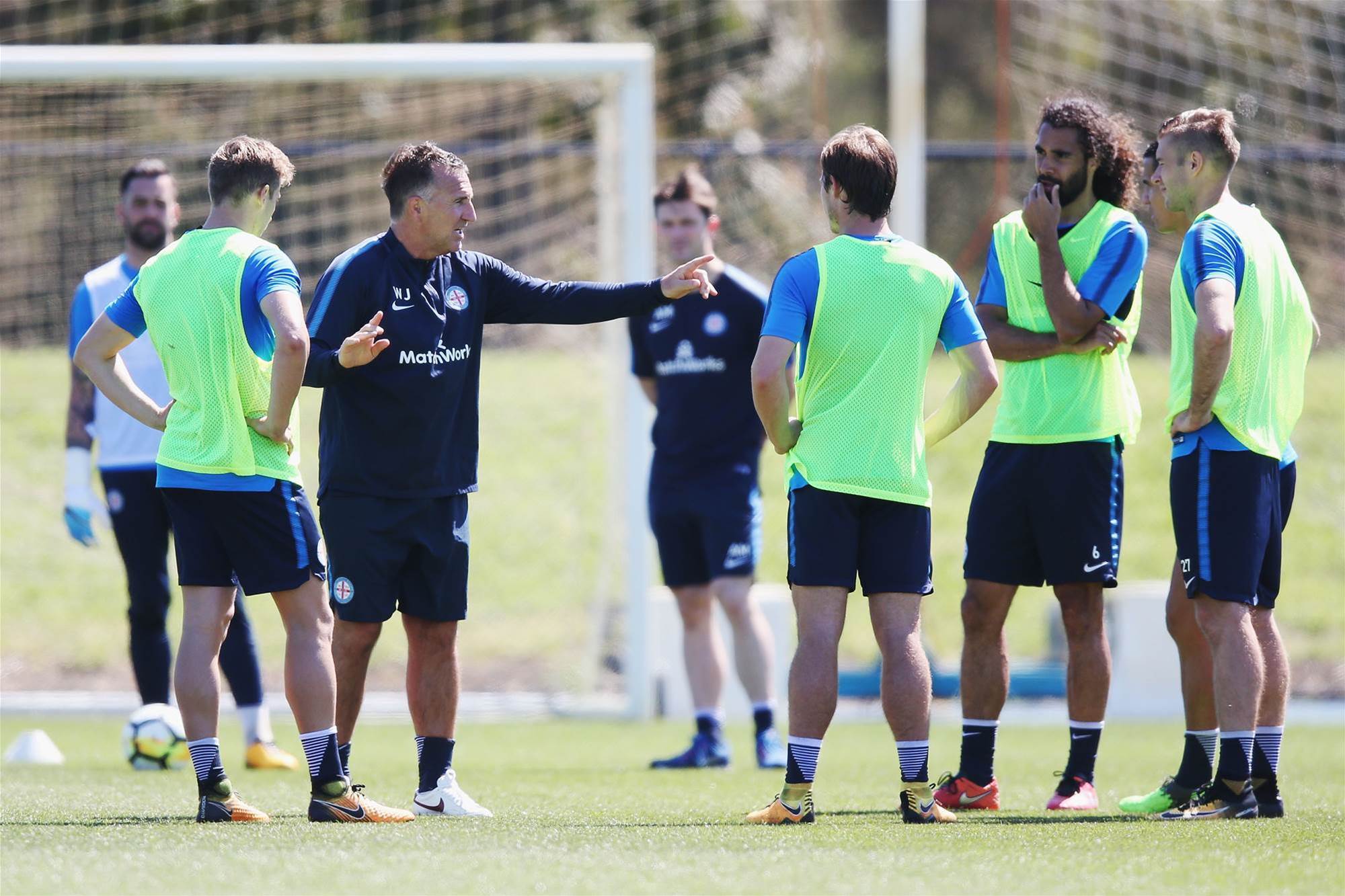 Joyce during City training
Valkanis said it was all a long-term project and sometimes people lacked patience in the process, but he aimed to fix the lack of depth in defence.
He used Michael Jakobsen's injury last season as an example, where Osama Malik, Manny Muscat and Ruon Tongyik played as centre-backs.
"We forget City are one of the only clubs, if not the only club in Australia that has a defined playing philosophy that comes from up top," he said.
"When there's a clear-cut philosophy, game model and you train towards it, you'll win more than you lose. When you do lose, you're able to reference back, fix things and it's not impromptu.
"Long-term, you keep fixing the squad, no different for what we did in Adelaide where it took us three years to win a championship. When you look at the squad, the football we played and the stats, the stats don't lie in terms of our attacking football.
"It showed we implemented and played a style. People identified us with that style, the greatest thing that happened last season is we brought the first trophy to the club playing that style which is very important.
"There was a difference in methodology this season. I don't believe in isolated training or methods which contradict a playing style. Methodology is very important for implementing a style.
"The physical, mental, tactical and technical are all intertwined, not separate. You train to the way you want your team to play.
"I believe in building and playing out from the back, dominating, keeping the ball and creating as many opportunities to score to win games. I don't think there was a game last season we didn't dominate, we dominated every game.
"We won a lot of games and lost some games, but we lost them playing the way we worked to play. Bringing in four or five players to balance up the squad and to fix those deficiencies we had, we knew we'd make a step in this current season."
In March former Socceroos coach Ange Postecoglou said his initiative would have been praised if he wasn't Australian and Valkanis said it resonated with him.
"I think sometimes it's this 'who are you?' mentality, 'he's just Michael who played for South Melbourne, so what's he supposed to know about the game?'," Valkanis said.
"I don't have 100 Socceroo caps to make myself, in quotation marks, more knowledgeable. People want the big name, they connect to a big name and that no name gets a bit lost. All you need is someone to believe in them to give an opportunity."
Valkanis and JvS in training last season
Valkanis added there were no hard feelings towards City and wished them all the best this season.
He said he felt relieved after leaving the club and was taking a break while weighing up his options.
The former Reds captain would even consider a move overseas after he played in Greece for seven years.
"There comes a time where you realise, these are my beliefs and this is the way I want to work," he said.
"If you're not going to be happy because you're doing it a different way, then there's no point doing it if it's not 100 per cent. I won't resort to any other way of playing other than attacking football because I've seen success in my time with that style.
"Maybe it's time to try a different environment. You live once and me and my family aren't afraid of moving. Whether it's a new culture or a culture I know, it'll be good to give myself another challenge."