Sydney FC's Joel King was five when the A-League kicked off in 2005.
The AIS was happy, though.
By the age of 15, he was part of the national set-up at the FFA Centre of Excellence, playing in their NYL side while "running amok at school" in Canberra.
When King left the AIS he trialed with Melbourne City and Wanderers but the lure of Sydney FC was too much.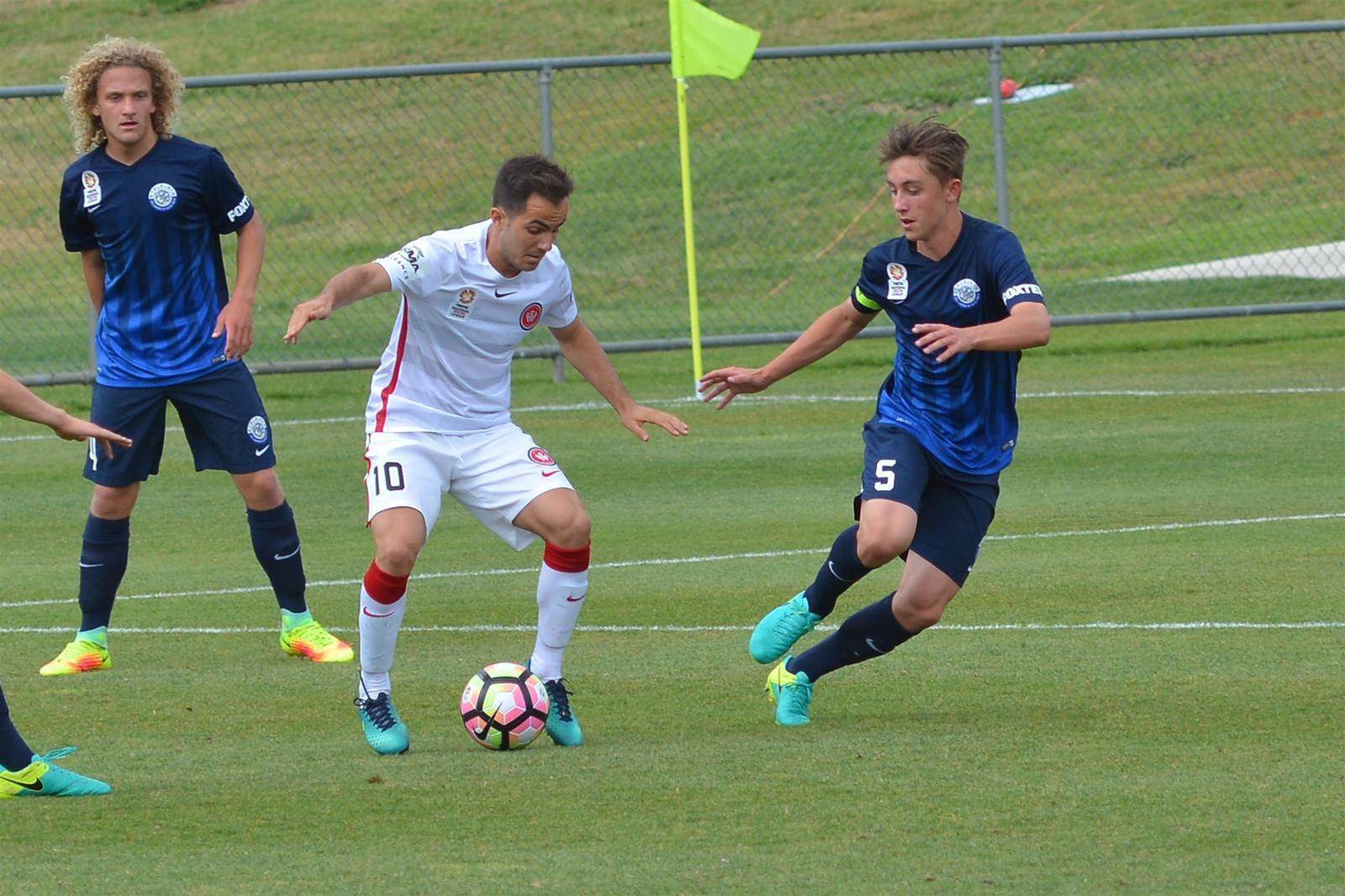 King (right, blue shirt) in the NYL for AIS against Steve Lustica and the Wanderers
The teenager was spotted by coach Rob Stanton who saw his potential and the full-back was asked to join Sky Blues' youth side. No brainer really. 
And after just one year, Steve Corica took a punt on the teenager and signed him to a pro deal with the first-team squad.
A seamless pipeline has moved King from Shell Cove to Canberra and onto Moore Park, where in his first season he was part of a Championship winning side - just like 2005. 
"The last couple of weeks have been great, winning the A-League and I got to debut a couple of weeks before that.
"Playing with Brosquey [retiring skipper Alex Brosque] and all that, it's pretty special.
"Wilko [former Socceroo defender Alex Wilkinson] and Zullo [ex Eredivisie player and starting XI left back Michael Zullo] have been pretty helpful as has Brosquey.
"Pretty surreal at the start but it's alright now."
Surreal it was when two days after the Perth A-League Grand Final triumph opened the door for Sky Blues of the future to gain valuable learning experience in the ACL. 
To test yourself at 18 against a powerhouse club from the region's strongest league in Kawasaki Frontale was priceless, after earlier debuting in the ACL in Korea against Ulsan.
And J-League opposition is the highest level you can get in the region, as King found out.
"It was bloody difficult but good [against Kawasaki, a 4-0 loss for Steve Corica's men].
"They still had to win to have a chance of qualifying.
"They were always a couple of steps ahead. All seemed on the same page, great rotations creating the extra man everywhere on the field.
"It was good to verse them and experience it and learn a lot.
"Walking out, they looked a lot bigger. But to be honest, I don't think I got close enough to them to put in a good challenge!
"In our group, Kawasaki was the best team by far."

His home debut in the ACL against Kawasaki Frontale two days after the A-League Grand Final
King also came on in Ulsan after the hour mark with Sydney FC a goal down in their group game. 
"They sat back a bit so I got to attack more. So I was fortunate to come on at that time."
Living with an older sister in Sydney - Canberra United's Taren King, 22, - the King clan's football bond is stronger than ever as they make a name for themselves on the national scene. 
"Joel is a very composed and confident player- used as a left back can also play center-back too. Quality on the ball and good technique," former Sydney FC teammate Patrick Flottmann told FTBL.
"And as a person a great bloke, humble and hardworking. I think he has the potential to play at a high level as long as he keeps working hard."
This week, King is chilling out in Bali with the still celebrating Sydney FC boys, reflecting on a season to remember.
What's more, he's one of the retained players for next season as Steve Corica looks to replicate his Championship winning side, and maybe even get out of the group stages in Asia. 
While there's much criticism of the A-League, the fact is it's still going 14 years after inception.
And it is inspiring kids who like King grew up watching it, being inspired by it and were dreaming of a professional contract, or just jumping and singing on the terraces for their team. 
Joel King's story is a fairytale rise for a player who truly was born into the A-League.
Copyright ©FTBL All rights reserved.