Ex-Gippsland Falcons defender Manny Gelagotis says Football Federation Australia showed little respect to people who built football down under when the A-League was introduced in 2005.
"It's not about me, Frank Arok is a legend. He's one of my greatest coaches and I love him. He's an icon of our game and we owe those people, he created amazing results out of nothing.
"Ange Postecoglou was his protégé, Frank was his boss and I can assure he uses a lot of his tricks and coaching methods. I'm just saying, not everyone is stupid."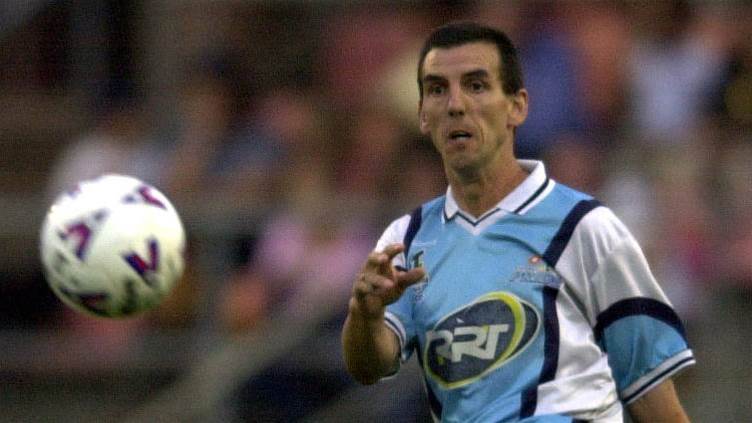 Gotis in action for Eastern Pride
Gotis also said there was a problem in youth development and that there is a big step-up to the highest level, however he cannot put his finger on it.
Last week Archie Thompson said the depth in the NSL was better and had more opportunities for teenagers to apply their trade early.
"I saw a recent article on FourFourTwo with Archie saying NSL was better, I believe it had a lot more depth and there's no doubt about it," he said.
"I think there were better players that didn't have the right opportunities in terms of being able to go full-time. I don't see any Paul Trimbolis, Oscar Crinos or any of those dynamic footballers coming through this era.
"We're still the most participated sport in schools and everyone is saying 'oh, one day soccer is going to take over'. 
"Bloody hell, they were saying that back in the 80s. I'm not negative about it, but there seems to be a gap.
"People always rave on about the participation rate, but where do all these kids end up? Where are they? There's a gap difference in all those talented kids who don't break through.
"History doesn't lie, we've had a golden generation and now you look at it… To be quite truthful if there were no foreigners in this country, the A-League would be very mediocre.
"There were more clubs and opportunity in the NSL and even the regional centres were a lot stronger. Now I find the game is dwindling a bit and the costs are too high."