FEATURE STORY – Players and officials make ideal pawns for soccer's match-fixing cartels.
February's press conference proclaiming Australia's Blackest Day in Sport was suitably po-faced. The accompanying literature gave much pause for thought. We consulted our dictionaries and subjected ourselves to bodybuilding internet forums in order to get our heads around peptides and PIEDs. We tried to ascertain whether the whole thing was a political stunt, or indeed the darkest sporting day in our nation's history. The potential for criminals to exert their nefarious influence on Australian sport bobbed up in the ACC's report as well, though it was reported as a virtual footnote. "As the amount of money wagered on sports increases," it noted, "associations with athletes or other individuals with the ability to influence a sporting contest, or provide inside information, will be increasingly sought after."
In that same week on the other side of the world, Europol investigators held another press conference, at which they revealed the extent of match-fixing in world soccer. These revelations received scant coverage in Australia. Nearly 700 games – including Champions League fixtures and World Cup qualifiers – were deemed suspicious. More than 400 corrupt officials, players and criminals were said to be involved. Europol estimated that organised crime now rakes in as much as $15 billion a year from match-fixing. Two of the world's most prominent organised crime groups, they said, have switched their focus from drugs trafficking to match-fixing.
Every sport – from tennis to tug-of-war – has been the subject of some sort of rort. But as we head towards another World Cup, none is more bedevilled by corruption and criminal influence than soccer. As a snapshot, just under a quarter of the 209 FIFA nations have been embroiled in match-fixing scandals. In Italy, 22 teams have been accused of throwing games. Earlier this year, 41 South Koreans were banned for life, with several later committing suicide.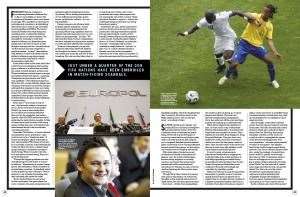 Australian Chris Eaton – a barrel-chested, moustachioed career policeman – says world soccer is in a "disastrous state". A former investigative officer with Interpol and, until recently, FIFA's Head of Security, he is currently a director at the International Centre for Sport Security, a Qatari-based group seeking to combat the scourge of match-fixing. When it comes to the who, how and where of match-fixing, Eaton is a good starting point.
"We find the biggest problems are with truly global sports, like tennis or soccer," he tells me. "Alternatively, it's minor, fringe sports, like badminton, which is massive in certain Asian countries. Or handball, which is very popular in parts of Europe. They're subject to a lot of insider knowledge and they can easily slip under the radar.
"But it's football that's the real worry. It's the world game, the game played on every continent, the game that presents the greatest logistical challenges in terms of policing. We're dealing with hundreds of very different governments, police forces, jurisdictions, cultures – it's one big minefield."
Certain scenarios set off alarm bells for Eaton and his small team. "In big tournaments or in situations like the upcoming World Cup qualifiers, there's a genuine risk with teams who have no real chance of going through," he says. "We also find that when you have competitions that have relegation and promotion systems, you often get club officials who transgress.
"In terms of the players, you get real problems with teams where the salaries are thought to be unfair. You get players who resent how much the guy next to them is making. Not only are they bitter, they're in desperate need of the cash. Crime syndicates also target older players who are nearing the end of their careers. These guys have families to support – doing a few underhand things on the pitch can end up being their pension."
Sometimes, he says, all the match-fixers need is a dodgy ref on the payroll. Bonus points if he's nearing retirement and hails from an impoverished country. A 2011 friendly between Nigeria and Argentina is a case in point. During the game, Nigeria shot to a 4-0 lead. Suddenly, an avalanche of money – seemingly with an entire continent's weight behind it – was bet "in play" for a 4-1 result. Ibrahim Chaibou, already one of the most investigated referees in the world, added six minutes of extra time and awarded the most absurd of handball penalties, which the Argentineans duly converted. He's since retired to the Niger military and is "the one that got away", according to Eaton.
* * *
So how exactly does it all play out? Declan Hill is a Canadian investigative journalist and the author of The Fix, a definitive study of international match-fixing. Never shy to point the finger at soccer's powers-that-be and always ready with a colourful anecdote, Hill compels you to suspend disbelief that the beautiful game could stoop so low. Having infiltrated several match-fixing gangs, he also makes one wonder how he escaped with his life ...
Hill relates tales of mysterious road accidents and deadly cobras placed in players' cars. He writes of small Asian fortunes being wagered on virtually amateur, non-league European teams, stacked with old boozehounds and schoolboys. In Vietnam, he says, even the matches featuring the Hanoi police team were fixed.
Though Hill is often critical of company men such as Chris Eaton, he echoes his thoughts on the methods and motives of match-fixers. He says they spend as much – if not more – of their time manipulating the market as they do lining up crooked players and officials. They also use intricate misinformation campaigns to throw law-enforcers off the scent and dupe punters into loading up on alternate bets.
Match-fixers target former players, he says, or those on the cusp of retirement. Players with shady pasts or burdened with large debts are regularly recruited. Their legmen are nobodies from Singapore, Hong Kong and Malaysia. They lay down very small bets, rarely more than a thousand dollars at a time. But they place a stack of them. They are the bottom of the barrel, but they zip around town with multiple credit cards, laptops and mobile phones.
It's not too great a trespass upon international sensitivities to suggest that South-East Asia is the world epicentre of both illegal gambling and match-fixing. Its gambling market is bigger than the Las Vegas, European and Australian pools combined. The bulk of it is illegal and controlled by gambling cartels.
Theirs is a tech-savvy, punt-loving market that prefers to gamble on sport overseas, mainly because the local games are so rigged, they're virtually cartoon contests. In a largely unregulated market, there are no bet limits. If you fancy throwing a couple of million on the next serve at a satellite tennis tournament being a double fault, step right up. Bookmakers are not obliged to report suspicious bets.
Like all mafias, a select few wield the power, beat the raps and reap the rewards. In this case, the bulk of money and control seems to funnel up to a shadowy figure named Dan Tan Seet Eng. Any person who plays, watches or bets on soccer would do well to contemplate the career of the 48-year-old Singaporean. If he were Australian, "colourful racing identity" wouldn't do him justice. The alleged head of the world's biggest match-fixing network, Dan Tan is a former illegal bookie who, under the tutelage of a match-fixer known as Mr X, quickly rose through the ranks. In 1994, bookmakers chased him out of Singapore as he could not pay a million-dollar losing bet he'd made at the World Cup. But when Mr X cashed in his chips and retired to his own private island, Dan Tan took over the racket.
The internet, smart phones and an explosion in global gambling had completely changed the ballgame. Low-key, super-organised and completely unscrupulous, he was a man for his era. As far as Eaton and a host of European judges and law enforcers are concerned, Dan Tan is the most wanted man in world sport. Italian prosecutors have racked up 800 pages detailing his alleged activities in their country alone. Some of their newspapers refer to him as "Italy's Most Wanted", which, it has to be said, is some sort of achievement.
There's very little, it seems, that Dan Tan won't resort to in order to execute a plunge. He is accused of fixing soccer games on five different continents. There are stories of him switching floodlights off mid-game when the result is not going his way, of spiking players' water bottles and of substituting entire squads with ring-ins. Interpol and the Italian government have demanded the Singaporean police arrest and deport him. Officially, however, there's no extradition treaty between Singapore and the European Union. He's entitled to due process, senior Singaporean figures say. Dan Tan, it seems, continues to ply his trade relatively unfettered. He's even said to be captaining an indoor soccer team in Singapore.
That's not to say that Singapore and her neighbours don't crack down every now and then. Police occasionally hit the streets – with a photographer and media liaison officer hot on their heels – to arrest a handful of small-time gamblers and bookmakers. Just recently, Singaporean police locked up a local nightclub owner for trying to fix a game by offering the services of prostitutes to three Lebanese referees.
A much bigger fish, and by far Eaton's biggest catch to date, was Wilson Raj Perumal, one of Dan Tan's most prominent foot soldiers. Caught in a sting of sorts, his seized iPhone showcased the who's who of world match-fixing. In his contacts list were the heads of five national football federations, as well as a stack of referees and former players. There were records of conversations with FA executives, employees at major betting companies and known international criminals.
As a free man, Raj carried a business card with a FIFA logo, describing his job as "executive manager". In prison, betrayed by his superiors and with nothing more to lose, he's turned prolific letter-writer and whistleblower. The letters are high on the hyperbole, but a little light-on when it comes to specifics. "All corrupt players and officials are like whores who will walk with the highest bidder," reads one. "There is no loyalty in this business," was another. "I hold the key to the Pandora's box and I will not hesitate to unlock it," is his latest gem.
"He's given us information in dribs and drabs and we're sure he's only told us a fraction of what he knows," Eaton says. "But it's given us an idea of the scale of what we're dealing with, as well as crucial background information on men like Dan Tan."
* * *
You don't have to live in a heaving South-East Asian metropolis to run a match-fixing cartel, however. You can be a highly visible, everyday young man with a head for figures, a gregarious personality and high-speed internet access. Ante Sapina is a baby-faced Berliner of Croatian extraction, who was recently described as looking like a "clean-shaven garden gnome". He was daydreaming his way through an economics degree when he first developed a taste for the punt. Soon thereafter, he was a professional gambler and an avid socialiser. The consummate networker and charmer, he was in contact with all sorts of lurk merchants throughout Europe, together with a burgeoning band of disgruntled, semi-retired and malleable footballers.
Before long, Sapina was the biggest player on the continent. He spent millions paying off referees, but made it back in spades by betting on the outcomes of fixed games. He and his cronies sometimes scheduled games themselves, paying for accommodation and travel. They even purchased their own bent team.
Sapina was one of the first big-time punters to develop a taste for exotic betting, such as how many saves a goalkeeper would make, or how many penalties would be awarded. A gambler at heart, he would invariably have money riding on dozens of simultaneous games. But he'd really up the ante when he was controlling the narrative. When the referee and players were in on the act, he would unleash.
Several years ago, he engineered a dodgy result in a German Cup game that would prove to be his undoing. His first mistake was his choice of referee, whose calls in the penalty box were so farcical, eyebrows were raised throughout Europe. Secondly, the young referee subsequently started boasting about his exploits and actively sought to recruit colleagues. Thirdly, and most crucially, Sapina's name kept bobbing up in wiretaps designed to bring down Croatian organised crime. "Maybe someday when you're free, there will be a professorship in betting," the judge said, upon sentencing him to five years' jail.
* * *
The Ante Sapina and Dan Tan Seet Eng stories are well-known to Deputy Commissioner Graham Ashton, one of Australia's most senior police officers. A former head of the AFP's counter terrorism unit, he played a key role in investigating the Bali bombing. Nowadays, he's heavily involved in combating organised crime, with threats to our sporting integrity taking up an increasing percentage of his time. Last year, he attended the Global Integrity In Sport Conference in France, meeting with Interpol, WADA and the heads of many of the world's leading sporting codes.
"I found it pretty illuminating just how rampant match-fixing is," he tells Inside Sport. "It's one of the fastest-growing areas of crime internationally. It's up there with internet child pornography in terms of its growth rate. But up until about a year ago, no one was talking about the issue here. We've been very naive in Australia. From a law-enforcement perspective, we only became more aware of this through the middle part of last year, when we received Interpol advice that this was a seriously emerging issue."
A key word on Ashton and Eaton's lips – and a prime tactic for the likes of Dan Tan – is "grooming". The Australian Crime Commission's 2011 paper, Threats To The Integrity Of Professional Sport, pinpointed those who are most susceptible to the hairy hand of match-fixers. It included Aussie athletes based overseas, particularly in Europe and South-East Asia. Player agents, who perform a fundamental role in the negotiations between players and officials, potentially "act as a conduit for illegal activity", it said.
Increasingly, however, it's the kids who are being groomed. In elite junior competitions, at draft camps and during club inductions, Australia's teenage sporting elite are repeatedly warned about associating with figures who may come back to haunt them. They're shown videos, many organised by }the police themselves, which spell out the dangers of grooming. Associating with criminals, taking drugs and even hanging out in dodgy nightclubs make them a target for match-fixers, they're told.
According to Ashton, the grooming process starts early. "Criminals may form relationships with families," he says. "They'll say to the parents 'we'll buy sporting equipment' or 'we'll pay the school fees' or 'we're just taking an interest in your son's career'. They then become compromised, however minor, when that young player becomes elite.
"Criminals are also definitely grooming the young players themselves," he says. "They compromise them by getting them to do acts which they will be embarrassed about. It might be getting prostitutes involved and the player then has to worry about their wives or family finding out. It might be getting them to take illicit drugs. They'll say, 'You're now using cocaine with us – if that gets out, your career is threatened.' Often we'll be doing a search warrant on a known trafficker and there's an Australian sportsperson in the lounge room. We'll take them aside and whilst we won't at that time charge them, we'll have a pretty firm discussion."
Our proximity to the billowing Asian gambling market is a particular concern, he says. For both punter and bookie, Australian sports are increasingly on the radar. "The ease in which international betting now occurs and the desirability of the Asian betting market to watch sports in their own time zone places us in a high-risk position," says Ashton. "Australian sports are beamed live into living rooms and into bars in Asia. They bet at night when they've had a few drinks. They can bet in the run rather than seeing replays. In fact, most betting offshore is 'in the run' betting. They can also wager on-spot bets during the game – when the next throw-in will be, the exact scoreline, and things like that."
According to Ashton, the war against match-fixing is increasingly being waged by private enterprise. In 2005, the Swiss boffins behind Sportradar read which way the global gambling wind was blowing. They developed software that detects deviations from normal betting patterns and tracks suspicious trends. They now have agreements with some of the biggest sporting bodies in the world, including FIFA, UEFA and several in Australia.
When Sportradar spotted danger signs in a recent Champions League qualifying match, they dispatched an official to the change rooms at half-time to warn the fixers, who promptly called it off. In the aforementioned Nigeria-Argentina friendly, their systems nearly went into meltdown, so blatant was the scam. Closer to home, in December last year they detected four times the normal weight of money for an A-League fixture, between Adelaide and Melbourne Victory. One Hong Kong bookie allegedly took a $5m bet on the game, which Adelaide won 4-2. Both Sportradar and Ashton stress that nothing untoward took place. But it was indicative of the level of interest in Australian sport, about which overseas punters couldn't give two hoots about a few years ago. Even our Big Bash competition – essentially a hit-and-giggle – has attracted some mind-boggling bets from South-East Asian punters.
In many ways, however, Australia is extremely well-positioned. Nearly all of our major sporting bodies have integrity agreements with betting companies. These include information-sharing requirements, financial trade-offs and the rights of the sports to veto certain types of bets.
Sports with the foresight and wherewithal make it harder for reptilian elements to get involved. The cashed-up AFL, for example, has sweeping powers to keep tabs on its players and officials. They employ numerous full-time integrity, investigation and intelligence officers, one of whom is a former UN investigator. They have access to the TAB's CCTV cameras, as well as bank details, ISP addresses and phone records. Soon, they'll be able to check players' deleted text messages.
To suggest that Australia is immune from the scourge of match-fixing, however, is of course naive. Our premier jockey of the past two decades is currently serving a suspension for betting on a rival horse. Our oldest Australian rules football club almost certainly threw games in order to get priority draft picks. In recent years, both the NRL and AFL have been embroiled in spot-betting scandals. And most famously, perhaps the finest Australian sportsperson of our generation had dealings of his own with an illegal bookmaker. "We need to put things in place now that protect us," says Ashton. "Because it's coming. And if it comes in a big way, we have to be prepared and take our heads out of the sand. But we're confident we have the right systems in place."
Chris Eaton is similarly bullish: "These are criminals we're dealing with and if there's one thing I've learnt over the years, it's that criminals really aren't that smart. Technology has made them think that they're smarter than they are. But we're closing the gap."
Overseas, however, a lack of will at government level, together with the reluctance of FIFA to crack down on footballing nations such as Singapore, all point to a losing war. Throw in administrative red tape, a dearth of investigative staff and the high turnover of men like Eaton, and it all ensures the fixers remain ahead of the enforcers. What's more, the age of smart phones and universal broadband means that sports betting is increasingly the biggest game in town. You can be lying in your bed in Hobart or propped at a bar in Kuala Lumpur and unload your paycheck on a Finnish Third Division game. It's the ideal environment for the opportunistic, the enterprising and the ruthless. To combat it, men like Eaton – for all their good intentions – need to prove that they're more than toothless tigers. FIFA needs to demonstrate – with greater resources and through more decisive action – that match-fixing isn't just a mere PR problem. For as long as men like Dan Tan roam free, the world game will be up for sale.
- Inside Sport, June 2013