Executing the fundamentals of skiing is easy when you have one of the best instructors in the world at your service, like we had at Hotham.
Executing the fundamentals of skiing is easy when you have one of the best instructors in the world at your service, like we had at Hotham.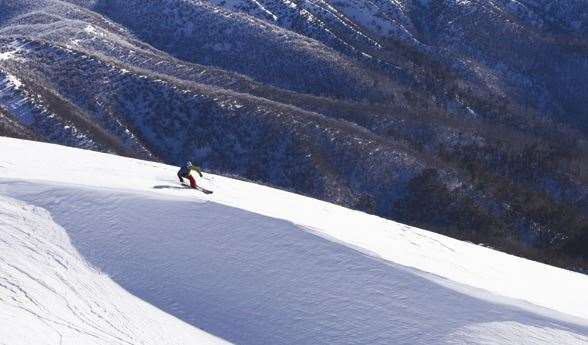 In the era of "why go to the game when I can watch it on TV?" and "there's an app for that", snow sports and resorts are facing the same market pressures as every other form of entertainment. Specifically, the Australian snow industry is having to think up ways of getting the message out there that it's well worth the long ‒ and in same cases very long ‒ drive for hours to hang out in sub-zero conditions. Indeed, it's a hard sell to the uninitiated punter who fears they won't be returning home on Sunday night with anything less than a sprained ankle and skinny wallet after a weekend at the snow.
Victoria's Hotham Alpine Resort values highly its re-visiting skiers, holidaying ski bunnies and skateboarders-cum-snowboarders, but has deduced that the most vital ingredient to the industry's long-term survival is people who know nothing about them or what they do. It decided long ago that the best chance it had of making these people stick to the sport, once attempted, was to teach them to ski ... properly. The popular resort, whose first ski lift was installed just over 60 years ago, has compiled an all-star squad of instructors from around the globe, and it's with one of these expert tutors that Inside Sport has been coupled on a learn-to-ski weekend. Your author grew up in Penrith in Sydney's extreme west, where the only snow is found on the sinks ... never mind.
We've hit Hotham, who is putting us up for a weekend, in the midst of a fierce snowstorm – the kind that generates wind forces that blow body parts off if they're not attached tightly enough (I eventually found my face stuck to the back of a sleek all-wheel-drive). Perched 1861m above sea-level, Hotham, known as Australia's "powder capital", offers 320 hectares of snow at an average depth of a metre and a half. These days it boasts 13 lifts and 25km of cross country skiing. Other highlights are The White Room restaurant, which serves up mouth-watering char-grilled grain-fed scotch fillet, and a bar called Swindlers, complete with compulsory giant communal fireplace which attracts young party goers who are thawing out while flooding their insides with their favourite tipple.
In the daylight hours at Hotham Central, those who have come with no equipment except a beanie are handed a checklist of gear to collect – a ski jacket, pants, boots, skis, goggles and poles. We're outfitted by a friendly young staffer who's proud that he's just played his part in introducing another potential newcomer to his favourite pastime. We're then introduced to our mentor, Ski magazine Top 100 instructor, Heidi Ettlinger of Lake Tahoe, California. She's on the Professional Ski Instructors of America's National Alpine Team. We knew we were in good hands when Heidi carefully matched your author's beginner skill level to a short, easy ski and good-fitting boot. According to Heidi, a ski boot should feel snug, but comfortable. She expertly tell us it's very important that people can flex and move their ankle joint in a ski boot, too – you definitely don't want a boot that has no give at the top of the ankle.
Rather than hitting the slopes and looking for human-magnetic giant pines, Heidi takes us to the beginners' section of Hotham. Where kids learn to ski. Kids so young they don't even need poles, because they're too small to use them. Before that, though, she puts us through the fundamentals of standing in a pair of skis, how to angle your legs so as to grind to a halt when you want and not when the topography demands. New leg and back muscles are brought into play, new brain matter stretched to learn the basics of not rolling backwards. The thing about snow is, it's not actually white and fluffy. When enough of it falls, it turns into a surface about as grippy as a pane of glass smothered with detergent.
After mastering the art of standing, stopping, rolling and pushing forward (the poles are for pushing back behind you for forward motion, not gripping the snow and dragging your body), it's time to hit "Kids Snowzone". This fun facility is a gentle slope complete with travelators which the kids hop on to be transported to the top for their next run. (Your author is the oldest of today's Snowzone patrons by a good 25 years.) Heidi takes us by two outstretched poles and delivers a highly informative and practical lesson on braking and rolling down an actual slope. After an hour, we're gliding down that slope, past the children, and gently skidding into the pit at the bottom of the hill. Booyah, kids.
Instructing is Heidi's job.
It pays for the meals she enjoys at home after she cross-country skis from Hotham to the yodelling-looking small town of Dinner Plain not far down the road. But she knows this novice student of hers today has to be treated differently. Not because of his physical preciousness, but also because, if I have a good time and don't come away having suffered an injury or fallen over 180 times, I'm going to share the experience with a lot of people. I might even come back and have another go ‒ might.
"Equipment has come a long way," Heidi offers. "We went out today on a short ski and we took the time to try on a boot that complemented your stance, and then we spent a gradual time warming your body up to the sensation of sliding.
"The learning curve for beginners is actually quite steep – beyond learning just how to accommodate for sliding under gear and how to operate the gear and balance on your skis and learning to stop and glide, like you did today. The next step, learning how to change direction, is that second milestone. And then connecting those turns, on an actual green run outside of the little beginner development area, is the transition."
Heidi knows there are thousands of skiers out there who have never skied, never tried because of that gung-ho, heroic, thrill-seeking image of the typical snow disciple. "Sometimes the media fails to capture the gentle images and the variety of ways you can take advantage of snow sports," she says. "The spectrum from having the opportunity to be on easy terrain, through to more challenging terrain, isn't as well presented as it could be.
"A lot of people take advantage of the sport who are just sliding down a green run, just being on top of a mountain ... the exhilarating part of it being more that you're outside participating in a sport that's a little bit more rare in Australia than anything else that you could do ... Aside from roller-coaster riding, which you might get close to when you ride some of the chairlifts!"
Hit up www.mthotham.com.au for everything you need to know about the coming season.