In a few weeks, Tony Popovic will calmly and clearly outline his vision. The Perth Glory boss will explain to his troops why in 2020 the club will win the A-League Grand Final, and they will win the Asian Champions League.
Simple.
It's this clear focus, belief, confidence, and ambition that sets "Popa" apart.
And it's not as if the former Asian Coach of the Year hasn't done it before.
After losing an A-League Grand Final in 2013, he picked his troops up and 18-months later, backed by extraordinary fan support, Western Sydney Wanderers made Australian sporting history in Riyadh.
The arrival of A-League goal machine Bruno Fornaroli makes Perth an infinitely stronger side in 2019 and the experience of ACL winner and Socceroo Matt Spiranovic will be another huge factor. 
It's an older side in key areas, with Popovic no doubt factoring that into his squad selections – he's already picked up youthful Roar striker and Olyroo sensation Nick D'Agostino. 
There'll be some squad movements in and out over the next few months but the core of his Premiership winning squad of 2019 will be on the journey to glory over the coming year.
The 15-week pre-season will again be key as a huge couple of years await Perth Glory. 
One man who won't be on that journey is Brendon Santalab.
"Santa" retired after Glory's Grand Final heartache in May, and is currently playing alongside Carl Valeri at ambitious Victorian NPL outfit Dandenong City.
He knows Popa better than most.
The 36-year-old striker was a key part of Wanderers' incredible run to the ACL final in 2014.
And he believes Glory's geographic location will be a huge bonus.
But he's called on FFA - or whichever organization will be running the league next season - to ensure all A-League clubs in the ACL are given fixture relief to counter the travel before and after the midweek clashes in places like Japan, China, and the Korea Republic. 
Santa, what are your overall thoughts on Glory's historic first ever Asian Champions League campaign in 2020?
Having been with the team last year and with the new additions such as Bruno Fornaroli and others to come, and knowing Popa's ways and the club's expectations now, and the culture change, I really feel Perth can really advance through the group stage.
Exactly like it was with us in 2014, anything's possible after that. I feel they can get through the group stage, without even knowing who they're drawn with.
Simply because I know Popa and what he brings and what this competition will mean to the players.  He's got a fantastic core of a squad.
We're competing with massive budgets so to get through the group stage these days is incredible. That's the first priority. Group stage qualification.
Once that's achieved anything's possible.
Clubs like Guangzhou Evergrande and Shanghai Shenhua and most big J-League clubs are spending huge sums. Can we ever compete?
We're competing against huge budgets, true. However, if the salary cap ever went, I believe with the squad Popa's got, we have a glimmer of hope.
Spots are available to strengthen. But being realistic it's a huge challenge and one you look at for Aussie teams as being long odds.
Is Perth as a location an advantage to an Australian club competing in Asia?
Big advantage and with a similar timezone too. Timezones are a huge issue, especially if you're in Sydney. And the travel time from Perth is a lot less.
It's all going to help for games. Who knows, Glory may go on a pre-season tour of Asia, just to get a feel for it.
Last season we went to Malaysia. It would be a great platform for their ACL if they did do another Asian pre-season tour.
Bruno Fornaroli will be a huge asset for Glory's Asian campaign
A-League fixture relief: how important is that to club success?
That's up to the FFA to help the teams who play in the ACL, to help them out because they've earned their right to be there, and that needs to be respected.
Teams need to compete at the highest level in both competitions. If that's done then we have a chance.
But if you make it difficult for A-league teams it's another hurdle, a big hurdle. It does make a big difference.
Going to Phoenix after winning in the Champions League in 2014 was simply ridiculous and should've been rescheduled.
It was embarrassing. That can't ever happen again, because you want to do your best in both competitions.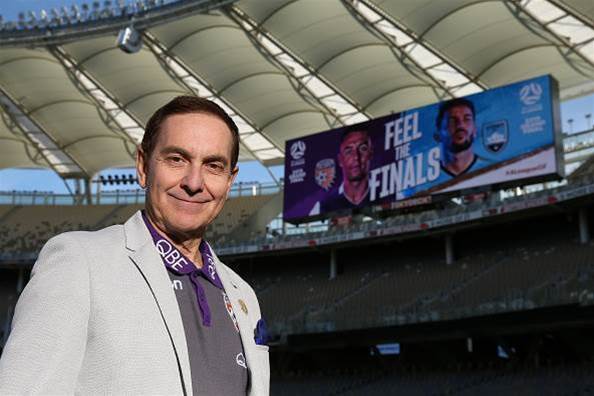 Proud Glory owner Tony Sage
Glory owner Tony Sage still has huge ambitions. He'll be ready to help?
This is great reward for him. He's so passionate about the club and has poured his heart and soul into the club and his money so I'm glad he's getting his just rewards with a spot in the ACL.
He's done a great job. He's been a sole owner. He's recruited the best coach in the country and what a great year it was. A great reward for Tony and the club.
And what about your own memories of the Asian Champions League?
An amazing experience, one I'll never, ever forget. But I still look back at the Champions League and not being able to celebrate.
As a club or as a group, we never got a chance to celebrate. We had one drink at the Australian embassy in Riyadh, and that was it!
We had no parade through Parramatta. It wasn't celebrated. One of the biggest moments in Australian sporting history was never celebrated.
I look back at what an achievement and proud to have that winner's medal but it wasn't ever celebrated in our country.
Never say never, but what happened with Wanderers may never happen again.
But if Glory does win it, I hope it's celebrated properly.
Copyright ©FTBL All rights reserved.