WHEN he first signed a three year contract with Leeds United 15 years ago, it was an emotional time for Perth Glory skipper Jacob Burns, celebrating his 100th game for the A-League club this weekend.
The then-21 year old was elated. One of his greatest dreams of playing in the English Premiership League was about to come true.
But the biggest club deal of his life didn't come without a cost.
"I was in one of the final Olyroo camps before preparation leading into the 2000 Olympic games and my agent called me with an offer to play for La Liga team, UD Salamanca," recalls Jacob, his arm around wife, Cecilia. 
"So I pulled out of camp because apparently all there was left to do was a medical and the deal would be done, but it fell through."
It was a moment in time that Jacob remembers vividly. Realising that he may have just abandoned any chance of representing Australia in the Olympic Games, his agent was quick to reassure him.
"He told me he had organised trials at various teams in the Premiership, and just a day after the Spanish club fell through, I was on a plane to Leeds for a two week trial."
During a time where players of his generation - after doing their apprenticeship in the old NSL - were being courted and signed by overseas clubs, the opportunity was something he embraced.
"I really thought I would just go for this trial at Leeds, hopefully get a contract and go back to preparing for the Olympics as that's what I had built towards."
A week into his trial at Leeds he received a phone call from Olyroo management requesting him to return to camp immediately - the alternative would be that he would lose his place in the Olympic Team. 
"After a good session at training my agent and I discussed trying to get an answer from Leeds because I started to panic," he recalls, "and even that dragged out a few days."
By the time that answer came, Jacob was too late. An EPL contract was met with a National Team ban and he was no longer welcome in the Olyroos.
"I was gutted," he says, clearly still disappointed. "At the time I didn't comment on it too much because the coaches have their own reasons as to why things happened the way they did, " he explains, adding, "but it was a shame I was made to choose between Leeds and the Olyroos."
The blow of having the door closed on his Olympic dream however was softened by the prospect of playing football in Europe. At a time where Leeds United was somewhat of a powerhouse, which saw the club qualify for both UEFA Cup and Champions League, Jacob describes getting his first big break in football as "surreal."
"Even though I knew it was a big deal back then, you only realise the magnitude of things like the players and stadiums the more you mature as a player," he says, adding, "you just don't have time to soak it all in. You get there, full of excitement and nerves and you get stuck in."
Still, for the Sydney boy who had only ever experienced club football in the old NSL, having transferred from Parramatta Power, it was still a huge football culture shock.
"It opened my eyes as to what a big business football is and how big the support is around these clubs are," he remembers. "We played in front of 45,000 people every game and the atmosphere was electric."
And he has a challenge for those not quite into the round ball: "I always say to people that aren't into football - go to a game in the UK between two of the top teams," he says, "and then tell me if you don't like the game."
The move to England was an exciting one for Jacob and Cecilia Burns - they had arrived in their new hometown as young newlyweds.
"We were such babies," says Cecilia, looking at Jacob, smiling.
"I remember walking into my Mum and Dad's room after Jacob told me he signed and I was crying, mostly out of happiness but I was still a bit sad because I knew we would be moving and I would be leaving my family and friends behind."
There is always a definitive moment in a relationship involving a footballer where their significant other accepts they may have to tag along for the ride for a while. For some couples, the travel is short lived; for others, they are away from home for years. 
"We were at the airport with our families and everyone was crying their eyes out and I kept saying to my Mum, 'I'm going to be back in three years, don't cry!" recalls Cecilia, laughing. "I thought we would have this fun little trip away and we would be back home."
Jacob adds: "Little did she know I would be dragging her across Europe for the next 10 years."
"For me, as a player, I was ready for a new challenge. I arrived at Leeds thinking - maybe naively - that it was a stepping stone."
"Now I look back and realise how massive it was - at the time Leeds was one of the biggest teams in the world."
For Adelaide-born Cecilia, the Premiership was a whole new world.
"I look back at the things I used to wear in the Players Lounge and I just think I had no idea, " she jokes. "But truthfully, I wasn't intimidated because I didn't know about that life. I didn't look at their bags and shoes."
Interestingly enough, Jacob Burns was part of the same Leeds squad that saw a young Michael Bridges rise to stardom in the Premiership at the time, alongside other familiar faces such as Harry Kewell and his friend, Mark Viduka.
"We had great group of people at the time, with a few Aussie boys in the mix, so it made it easier for us to settle" says Jacob.
Cecilia adds, "And the girls were nice. People often forget that even WAGS in England are in difficult positions themselves. Some aren't in their hometown, away from family, husbands are away often, many have babies alone - without any family around.
"The girls bond over similar situations and that's how we build friendships."
What started as a "little three year trip" overseas, the house they initially settled in turned into their home for seven years. After Jacob's contract at Leeds ran out, he signed for Championship outfit Barnsley, which, still in Yorkshire, was just a short drive away - albeit in another direction.
"I loved my time at Leeds and looking back, in all honesty, I was a young player from Australia," he says of his 11 appearances for the Premiership club.
"I was up against guys that were signed for £7 or 8 million - I was probably the 5th or 6th midfielder in the pecking order.
"But I think I had that belief and youthful arrogance to even get myself a start, " he says. "I could have gone on loan to get game time elsewhere but I wanted to prove to the managers that I could play, so I dug my heels in."
The move to Barnsley proved to be a successful one for Burns; not only did he make an impressive 91 appearances but it would be the first club that would give him the Captain's armband, a role he naturally fell into.
"It was definitely something I embraced early on, " he explains. "I don't know if you would call them leadership qualities, but I always had a good head on my shoulders when it came to football."
"By the time I got to Barnsley I had developed the confidence I needed to get the run of games I needed," says Jacob, "and I had a great time there."
Unknown to either Mr or Mrs Burns at the time, their lengthy stint in Northern England would also lead to another career in the making - one that didn't involve a football.
"I came to England with a Teaching degree," Cecilia explains, "and left as a florist."
Today, Cecilia Burns has a Flower Styling Company called 'Mila Jasmine Flowers' - which she named after her daughter Mila, now two. The story behind how she discovered her passion for flowers is inspiring.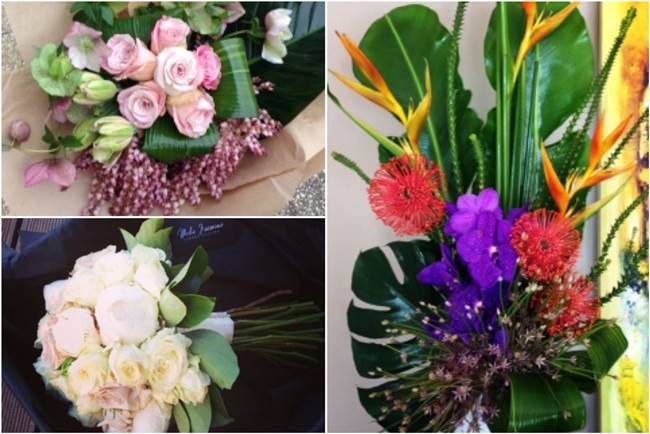 "There was this gorgeous little florist a short walk from my house, " Cecilia recalls, "and I became really friendly with the owner.
"I was alone quite a bit because Jake was away and so I asked her if I could come in and just watch and help her, for free, just to learn."
"And I just started going in all the time. She was an amazing florist and she taught me so much.
Jacob adds proudly: "But they soon realised how creative she was and offered her a paid job.
"And so she worked there for four years and Cec got the best apprenticeship you could ask for. She hasn't looked back."
While Barnsley gifted Jacob what every player searches for in their career - regular game time - he knew with the 2006 World Cup coming up, playing in the Championship wouldn't cut it for a place in the squad.
"Back then, all the Socceroos were playing at the top level and it was so competitive to get a place," Jacob says. "Nowadays you do see more players playing at those second tier levels getting caps or being included in squads."
"But you would never get a look in back then."
The opportunity to play in Poland came about during a transfer window, and just like most transfers, it was fast and furious.
"He got offered the contract on the Wednesday, left on the Thursday, and there I was, just having given birth to our first child Jonah, left to pack up the house within a week - alone" recalls Cecilia, her words accompanied by a great big sigh.
"We had lived there for 7 years - it was a big job."
Top-tier Polish team, Wisla Krakow, presented the Burns family with not only a great football opportunity but also a new European experience - something the couple describes as "the change they were looking for."
"Living in the UK is not too different from living in Australia," Jacob explains. "You have the same language, same kind of change room banter... We craved a new culture."
"Krakow was just stunning," he says, "and very European."
Through watching the pair reminisce about horse and carriage rides through the city, bread stalls on every corner, and the big, beautiful square they only lived minutes from - its clear the couple fell in love with the Polish city.
Still, the experience for Jacob, as a player, was different to what he was used to.
"People don't speak English, you would be using hand movements to communicate, players were very standoffish at the start - you had to earn their respect," he explains.
"Players are physically and mentally strong there and they are quite technical."
He adds, "I was fortunate to a degree. My coach at the time, Dan Petrescu, had played in England, so his philosophy wasn't too different to what I was familiar with.
"He became a friend of mine."
Unfortunately for Burns, his last ditch attempt at seeking a place in the 2006 World Cup didn't prove fruitful, but he is adamant he has no regrets leaving Barnsley.
"I didn't expect to go to Germany but I had to be in it to win it, as they say, " he says. "I probably became a more rounded player by going to Eastern Europe."
He adds, "And to play in Europe again was a great feeling - to see those familiar faces like Brett Emerton and Mile Sterjovski when we would play Feyenoord and Blackburn was something I had missed at Barnsley."
Much is said about football corruption in Eastern Europe and for Jacob, playing in Poland was his first introduction to the world of Match Fixing - something he labels as an "eye opener."
"That's when I first heard talk about how we would 'pay to win the league'," he reveals. "And it was so strange to me."
But it wasn't until the Burns Family moved to Romania did they get the biggest culture shock of their entire European adventure - and consequently found it difficult to adapt.
"The divide between wealthy and poor is massive, in Romania" Jacob explains.
"Where we lived you would have mansions and all the latest cars, and only 2km down the road you would see poor gypsy's in horse and carriages with 20 kids hanging out the back."
According to Cecilia, the severe lack of infrastructure in the city and poor driving conditions led her to feel more isolated in Bucharest than ever before - especially with her husband being away four nights a week.
"There were pot holes everywhere, live wires hanging on the grounds, " she explains. "I didn't feel safe to drive - I had two kids by then."
Jacob adds, "We had to pay astronomical rent so that we could live in a safe place with amenities in walking distance - there wasn't no other choice for us."
"And even as a confident driver, I felt unsafe driving in Romania, " Jacob reveals.
"I would drive 1.5 hours there and 1.5 back every day from training - and it would involve jumping over islands, on the other side of the road - just to get from A to B."
He continues, "There would be 1.5 lane roads, and so people overtaking in the opposite direction could be coming head on for you," says Jacob, "you could never take your eyes off the road for a second."
"I would arrive at training every day shaking. It was an absolute task."
With a year left on his contract, Jacob and Cecilia decided to ask to be released from his contract in Romania - simply because the lifestyle wasn't for them.
"The coach and president nearly fell off their chairs - we had just won the league and we had Champions League and bonuses coming up," he recalls. "But my heart wasn't in it."
"It wasn't worth it for us, "Cec adds, "we wanted a normal life."
After being scouted by various clubs in Australia, the little family of 4 were ecstatic to sign for Perth Glory - still not a hometown for either Cecilia or Jacob but close enough.
"We were over the moon - so much so, we were like tourists," says Cecilia, laughing. "We would actually walk around, stare and say 'Wow... Look at the blue sky... Look how easy it is to drive to the shops..."
"We were ready to come home and we realised immediately just how blessed we were to live in such an amazing country" adds Jacob.
Now in his fifth year at Perth Glory as club captain, Jacob Burns was given a clear mission to help bring back the club to the "Glory days" that made the club a powerhouse in the 90s - and he feels they are well on their way.
"Since I have been here we have made the finals three times out of four and we have come close to winning the competition, " he says. "And for me, the drive, and desire to play is still there in full swing, "
The seasoned midfielder credits the great blend of professionals that make Glory a pleasure to lead - but emphasises the importance of experience in a team.
"You look at Thwaitey, Gallas, Smeltz, Pantalidis, Vukovic and McGarry - all these guys are very, very good players, and very good pros. 
"I can't give them enough credit. They are the spine to our team and the young guys benefit from their experience."
With his contract with Perth Glory running out at the end of the season, the 35 year old has his mind set on continuing to play.
"If the club wants to keep me I would love to stay playing and Perth Glory is my club - I have never played for anyone else in the A-League.
"I think I still have a lot to offer as a player - physically and mentally."
And while playing in Glory colours remains Jacob's priority - he has always had the desire to give back to the game. After approaching his kids football club, Subiaco AFC about a possible affiliation, "Jacob Burns 6-A-Side Summer league" was born - the concept a reduced format held in summer.
"I wanted to give my kids the opportunity to play football all year round and I thought it was a great concept that I could use my profile to generate interest", he explains.
"We have girls, refugee's, a team from the Red Cross  - basically everyone aged 6 to Open Masters can register.
"I couldn't be prouder when I see everyone enjoying themselves with a smile on their face."
In its first season, the 15-week competition already has 315 registered players and Burns is ever appreciative to the community for getting on board so fully.
"We had to jump through many hoops just to get grounds and council approval and we had around 6 weeks to get registration, "says Jacob.
"And my admin girl, Cec", he looks in his wife's direction, smiling, "has been amazing in helping set it all up."
For the Sydney boy from a working class family, Jacob often recalls the sacrifices his parents made to get him where he is today. And now, as a father of three children (Jonah, 8, Zavier, 5 and Mila, 2) he understands the feeling of only wanting the best for your kids.
"My parents took out loans to send me on football tours," says Jacob. "They would do fundraising to raise money and my Dad worked two jobs to help support my passion for football.
"I owe a great part of my success to them. And Cec of course, who was there with me from the beginning."
He's travelled the world to ply his trade in a long and successful career and while its made for some great memories, many highlights and some lowlights, Jacob Burns singles out - without any hesitation - wearing a national team jersey as his ultimate career moment.
He added: "My first senior cap against Scotland, in Scotland, with my father being there, is without a doubt, my career highlight.
"You can't ever replicate the feeling of playing for your country. It's an absolute honour."
You can find out more about Jacob Burns Summer 6-A-Side at subiacosoccer.asn.au and you can follow Mila Jasmine Flowers on Instagram.
 Kat Caravella is a journalist and wonderWAG as the other half of Newcastle Jets star Zenon Caravella, who gives au.FourFourTwo.com her unique insight to the lives of A-League families. In addition to her own blog at mammasvida.com.au, she is also co-owner of online wine merchants www.redwhiteandbubbles.com.au. You can follow her on Twitter on @KatCaravella