While the end result wasn't the one the crowd was hoping for, there was plenty of action on the field to keep them entertained. Here's a look at six standout performances from the Matildas friendly against Chile.
     Australia     
Emily van Egmond
It is impossible to look past van Egmond. Aside from being lethal from the spot, netting both of Australia's goals, she was constantly involved in the play either on the ball or getting back to regain possession. She also provided much needed lateral movement, working the ball across the field to feed the runs of Caitlin Foord, Lisa De Vanna and Ellie Carpenter.
Tameka Butt
Butt was an instant threat up front with well-timed runs allowing her to slip in and behind the Chilean defence. While she was unlucky not to net a goal of her own, she helped pick up an early penalty to give Australia the lead after nine minutes. She didn't stop there, using her pace to pick up loose balls in the centre of the park and win back possession for the Matildas.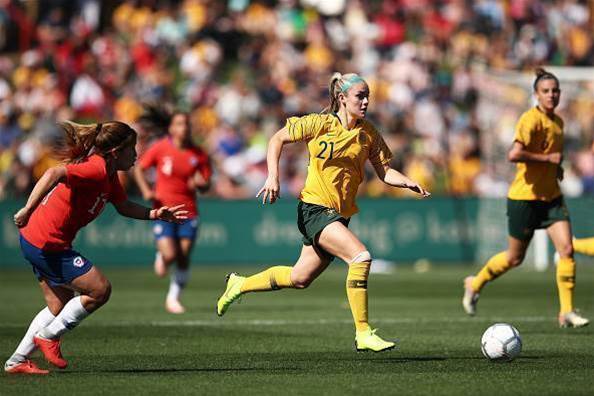 Ellie Carpenter
A season in the NWSL has seen Carpenter become even stronger in her defensive play, staying strong on the ball despite being locked in a tough tussle with Yanara Aedo for most of the game. Her work off the ball was just as important as her work on it with up field runs opening up play and creating chances up front.  
     Chile     
Christiane Endler
The Chilean captain was a commanding presence in goals, denying the Matildas time and time again. Her confidence and second perfect timing saw her get her hand to the ball at crucial times, often fully stretching to tip the ball over the bar and dealing well with corners and goal mouth scrambles.
Yanara Aedo
When Chile had the ball in the Matildas' half it was usually at the feet of Aedo. She positioned herself well to provide a constant option for her teammates going forward and used her pace to chase down balls that seemed certain to go out. She was also quick to apply pressure to the Australian defence, restricting their time and space on the ball.
Camila Saez
Saez was a rock for the Chilean defence, exuding confidence from her very first touch. Sitting deep, she provided a pass back option allowing her team to reset their attacking efforts. A crucial tackle on Tameka Butt in the first half stopped an almost certain goal, keeping the scores level and preventing the Matildas from building momentum for the second half.  
Copyright ©The Women's Game All rights reserved.