He's been observing Borussia Dortmund for five years and has a diploma in performance analysis. Tony Grant has a strong background, as Roar will see when he joins Robbie Fowler in Brisbane.
New Brisbane Roar coach Robbie Fowler will lean on two assistant coaches as he sets about re-invigorating Roar after a turbulent season at three-time Championship winning club.
The first is Darren Davies, the former Victory staff coach who's been caretaker for the backend of a forgettable season at the once mighty Orange Army.
Davies remains and will be crucial in getting Fowler up to speed on the existing players ahead of pre-season in June.
Fowler consults with Davies after Thursday's 5-3 loss to the Reds
The second is less well known. Tony Grant.
The softly spoken 44-year-old Englishman isn't a big name, but has worked in football all his life and has quietly built a versatile career in and around coaching.
Fowler obviously trusts Grant. But who is he?
Here are nine things you need to know about one of the most crucial new faces at Brisbane Roar in the new Fowler era.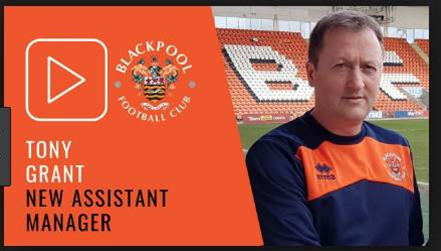 Grant joined Blackpool in mid-March on a short-term deal
Grant joins Brisbane from Blackpool, who he joined as an assistant coach on March 14 this year, linking with manager and friend Terry McPhillips. He joined till the end of the season on a short-term contract.

A former midfielder with Everton, Manchester City, and Burnley, Grant started his coaching career with Crewe and then moved to Accrington Stanley and Chester City.

The midfielder made 94 appearances at Goodison Park, scoring just twice, before he moved to Manchester City in December 1999 for £450,000.
In the last few months, the former Everton scout has been in Spain and Germany watching and learning from clubs there. In fact, he's been an observing coach at Juventus and Borussia Dortmund, where he has observed for five years.
Grant describes himself as having "big morals and big care for players". His outlook on coaching is "purely individual improvement".
Grant and Fowler are pretty tight. The Liverpool great sounded out Grant as an assistant when he was in the mix for the Bristol Rovers job last year.
Grant attended Northumbria Uni and has a diploma in performance analysis and Sport Performance. He has GCSE A grades in History, Maths and English.
His LinkedIn says: 'A highly knowledgeable experienced football coach/person. I have had great experience in the development of players and inspiration to help reach individual and team potential. I have deep knowledge and understanding of my subject and outcome which allows me to achieve great results. I believe in having a clear philosophy and working in a professional environment."
Grant told the Bristol Post last year:

"Subconsciously I was always coaching in my mind years ago, even when I was playing. I was a coach on the pitch before I became a coach actually. I have always been a thinker of football and passionate about the game, so the step into coaching came naturally."
© FTBL