What is it about the rugby league number nine jersey that attracts Lebanon's finest?
Who's He Like?
Growing up a South Sydney fan, the determined Lichaa describes his on-field style. "While Cameron Smith is the ultimate hooker, I have a different approach. I try to play a running game, similar to that of Issac Luke."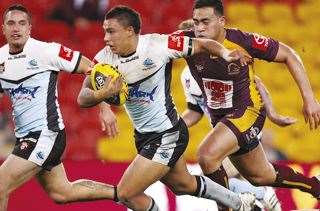 It's not just his running from dummy-half, creating havoc for defenders, that's been compared to past and present hookers. His crafty kicking game, too, has been likened to that of Wests Tigers' captain, Robbie Farah. "I try to watch Robbie as often as I can. He's just so skilful." His large frame for the hooker position hasn't hindered his speed from dummy-half; he's often too nippy for tired opposition markers to defend.
The vastly experienced Sharks squad contains many positive role models. Lichaa has recognised the opportunity to learn and acquire positive traits from his inspirational peers. "Luke Lewis is so professional. You don't need the little 'c' next to your name to get everyone's attention. Everyone knows the buck stops with Gal [Cronulla Sharks captain Paul Gallen], but in Luke, I find an inspirational leader I admire.
He doesn't say all that much, but as with Gal, when Luke talks, you can hear a pin drop ... and everybody listens! "They're the types of players I want to emulate. Just to play as hard as I can, contribute to the team's performance, and eventually one day be able to lead by example."
Playing in the halves as a junior, his build steadily grew and encouraged a move to the hooker position. He's since worked hard to adjust his body shape in preparation for NRL football. "I've dropped my weight from 96 to 90kg in order to play longer, carry my weight better and prolong my minutes on the field. But when I'm at my Grandma's place, it's on ... you can't say no to her tabouli and kafta ‒ I love the stuff."
Perhaps it's this cuisine that's fuelled the long history of rugby league hookers of Lebanese heritage ... With this diet, Lichaa is one to watch.
What Do They Say?
Flanagan is famous for his blunt assessments, but even he beams with pride and expectation in his appraisal of the resolute and determined youngster. "Michael is certainly a player of promise and one we have high hopes for. He's clever out of dummy-half and has shown he can play at a high level with his performances in the past two under-20s Origin games.
"He's a dedicated kid, but he knows there's still a lot of hard work in front of him if he wants to achieve his goals."
‒ Ramy Haidar
photos by  Getty Images