We caught up with the two-metre tall giant to gauge his thoughts on rugby and how he's handled the change from professional player to working professional.
Having hung up his Wallaby jersey for  the final time after last year's Spring Tour, Nathan Sharpe qualifies as one of our freshest  Drinks With (read former great) subjects ever.
Even today, it can be difficult imagining an Australian First XV without him, such was his reliability and longevity over a decade of dominance as a Wallabies lock. One of the more recognisable faces in our national squad since his international debut against the French back in 2002, thanks to his long, Lurch-like frame and instantly recognisable headgear (and even more recognisable shaven head underneath), "Sharpie" forged a reputation for toughness and persistent high-quality performance. The 35-year-old Wagga Wagga product, Australia's second most capped player of all time, also holds the record for most Super Rugby appearances, being first across the "150" line last year.
Much more than just a high-flying line-out jumper, the two-time John Eales medallist even lined up a goal attempt out wide against Wales at Millennium Stadium in his swansong Test for Australia (it fell short, but was on target). You may also remember him sacrificing his two front teeth in a sickening boot-to-mouth moment against South Africa at Suncorp Stadium in 2010. All part of the job, hey?
So, with his 114 caps for the Wallabies still fresh in his mind, we caught up with the two-metre tall giant to gauge his thoughts on rugby then, rugby now, and how he's handled the ultimate positional change: from professional player to working professional.
You're on rotation for Fox Sports' rugby commentary team, and you also show your face every few weeks on Rugby HQ ‒ where did the interest in a media career come from?
Throughout my career, I'd never really had aspirations to coach, but I had wanted to be able to pass on my experience to people who watch the game. I think it's important the public understands the game a little bit more. In rugby, there are so many contests within contests in each game that sometimes go unnoticed. If I can highlight those little contests that people might enjoy knowing about, then I'll feel as if I've helped the game of rugby grow in Australia. I'm interested in consultancy roles, though, particularly around forward play. That's something I really enjoy and still keep a close eye on, even though it's only been a couple of months since I retired.
What would be an example of one of these contests within a contest?
I'm talking about the more technical and tactical areas. For example, teams use certain structures of play against certain other teams. They might have a particular pattern of play which, to the naked eye, mightn't
seem very obvious, but if I can identify that and maybe try and explain why a team is trying to attack another team in that way, I think it just might bring a bit more interest to the game ... You know, around the different set pieces: line-outs, scrums, the breakdown ... As I said, there's a lot of little areas in the game that can be really interesting.
You're teamed up with Fox Sports veteran Greg Martin on Rugby HQ – what's your screen chemistry like?
Look, Mardo brings great energy to the screen. I'm really enjoying working with him and getting to know him. He's a great fellah and he puts a lot of work into what he puts across each time he commentates or appears on Rugby HQ. I'm very lucky to be partnered up with a bloke like Mardo. He's been around a very long time and does a good job with it.
You're one of Australia's most capped Test players, but do even you have to study up before each commentating and Rugby HQ gig?
Yeah, I think it's important you put the time in, because you're commentating on players who rely on you to give people who are watching them a better understanding. I think it would be disrespectful to viewers not to put that preparation into it.
We've heard you're a busy man in your post-playing days. What else besides your Fox Sports work keeps you occupied?
I have a labour-hire company in Brisbane. We supply heavy machinery, diesel fitters, etc to mines and civil sites. We deal a lot with a heavy earth-moving company called Salmon. We supply heavy mobile gear, the big yellow trucks and 'dozers ... We also supply labour to contractors and companies who need it.
I have a stake in the company. I like the resource sector, I like the people in that field. I had a bit of exposure to it, particularly in the later stages of my career while I was based in Perth. I'm trying to learn as much about it as I can and as quickly as I possibly can so that it gives me something to really throw myself into. The commentary allows me to stay up-to-date with the one thing I know better than anything in the world, the rugby side of things.
Everybody outside looking in wants to know what it's like inside the Wallaby camp playing under Robbie Deans. Are you able to shed some light on his methods?
Robbie certainly understands the big picture of rugby. He has an understanding of what's required to win a game. Certainly he bought a lot of different knowledge from New Zealand and imported it into Australian rugby, which was difficult as time went on, but it's morphed into its own process.
Robbie brought pieces of culture to the team that I think have been beneficial to Australian rugby. Particularly in the last year or so, he's added some fantastic support staff around him, so it's a good thing for Australian rugby. I think the New Zealand approach is far more ... Australian rugby is more ... broken down and analysed. New Zealand rugby is probably looked at in regards to a more general overview of how they want to play the game, whereas Australian rugby is very structured. I think you need a blend there. The key is finding the right balance.
Rugby union is such a club-alumni institution, so what wasit like captaining a brand newside with no history like the Western Force?
Yeah, it's not very often you get to be part of an organisation from the ground up. It was really exciting. There were a lot of challenges there, but also a lot of enjoyment, because we had some really good people involved. The WA community was overwhelmingly supportive of the whole crew, which was the plan from the outset. Along the way, we learnt some hard lessons by doing things the wrong way, and we did some things the right way and I guess in life all you want to do is learn from those things that didn't go so well and I think the Western Force has done a really good job. We would've liked to have been a bit more successful over the period of time, but hopefully that will come down the road.
You had some rotten timing as far as British and Irish Lions tours to Australia were concerned, arriving on the international scene just a year too late for the last visit, and retiring a year too early for this next one ...
In saying that, I couldn't have asked to have been any luckier in my career, with injuries, etc. I managed to play a lot of rugby. It would have definitely been nice to play against the Lions, but I think had I made the decision at the time to stay around, it would have been for the wrong reasons. The Lions drawcard wasn't powerful enough to keep me going. To be honest, before last year, I hadn't actually thought that I'd get there anyway and as time goes on, you sort've suddenly stop and realise, "Oh, it's only a couple of months away now." I would've only been five months retired, but it's one of those things. It's really exciting in Australia to be part of the series in some way. It's going to be a very intense battle over the three Tests.
What on-field weapons of the touring Lions do you most fear on behalf of your former Wallaby team-mates?
I think Manu Tuilagi, the centre from England, will be a bit of a handful for us down under. Jamie Roberts from Wales is a big, powerful inside centre and I think Rob Kearney from Ireland at fullback, as well as the new five-eighth from England, Owen Farrell, have plenty of potential. Farrell's a very capable player. The forwards up front are going to be where the games are won and lost. They're going to have a very gritty, gnarly sort of style of forward pack that's very game-savvy. I think that's an area we're going to have to combat strongly.
Is Australia as a rugby nation underestimating the British and Irish Lions, or overestimating them for this tour?
I think there's an appropriate level of importance placed on the tour. It's an important time for Australian rugby. Australia has to do well in this series and if they do, it'll really be good for the sport in this country.
A year down the track, what's your general feeling towards the extension of the Super Rugby season? Is it working as successfully as you thought it might?
Players who are playing a full year of rugby are going to have to be pretty closely monitored, because there's only so much the body can handle, so to speak. I think if the playing and training programs are individualised for each player, then it will be good. I think it's an exciting concept. I like the conference style set-up. There's a contest within that overall Super 15 ladder and each country can battle it out to be the top-placed team within their own country, which I think is exciting in itself. It identifies the stronger teams within each nation.
The Waratahs are always a talking point whenever they're struggling on-field. Are they an Australian code-wide concern when this happens, or do rugby people in other states enjoy watching New South Wales slide?
I think the beauty of rugby is that it's very parochial, you know? If someone doesn't go for the Waratahs, I think they're happy if they're not going that well. It's like that with any province. There's that overwhelming support for the Wallabies, but during the Super 15, everyone picks sides and that's just the nature of sport.
Rugby sevens is an Olympic sport now. As a bigger player in the engine room, did the thought of playing this version of the game frighten or excite you?
It frightened me, mate! I never played it, myself. I think it's going to be a good addition to the Olympics. I know all the guys who are capable of playing sevens are all very excited about it. It will be interesting to see how it turns out and I just hope that all the countries get to field their best sides.
What was the ultimate highlight of your international career?
You have a lot of fantastic victories and successes and also heart-breaking losses. I think for me, though, the thing I most got out of my career, was the people involved: meeting some fantastic people, having some great experiences with them. For me, they were the things that stand out in my mind that I'll take with me. I was lucky enough to play for a long time, so I had a lot of opportunity to get close to a lot of different players. Right from the days of John Eales and the likes, down to the David Pococks and Phil Waugh-type players. I covered a fair time span of players there.
Were you chased by any rugby league clubs during your playing days? How would you have gone in the 13-a-side game?
I don't think my body type ever suited that game, to be honest. I would have been a bit of an embarrassment, probably. They don't have line-outs in league. I think they'd be looking for something I wouldn't be all that suited for.
You were known for your toughness throughout your career ... what are rugby-based forwards' secrets to pain thresholds – do the hits just not bother you blokes as much as they might other people?
It's hard to describe. Any of the rugby code players would probably tell you, if you're walking down the street and someone bowls you over, you'd feel a lot more pain than you would on the field. I think the body just gets prepared for it, and after a while, you get to a point where it almost becomes second nature. Once you step out onto that field, it's part and parcel of what you have to do. There's no way around it.
I think it's just a function of the outcome you want to achieve and that is to win a game, and to win a game you have to dominate your opponent physically. You don't think, as the guy is running at you, "Goodness me, this is going to hurt." It's just a natural reaction that you train yourself to handle over time.
[caption id="attachment_5477" align="alignright" width="300"]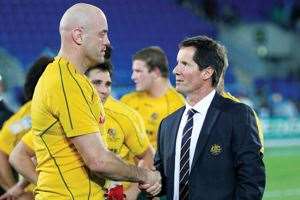 Robbie Deans certainly understands
rugby's bigger picture." Image: Getty Images[/caption]
Did your approach to training change much between your first training session for the Wallabies and your last international cap last year?
Yeah ‒ particularly in the early days, I always did a lot of extra training. I tried to work the hardest when no one else was watching. I learned that from a lot of guys I had as mentors coming through. That allowed me to keep my body in pretty good nick. My last few weeks of training were pretty relaxed, to be honest!
How hard it is to play effective rugby when you're really out on your feet in the dying stages of a match?
I think that comes down to how well you've managed to train yourself in the specifics in the game, how well you managed your technique ‒ tackling, cleaning out, passing, catching. When you're under fatigue, that's when all those skills get tested the most ... that's when the best players come to the fore.