Teenage NPL 2 goalmachine Alou Kuol is rumoured to be a Melbourne Victory transfer target, but his coach, ex AFC Wimbledon forward Craig Carley, believes this rough diamond could even play overseas.
FTBL's scouting network identified Khartoum-born Kuol, who has just turned 18, as potential A-League talent.
Like Mo Awad at NPL 1 side Melbourne Knights, Alou has been an instant success with his regional club, Shepparton-based Goulburn Valley Suns in Victoria's NPL 2.
After a blistering season for the club's U20s last year - bagging 20 goals in 12 games - Kuol has effortlessly stepped up to first-team football. 
The striker, who can play wide as a winger, is currently the top scorer in Victoria's NPL 2 East with 13 goals.
And he's learning off an English pro who knows all about goal scoring. 
His coach and striker partner at the third-tier Victorian outfit, former AFC Wimbledon, Fulham youth and England C striker Craig Carley, describes the teen as raw but with massive potential.
"He's been a revelation since playing senior football. He's a natural goalscorer, proving everyone wrong time and time again," Carley, the club's player-coach, told FTBL.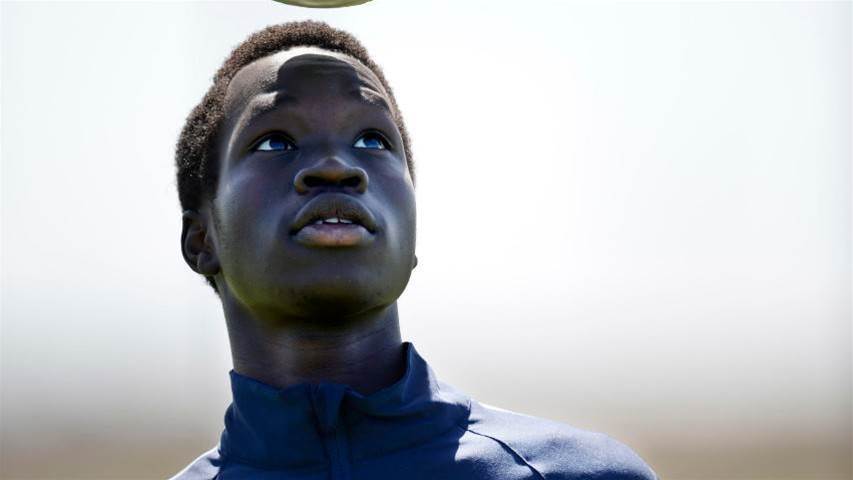 Alou Kuol *Image courtesy of Shepparton News
"He could pursue options here or overseas professional. He's an explosive talent. Clinical and a finisher.
"He's one of the most talented kids I've ever worked with," added Carley, who first coached Kuol in the Suns' U14 side.
This year, in senior football, Kuol took time to adapt to the physical nature as a hold-up forward.
But playing wider and getting into one on ones have seen his game explode.
Carley knows all about being a successful forward.
The now 34-year-old coach scored 33 times in 26 games for the club in 2015. He's also a former Golden Boot with the Shepparton-based outfit, smashing a staggering 55 goals in 61 league games.
London-born Carley was also Shane Smeltz's strike partner at AFC Wimbledon earlier in his career.
"I've told Alou, if you want to take your game to the next level, you've got to prepare more professionally and do more away from the club than you do at training," he said.
"He's starting to understand that. And if he can sharpen up on his first touch, and awareness off the ball, he can go on and play at the highest level. I really do."
Alou Kuol *Image courtesy of Shepparton News
It's understood Sudan-born Kuol's younger siblings are worth watching too.
Carley added: "Alou can play a number of positions, and he excels in them all. He can make a career out of football," added Carley, who has been based in Victoria for most of the decade.
"Over this last year to 18 months, he's started to realise he can make a good career out of football. If he works hard. And I think he has the attitude to do that." 
It's understood Victory, who had a look at Kuol last year, will take another look at him later this year with a view to signing him.
They already have another Sudan-born striker in former Heidelberg NPL goal machine Kenny Athiu. 
"I believe Alou has more potential than Kenny," said his coach.
"He can excel what Kenny has done and become a regular A-League player, at least." 
Copyright ©FTBL All rights reserved.