Here are your best and worst from Western Sydney Wanderers' emphatic 3-0 win over Melbourne City.
Western Sydney are back in the winners circle approaching their return to Wanderland. It's too late for finals, but it's just in the nick of time for the club hoping to draw their fans back to the club after a rough season away from home. 
With Mitch Duke, Alex Baumjohann, Oriol Riera (perhaps too late for his A-League future) and Kwame Yeboah finally hitting their stride, it will be an intimidating forward line heading into next season.
Fifth-placed Melbourne City are a different story. Finals or no, Warren Joyce is heaping the pressure on himself with a series of disappointing performances and a side lacking in confidence look to be making up the numbers heading into the business end. 
BEST
Yeboah struts his stuff
The burly centreforward in many ways is the typical, storied Wanderer. A bolt out of the blue at Brisbane Roar, the acrobatic Yeboah sprung off to Borussia Mönchengladbach and the sky seemed the limit.
Fast forward a few years and - a desperate shot for a 2018 World Cup bolter aside - Yeboah had all but slipped from memory, toiling away in the German lower divisions. He's had to bide his time upon his A-league return as a result, especially in a less natural attacking midfield position, but when he's given the opportunity he can show another level.
It's a contrasting, yet somehow similar story for Mitch Duke, who has rocketed back into the A-League after a successful spell at Shimizu S-Pulse. While Duke has perhaps found the transition a little easier, he was a similarly forgotten figure in the wide world outside the A-League. 
While everyone hopes to see our Aussies performing admirably on the world stage, it's still nice to see the Wanderers reaping the rewards of welcoming these returning talents back home. 
Riera back on the scoreboard
Will the one-time Wanderers hero be there for a fresh start in Western Sydney Stadium? Markus Babbel's tumultuous coaching campaign aside, Riera has seemingly lounged through most of this season, picking up one of the largest paychecks in Australian domestic spot in the process.
It's widely assumed the Spanish big-man won't be there to see a hopeful Wanderers return to Wanderland, but despite his fall from grace, there will be a few with longer memories sad to see him go.
Janjetovic delivers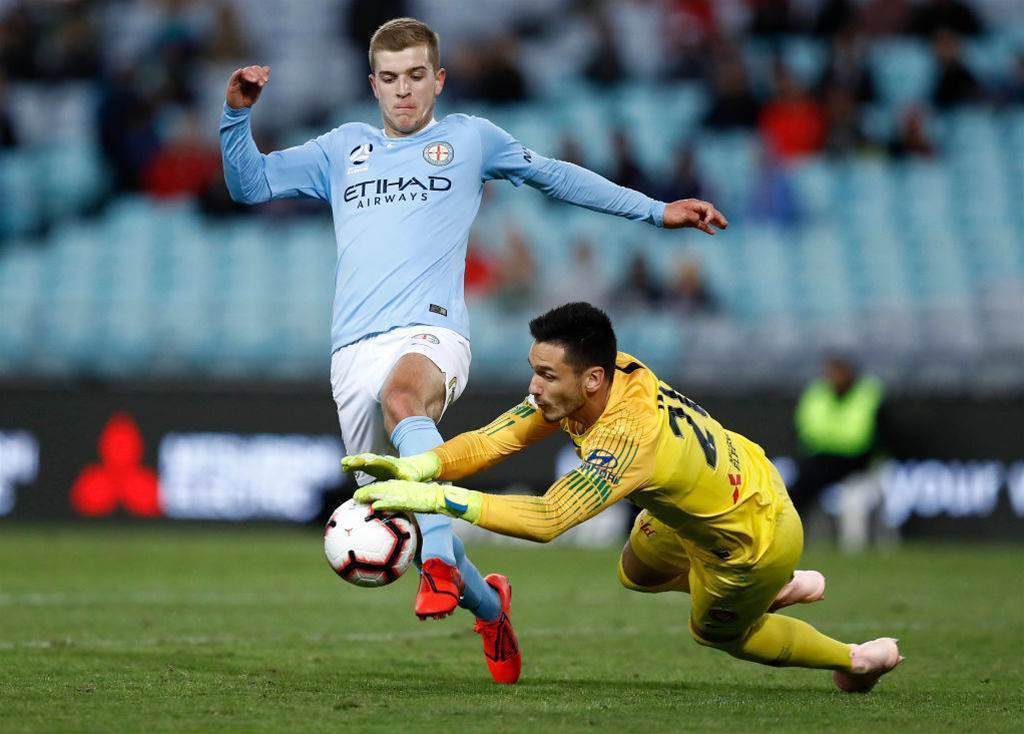 There have been few more criticised players in the league this season than Janjetovic, the controversial Wanderers keeper who has undoubtedly heard it all this season parked in front of a frustrated Red and Black Bloc. 
While the lowlights have been incredibly low - none more so than that remarkable brain-fade to ship a last minute equaliser to Brisbane Roar - Janjetovic has shown equally impressive quality over the years, and did so again tonight.
WORST
Boring opening minute 
One minute in and not even a goal to show for it? C'mon A-League. This round was notable for being the first since the 1988 NSL season to feature a goal in the opening minute of the first two matches.
We could have made history in this one, had it not been for some boring focus, resilience and organisation from both sides. To make matters worse, with the 5000th A-League goal on the line, both sides stopped attacking!
City's inconsistency 
You could almost forgive Warren Joyce for his tactical approach, given the occasional masterclass against the likes of Sydney FC, if it weren't for the continual failures against lesser opposition.
The inconsistencies are rampant up and down the pitch: one minute they're bossing possession against Melbourne Victory, the next they're dominated in the middle by a sparse Wanderers midfield. For every table-topping throwdown, there's a humiliating loss to the Central Coast Mariners. Great for the league, poor for the league's supposed richest club.
That top-six issue...
It's hard to remember a recent season where the difference between the top four and fifth and sixth was more stark. As mentioned, City are always in with a shot and could likely make any disbelievers eat their words come finals, which is an exciting package to deal with. 
But the ridiculousness of a 60% shot at finals is fairly obvious when City can slump into finals with loss after loss against the league's worst, mirroring their likely partners, Adelaide United - who will probably still make it despite announcing their coach's departure before the end of the season. Shows how seriously they take their title tilt.
Copyright ©FTBL All rights reserved.