World Cup 2010 goalscorer Brett Holman says his Socceroos jersey signed by iconic movie star John Travolta was a cool piece of memorabilia from South Africa.
Images of Travolta celebrating with the Socceroos on that memorable night in November 2005 when Australia qualified for the 2006 World Cup in Germany are as iconic as John Alosi's winning penatly kick.
The sight of the Hollywood superstar, shaking his hips, singing and having his head dunked with champagne was the beginning of an ongoing relationship with the Socceroos.
Cut to five years later and prior to kick off of the 2010 World Cup, Travolta, who is also a licensed pilot, flew his own Qantas 707 aircraft into Johannesburg in support of the Socceroos.
This is when Holman, who scored two goals during the tournament, took the opportunity to score some priceless World Cup heritage even though he says that usually he didn't seek out memorabilia.
"I was happy to keep my own [jersey's]," Holman told FourFourTwo.
"But I got one of Harry Kewell's which I really liked, and I also got John Travolta to sign one of my own jerseys with a quote from Face Off. That was actually pretty cool.
"I've got some nice ones - my debut games, my World Cup games, I got Mario Gomez from Germany and when we played Serbia I got Marko Pantelic, because he was at Ajax at that time when I was in Holland."
One player who was keen for some memorabilia was fellow Socceroo teammate Luke Wilkshire who says swapping shirts was a sign of esteem for the opposition.
"If it's someone you're directly up against in a game. Or if it is someone that you know, or that you have played for or against it can be reasons to swap jerseys," he told FourFourTwo.
"Or just out of respect and obviously it's for memories. In South Africa I swapped jerseys with Philipp Lahm as he was Germany's right back. I looked up to him as a player, as he played in a similar position to me.
"There was also Milos Krasic's shirt from Serbia because at that time he and I were both playing in Russia."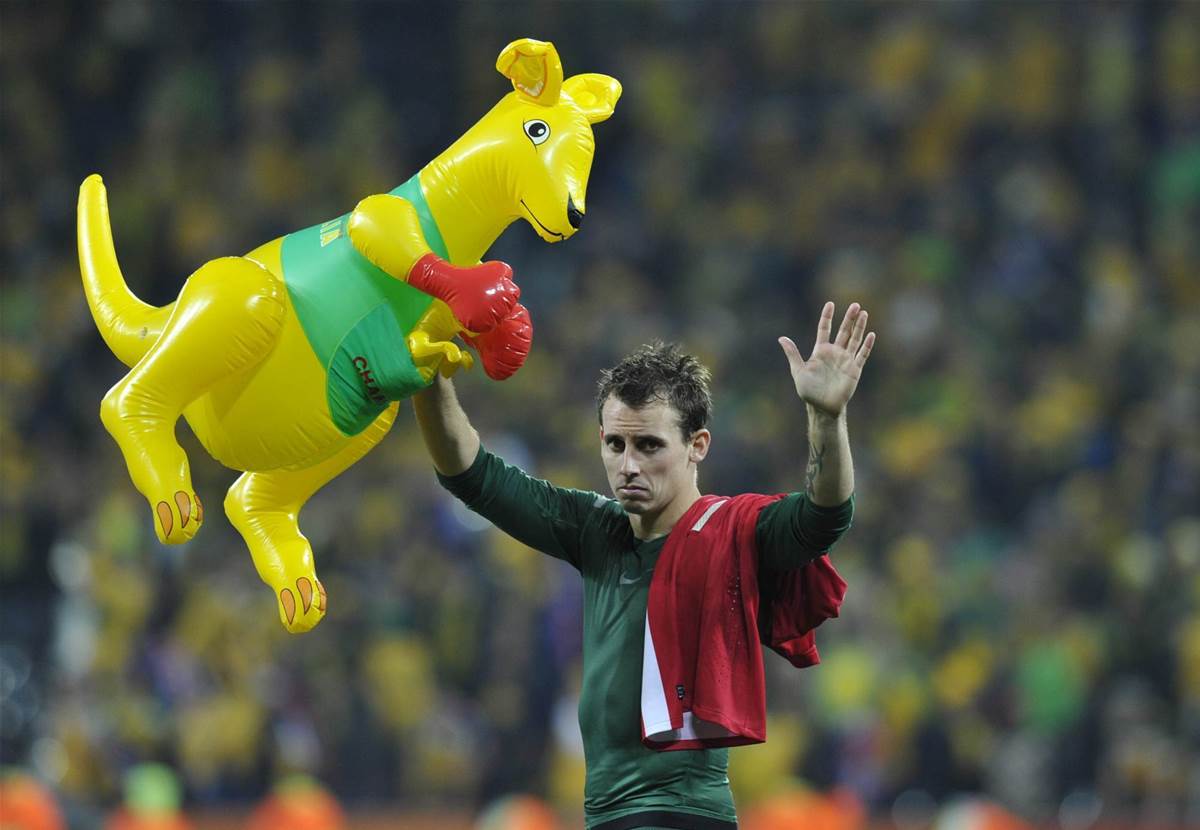 Compared to their group opponents for the upcoming 2018 World Cup, the Socceroos at South Africa 2010 arguably faced a harder group with Germany, Ghana and Serbia.
While the Socceroos matched the same results and points form the 2006 World Cup, unfortunately the 2010 Australians cruelly failed to make it past the group stage on goal difference.
Looking back, Wilkshire says the Socceroos were unlucky not to progress to the knockout stage with the 4-0 loss in the opening game proving to be the Aussies downfall in the end.
"The first game against Germany, we made it hard for ourselves", he says.
"Against Ghana we still had the belief, we played a large part of the game with only 10 men and we weren't lucky enough to get the win.
"Even though we played a great game against Serbia and won the game, we were very disappointed to not go through and the World Cup was over. It was pretty tough."
Do you have a piece of World Cup memorabilia packed away in pristine condition for a rainy day?
Even if you don't have an item like Brett Holman's signed World Cup jersey by John Travolta Hyundai Australia are looking for your best items of World Cup memorabilia and will reward one winner with an all-expenses paid trip to Moscow for the 2018 FIFA World Cup Russia™ Final! 
To find out a bit more about the competition or enter your most prized World Cup item, go to; https://worldcup.hyundai.com/au/