The upper levels of Australian football at yesterday's FFA AGM could not be further away from the gritty beer-soaked stands and chip-strewn terraces they try to fill.
If the fans are #SokkahTwitter, this is #SokkahLinkedIn - all suits and ties and premium subscriptions and regular updates on their tips for success plus humourless inspirational, motivational memes.
Gatherings are not a queue for good times and a sing-song but a chance for networking, firm handshakes and solid eye contact.
This is serious business.
So serious, in fact, that it made Steven Lowy sound like a stand-up comic hired to gee up a corporate function.
In between his blasts at critics, warnings for the future and self-praise for his accomplishments, he was dropping zingers like Seinfeld (if Seinfeld was the son of a fabulously wealthy man who had lived a life of privilege…)
But if you're relying on Lowy for your LOLs, it tells you a lot about the crowd you're with.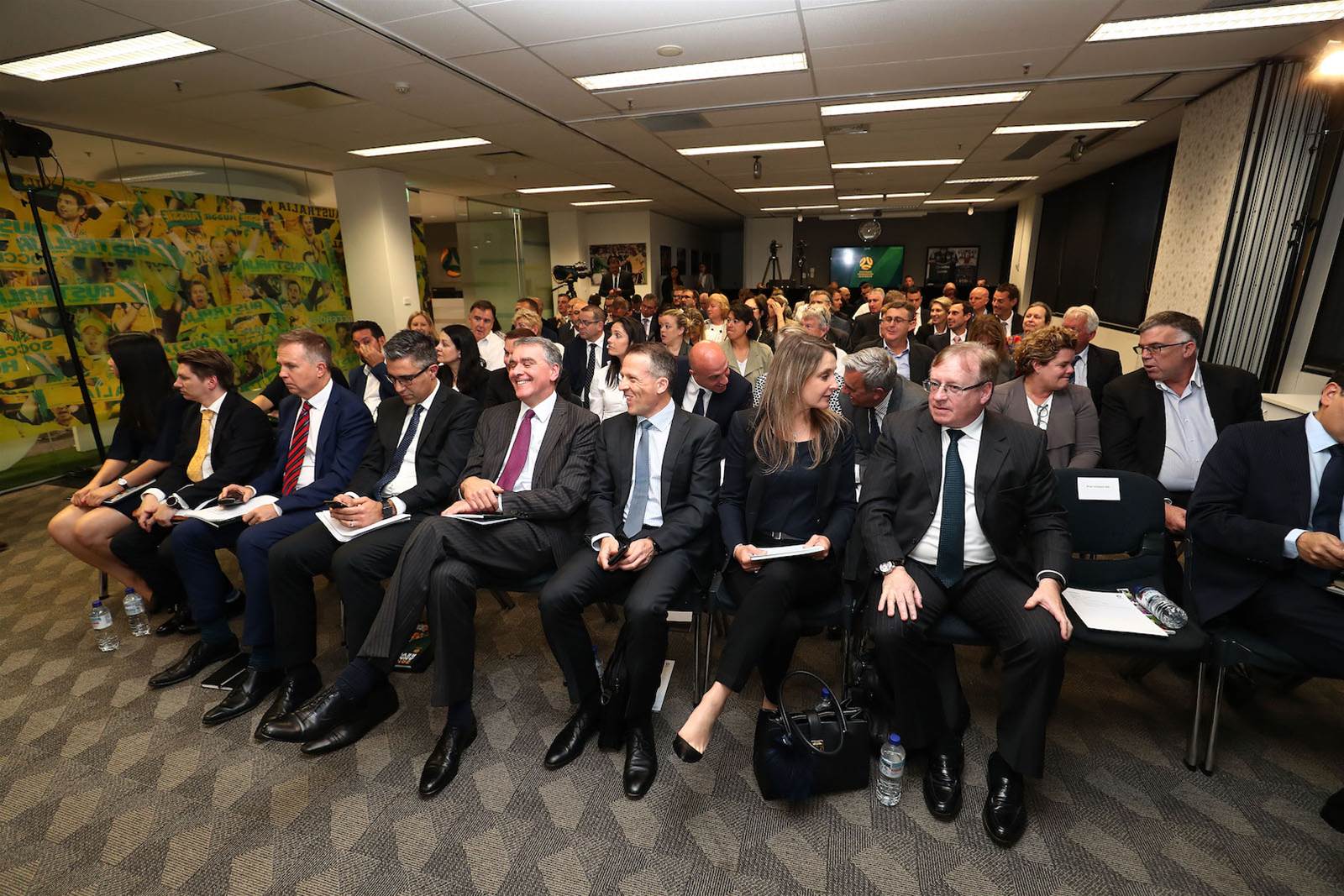 For all the upheaval of the last couple of years, how much has really changed at the top of the FFA tree?
Lowy may now be gone, but he's been replaced by a lawyer who was on the old board. Chris Nikou joined the FFA board in 2015 and was a director on the 2015 Asian Cup board and Melbourne Victory's board too.
He was also the FFA's representative on the Congress Review Working Group who signed off the changes just implemented, but also part of the FFA board which then rejected those changes. Go figure.
Curiously, yesterday, after his election, he stressed the importance of fans and the role he played in defusing the fan revolt in late 2015.
"It was an important education in that I went out to see the active fans…and got first hand what's important to them," he said.
But this was news to Sydney's The Cove who had never seen him before. Victory's Northern Terrace and Western Sydney Wanderers RBB had refused to meet him too. Those three would be considered the A-League key active fans groups.
It is understood he did meet the active fans from Melbourne City among others though.
Joseph Carrozzi is an accountant/barrister and managing partner of PwC Australia who is now at least minus the rival code distraction of his role as deputy chairman of AFL's GWS Giants board, which he gave up two hours before yesterday's AGM began.
However he still remains as almost a professional board member, with additional roles on the boards of Western Sydney University, NSW Institute of Sport, chairman of Centenary Institute for Medical Research Foundation and also chair of Sydney Harbour Federation Trust.
Two members of the previous board are also still lurking - Kelly Bayer Rosmarin who handled the Lowys' corporate account at the Commonwealth Bank until she left the company in July.
And equities fund manager Crispin Murray. He may well be the nicest and most football knowledgeable guy on the planet but that last sentence includes four words normally only heard in rooms filled with platters of prawn sangers and Aston Martin keyfobs.
Remo Nogarotto is a former chairman of Soccer Australia and a veteran of football politics (and real world politics too, with his previous role as a Liberal Party director and strategist). He's been vocal in his opinions on Twitter and has at least been in direct contact with fans. On the downside, he was director of football at Newcastle Jets when they signed Mario Jardel – but he says that was all the handiwork of then-owner Con Constantine.
Heather Reid may well be the breath of fresh air we'd all been hoping for after Craig Foster was forced out of contention and former A-League ref Mark Shield was humiliated by not getting a single vote.
To put Shield's dismissal by the suits in the room into perspective, it means that even the state federations who nominated and seconded him DID NOT VOTE FOR HIM. That is brutal.

Reid through is a worthy flag bearer for grassroots and women's football, with life experience on the pointy end as a former chief executive of Capital Football. She was nominated by the PFA and if fans were looking for a voice in the FFA boardroom, she may well be the best hope.
Her resounding election to the board with more than 90% of the vote is testament to the respect she's held in by all sides within the game. She knows many of the key issues that affect fans and players and immediately on election as deputy chair, she identified the long-running family bugbear of registration fees as her first priority.
Three more directors are likely to be appointed to the board in the coming weeks once the existing board identifies areas it needs additional expertise in.
But with Reid as possibly the major exception, the new board does not look a whole lot different from previous boards. There is no-one there likely to disrupt the way things are run, in the way that you know Foster would have done (and which was almost certainly why he was marginalised and effectively forced to withdraw).
Before the AGM began, the room was filled with empty seats, each with colour coded nametags according to voting rights. These were the heavyweights of Australian football - yet few would recognise many of the names, and certainly not the faces.
There were cabals and cliques everywhere. There were hushed deals and disagreements. There were nods, and winks, thin-lipped silent recriminations and symbolic fealty handshakes, with more metaphorical bending of the knee than in an entire season of Game of Thrones.
At its dramatic conclusion - after the remaining candidates had been whittled down to just two, despite the need for an absent "four-sided coin" at one stage - a whispered conversation on the sidelines sealed Remo Nogarotto's election as the final board member.
Voting had already begun to choose between Nogarotto and former Labor pollie Stephen Conroy after the previous vote had been unable to edge either over the line with the crucial 60% of the vote, generating just 53% and 49% backing in the last round of six way voting.
As the company secretary was calling forward Capital Football to place their vote, a deal was being hatched near the back of the room.
Capital's Mark O'Neill asked for a moment to finish his whispered chat with a go-between before he walked to the front to vote while the messenger moved to the other side of the room to whisper in the ear of Melbourne City's Simon Pearce, who has been instrumental in leveraging the overhaul of the FFA and A-League structure.
The sign of that was enough for Conroy who immediately stood up and withdrew his nomination without another vote being cast.
A show of hands was then enough to put Nogarotto onto the board. That is how things are done at the top of football.
(Another chief instigator of the overhaul of the FFA was Greg Griffin, former part-owner of Adelaide United. He was one of three scrutineers of the secret ballots held for each vote and sat at the back of the room. After Nogarotto's election, the room quickly emptied… minutes before a leaky AC unit caused a huge chunk of the ceiling to fall right on the spot where Griffin had been sitting just moments earlier.)
While Lowy was fighting his rearguard defence of his old regime, he repeatedly warned those hoping for change to be careful what they wished for.
Right up until the end he was dismissive of those wanting to see football people and passion in the board room.
"I hear the argument that is fashionable at the moment that there must be more 'football people' and fewer 'suits' represented on the board," he sprayed in his final speech.
 
"It is a nonsense argument which is hopelessly superficial and naïve.
 
"And it is typically advocated by people who have had no board or management experience at this level or the heavy responsibility that goes with it.
 
"Football is about passion. We all get that. Those of us in this room who have played it, lived and breathed it, know that.
 
"But passion is not enough.
 
"Football is also a serious business and it therefore demands skills and experience beyond just the game."
In the end though, for all his bitterness at getting turfed, he might be the one who got what he wished for more than fans did.
A serious board has been elected but it still remains to be seen if there will be key players in the background pulling its strings - and in what direction.
Expansion will be the earliest test and indicator…and already that decision has been pushed back yet again until near Christmas at the earliest. New clubs joining next season looks increasingly unlikely.
A possible compromise might be to give the green light to four clubs for the following season, but given how that would make life difficult for an independent A-League locked into a fixed TV deal with Fox Sports, it seems unlikely. Until that deal can be renegotiated and improved, it is arguably in the existing clubs' best interests to delay expansion as much as possible…
Australian football has got change, which is what it wanted. It remains to be seen if it is actually the change it wanted though.
And the message from yesterday is very clear - our future is still in the hands of SokkahLinkedIn… not SokkahTwitter.