It's Sydney FC's biggest match of the Asian Champions League – and the Aussies are going into it brimming with energy and confidence.
Japanese side Urawa Red Diamonds are the hotly tipped favourites to top the group, but they have made a shaky start to their J-League season.
In just their second domestic game of the new year, they threw away a two goal lead against lowly Albirex Niigata in the last two minutes and are already adrift from the league leaders. In February, they lost the Super Cup final after a 4-0 trouncing by Gamba Osaka.
But no-one should underestimate the side facing Sydney.
They have a huge following in their hometown of Saitama, with a three-year waiting list for a season ticket for their home grounds at Komaba Stadium – where games regularly sell out its 21,500 capacity – and the 63,700-seat World Cup-hosting Saitama Stadium for bigger matches.
And what was once a club notorious for its loyal fans but which failed to deliver on the pitch, Urawa has been transformed into a team of winners and heroes.
They finally clinched the J-League title for the first time in their 14-year history last December, after being runners up by just one point in 2005 and a hard-earned third place in 2004.
They've also notched up back-to-back wins in the Emperor's Cup, the second win coming on New Year's Day this year. Two J-League Cups and a Super Cup also fill the Urawa trophy cabinet.
The club plays with a chip on the shoulder passion borne of living in the shadow of bigger sides from nearby Tokyo and Yokohama – and new manager Holger Osieck is determined to bring even greater glory.
With a history of handling teams like Fenerbahce in Turkey and the Canadian national team – which he took to CONCACAF Gold Cup victory in 2000 – Osieck is no stranger to the international stage.
He has vowed to take the side to new heights – and become the first Japanese team to compete in the Club World Championship by winning the Asian Champions League title.
"We want to play well in the AFC Champions League and hope to qualify for the Club World Cup," he said. "I've always felt it was a shame that no Japanese club has played in the last two Club World Cups. Now I'd like us to be the first Japanese club to be there."
In their first match of the ACL, they thrashed Indonesian hopefuls Persik Kediri 3-0 at home in a match they dominated from start to finish...and will hope to do the same to Sydney.
Sydney however will have other ideas. They are renewed by the arrival of Branko Culina in the manager's role – and made a fabulous start to their ACL campaign with the 2-1 win over Shanghai Shenhua.
With another two weeks to work on training and no competitive domestic games to tire players, Sydney are in great shape to give as good they get from the visitors.
Sydney's first half display against Shanghai was a spectacular turnaround from last season's disappointing A-League performances.
David Carney and Steve Corica hooked up well in midfield, Clint Bolton was a star between the sticks and Ufuk Talay's thunderbolt goal was a revelation.
In the second half, Sydney showed signs of tiring towards the end, but with more time to work on fitness, Culina will be hoping that won't be an issue against Urawa.
"We have about 40 per cent of improvement left in us and even the ones that played well will get better because of what we are working on," said Culina.
"We will know against Urawa Reds at home whether we have a genuine chance of getting through the group stage or not because there is no doubt they will be the biggest test for us."
KEY PLAYERS
Sydney FC

Clint Bolton
Played better than ever in the match against Shanghai, with complete confidence in his own abilities and total command of the box. Once criticised for being too laidback in his approach to games, Bolton showed no sign of nerves and looked sharp and in control under Culina's leadership. "I want to be as good as I can be," he says.

Dave Carney
After an injury-plagued season, Carney has come back on form – and judging by his performance against Shanghai, much improved on even his stunning first season in the A-League. He was a ball of energy in the ACL opener and covered miles of the pitch during his 60 minutes on the field, switching from defence to attack and back to defence in the blink of an eye.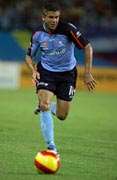 Steve Corica
The lynchpin at the heart of Sydney's attack, Corica creates the side's strike force, not just making opportunities for Alex Brosque and David Zdrilic, but also finishing them. His opener for Sydney against Shanghai was a typical Corica goal – and very often crucial, like his winner against Central Coast Mariners to claim the A-League trophy in 2006 and earn Sydney's place in the ACL.
Urawa Red Diamonds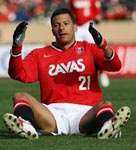 Washington
The veteran Brazilian striker is a temperamental spirit who can clinch victory for his side – but just as easily cause an upset. The wily dangerman scored for Urawa in their opener against Persik despite nursing an injury – but spat the dummy as he stormed off the field when he was later substituted, prompting a humble apology from the player after a roasting from the boss.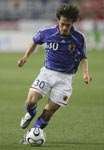 Yuki Abe
New signing from JEF, Abe is a rising star at 25 and already a proven goalscorer with 23 goals in the last two seasons from 66 starts...not bad for a midfielder. His $4 million transfer deal from JEF was a Japanese domestic record – and he set up one of the goals against Persik. It remains to be seen how well he's settled in with his new team-mates though.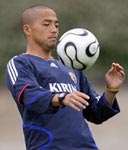 Shinju Ono
His nickname is Tensai...or 'Genius'. Ono is a master in midfield, able to adapt to any position around the centre circle whether in attack or defence or on either wing. He's a Japan national team regular and was part of the Feyenoord side that won the UEFA Cup in 2002 but returned to Urawa last year after injuries ended his Euro dreams.