Yes, you read correctly. No less than 10 Socceroos are staring down European and Asian titles this season and we've got the low-down on every single one.
With Aaron Mooy and Mat Ryan's stinkers in the Premier League, you'd think the Socceroos were having a shocker abroad this season. Well, think again...
Truth is, the majority of Socceroos are having astounding seasons in their respective foreign top-flights, leaving no less than 10 of the current crop on the verge of taking out league titles.
In the midst of huge negativity surrounding Australia's flagship side, it's a sign of positives to come. Many of the following high-achievers are under 25-years-old and those that are playing in the lesser leagues are generally playing almost every game.
There are so many silver linings emerging on what we previously thought were storm clouds that we're getting a tad excited. After all, there's nothing better than a shiny bit of silverware to earn you prize position in the shop window...
1. TOM ROGIC
Okay, so we thought we'd begin with the bleeding obvious.
To read that a guy who's won three Scottish Premierships, three Scottish Cups and three Scottish League Cups is going to jam another cup into his trophy hallway is hardly news, but it's worth taking a moment to reflect on Rogic's own influence over the most dominant spell in Celtic history. 
'Tam' has suffered an injury-ravaged spell in Scotland's top flight, but it hasn't stopped him hammering in 35 goals and finessing 28 assists in 163 Hoops appearances. He's running at one goal every two games in the Scottish Cup, has his own version of 'Land Down Under' as a fan chant and don't even get us started on his Old Firm performances.
Rangers are basically Rogic's playthings. Not bad for a futsal casual who got knocked back by every A-League club...
All in all, the Bhoys are nine points clear of the Teddy Bears with three matches remaining, Rogic has been raced back into the starting lineup after knee surgery and you can see why. He's had a phenomenal Celtic career for the number of matches he's missed. 
We're all hoping his current understudy, Daniel Arzani, doesn't suffer the same injury fate. But should the Celtic curse strike and Arzani - only just recovering from an ACL - falls down a similar path, Rogic may prove the best role model an Aussie could hope for.
2. DANNY VUKOVIC
From one Euro-title mainstay to another, Vuka has been simply sensational between the sticks this season (not the only Aussie either, but we'll come to that later).
The Genk shot-stopper has commanded his rock-solid defence to sit six points clear at the top of the Belgian Pro League championship round after six matches, re-igniting his top drawer aspirations in the process.
At 34-years-old, Vukovic has at least six Mark Schwarzer-years (kind of the opposite of dog years) remaining and the former journeyman is making the most of them.
Another John Crawley coaching disciple, Vukovic has racked up 92 appearances since 2017 and kept a whopping 29 cleansheets, more than he did at Perth Glory in less matches. Still hasn't scored any penalties though so...y'know...could be better.
After a fairly short acclimatisation period, this season has been particularly sensational for the Aussie. He's only conceded 27 goals in 28 league matches and kept 11 cleansheets in just over 2,500 minutes of football.
If it wasn't for his age, you'd say he's a shoe-in for a big offseason move...but even as thing are, you never know.
He also played every single minute of Genk's impressive Europa League campaign, where they devastated the likes of Besiktas to make it to the second round.
There, Vukovic shut-out Slavia Prague in the first leg, only to be withdrawn 58 minutes through the second. Genk went on to lose 4-1...
3. MILOS DEGENEK
The only Aussie on this list with a realistic chance of taking out a treble this season, Milos Degenek's controversial move from Red Star Belgrade (where he would also be on this list) to Al-Hilal could yet return a domestic double and an Asian Champions League crown. 
Plus a bit of spare change, but who's counting...
Degenek controversially swapped from Red Star Belgrade to Saudi giants Al Hilal mid-way through the 2019 Asian Cup, with many blaming Belgrade's willingness to lap up a large transfer fee for taking the Aussie centreback away from UEFA Champions League football. 
But the Aussie centreback has largely shone since joining one of Asia's biggest clubs, making eight appearances in the league and an additional three in the Asian Champions League in the run into the season's end.
Degenek's proven his mettle by adjusting seamlessly from the biting Serbian winter to the suffocating Saudi Arabian summer (a massive accomplishment when you think about it) to turn out 13 times for Al-Hilal already.
He's also been largely deployed as a defensive midfielder, adding yet another role to the already impressively versatile Socceroos' CV. 
Al Hilal now sit one point behind Al Nassr but have a game in hand after a win against Al Ahli, with Degenek often appearing as a defensive midfielder in the Saudi top tier. After 27 matches, Hilal have only lost two matches.
They also top their ACL group after three wins and a loss. The Saudi giants only have three matches remaining to take out the title, but must face third-placed Al-Shabab and fourth Al-Tawooun before the celebrations can begin.
4 & 5. TRENT SAINSBURY & AZIZ BEHICH
While the first three were objectively complimentary, these two are a little more of a backhander. Yes, Sainsbury and Behich are verging on winners medals - in the Eredivisie, no less - but it's not exactly due to their goal-saving clearances or lung-busting wing runs...
While 27-year-old Sainsbury has notched a somewhat respectable eight appearances this season for the Dutch giants, making 514 minutes total with a goal for his efforts, Behich has made a less respectable six, totalling 280 minutes. 
Despite continually listing on the bench, Behich hasn't appeared in any of PSV's last 17 matches, becoming a fixture among the Gatorade bottles. I wonder if he remembers what his kit looks like without the yellow bib?
It's a shame for Behich, who was one of the Socceroos most consistent outlets over the past few years and seemed to be moments away from signing for Galatasaray before Mark van Bommel swooped in and stole the Super Lig regular away after the World Cup.
I was in Turkey following the tournament and his face was plastered all over the sporting news, such was the impact he'd made at Bursaspor (over 144 appearances) in the lead-up.
Now 28-years-old, if he's to regain that potential and once again cement a Socceroos role, you get the feeling his next move has to be the right one. For Sainsbury it's a similar story, although you'd think without that shocker nine minutes against Tottenham Hotspur in the Champions League, he might have stood a better hope. 
Still, a widely respected European league title is nothing to sniff at (PSV currently even stevens with Ajax on 80 points apiece) and may well bode well for the two Aussies' next moves.
6. KENNETH DOUGALL
Okay, so he hasn't actually stepped foot onto a Socceroos pitch yet and he's cap tally looks a resounding zero, but the Aussie up-and-comer has been selected for Socceroos squads under Graham Arnold (unlucky not to appear against Kuwait) and deserves a spot on this list for his miraculous career decision-making alone.
Honestly, if the Socceroos were picked on the right moves at the right times, Dougall would be captain. First, the former Brisbane City starlet took off straight from the NPL to the Dutch Eerste Divisie (second division) and proved himself enough to ditch Telstar after a single season for high-flyers Sparta Rotterdam. Two big moves in 12 months.
The Sparta decision was a thing of beauty - Dougall quickly established himself as a set-in-stone starter at the Dutch club, which meant when Sparta won promotion to the Eredivisie, suddenly this little-known fullback was an Eredivisie starter (even Craig Goodwin, who joined the club soon after, couldn't replicate Dougall's success). 
When Sparta were relegated, the pacey defender then jumped ship for newly-relegated Championship side Barnsley on a two-year contract. Despite breaking his leg (and trying to play on regardless) it's turned out to be another sensational move.
Barnsley are currently equal first in League One, only four goals behind Luton in first on goal difference. Luton have looked shaky of late as well, but regardless of how the season ends Barnsley are looking certainties to restore their Championship status next season with Dougall (29 appearances and eight yellow cards this season) likely to once again be leading the fullback line.
Now 25-years-old and clearly possessing some Championship grit about him, this guy's a serious one-to-watch. 
7. MITCH LANGERAK
There was a time - albeit briefly - when Mat Ryan and Mitch Langerak were battling it out wholeheartedly for Australia's goalkeeping successor.
Despite the size of Mark Schwarzer's contribution to Australian football, the gulf left by his departure wasn't gaping for long.
Mat Ryan's teenage sensation-season at Central Coast Mariners even-surpassed Mitch Langerak's own impressive breakout at Melbourne Victory and before long the current Aussie number one had shot into sole contention for the Socceroos starting goalkeeper.
It didn't help that on the few occasions Langerak was given a chance under Ange Postecoglou - who also gifted shots to the likes of Adam Federici - he tended to have a shocker. 
But the now 30-year-old Aussie shot-stopper (it seems just yesterday he was a baby faced second choice at Borussia Dortmund) has survived lean spells at Levante and Stuttgart to emerge a dominant force in the J-League.
Mitch Langerak's Nagoya Grampus are currently second, but have endured a tougher run of fixtures and with only nine matches played, look to be resolute contenders for the J-League crown this season.
The Queensland boy's habit of forming successive clean sheet runs are drawing considerable praise and he's even featured in a few Team of the Weeks for his displays. All-up, he's kept an impressive 10 shut-outs in 42 appearances for Grampus.
Given the response of Nagoya's incredible fans following the announcement of his new baby in October last year, he seems to be becoming a firm fan favourite in the Chubu region.
Who needs Borussia Dortmund fans, eh?
Thank-you so much to our fans for this awesome gesture! Thank-you for all your messages and well wishes over the last couple of weeks! #nagoya #grampus #japan #santiago @AustraliaInJPN pic.twitter.com/WHP56TsvVv

— Mitch Langerak (@MitchLangerak25) 29 October 2018
7. AWER MABIL
23-year-old Kenyan refugee-turned-Socceroos poster boy, Mabil exploded onto the scene in 2015 at Adelaide United, and like many young Aussie footballers, shot off to Europe at the first opportunity, joining rising Danish powerhouses, FC Midtjylland. 
Ultimately Midtjylland was an apt place for Mabil to join: the Danish Superliga has become a hotspot for Aussies abroad (Mabil recently beat fellow Socceroo Mustafa Amini's AGF, two weeks prior it was McGowan's Vendyssel FF) and it's easy to see why.
The Superliga coincidentally follows a very similar format to Australia - a 26 game regular season, followed by a top-six contended finals series. And while it's debatable whether the Superliga's quality is markedly higher than the A-League's, Denmark is a gateway to the lucrative European mainland.
The club's emphasis on youth development is particularly notable. Breaking from its historically stable mid-table existence, over the past decade a sterling youth academy has shot Midtjylland up both the Danish and European ranks (they now sit directly above former French champions Lille and Bordeaux in the UEFA club coefficient).
This is a club that, while Mabil was on loan to Esbjerg, beat Manchester United in the Europa League. Of particular interest are their partnerships with over 100 youth football clubs as far away as Nigeria.
In Denmark, following the conclusion of the regular season, the top six teams each play each other in a home-and-away fixture, with end of season points tally, rather than a Grand Final, determining the champion. With five goals and 10 assists, the Aussie winger has played a highly substantial role this season as a set starter for the Danish champions - who were favourites to retain their crown up until a few weeks ago.
Unfortunately for Mabil and Midtjylland, after coming so close to a second straight title, their hopes are now slipping away. While they're still second in the Championship round, back-to-back losses may end up costing Mabil the big one.
However, that's not enough to take Mabil off this list: He's in the final of the Danish Cup (May 18 if you feel like begging him on, bleary-eyed) so still stands a (very strong) chance of domestic glory.
9. BERNIE IBINI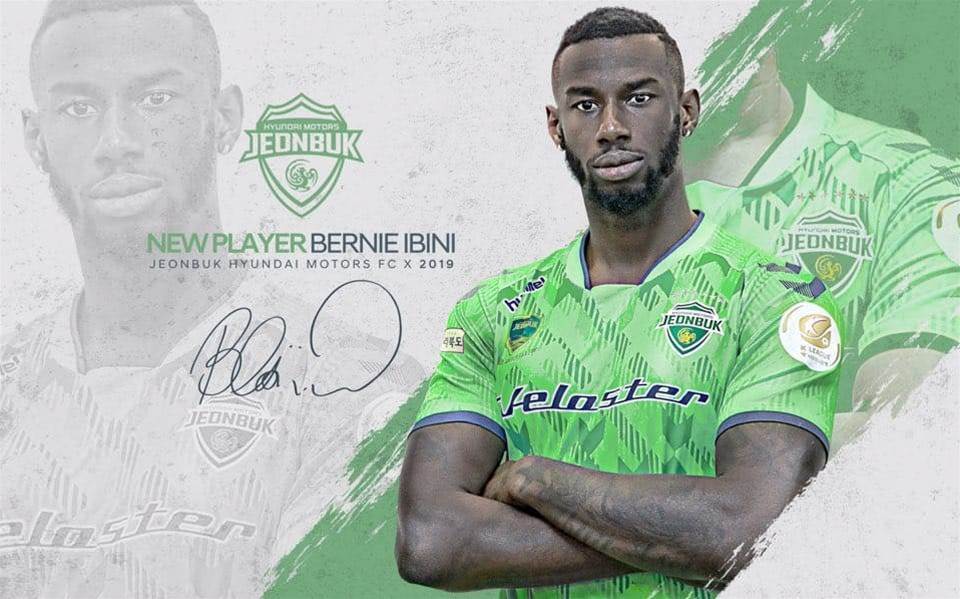 While it's early days in the South Korean K-League yet, Bernie Ibini is well worth including on this list because
a) Jeonbuk are flying high in first position, they're a clear favourite to take out this season's K-League title and they well-deserve to be undefeated in their last five matches, and
b) Who knew Ibini was playing for one of the strongest clubs in Asia?
In truth it's easy to understand why the two-time Socceroo has flown a little under the radar, given he's only made the one appearance this season.
But at 26-years-old he could do a lot worse than knocking about at the reigning Korean champions, on their way to a second straight (certainly can't blame him for turning down a Central Coast Mariners return now, can we?)
It's a hard trek for Ibini to work his way into the starting lineup of a nearly 50-strong squad, of which only four aren't South Korean and - no surprises here - they're all Brazilian.
But Ibini has natural advantages the K-League covets: natural athleticism, strong physique, power and height in spades, which is why journeyman Jeonbuk coach Jose Morais, who has worked at some of the world's largest clubs, may keep the Aussie in his back pocket for just the right moment.
Possibly. Hopefully... 
10. APOSTOLOS GIANNOU
While he's the least likely entrant on this list, Giannou's AEK Lancarna only sit six points off the lead in Cyprus after 29 matches, giving him a strong shot of taking out the Cypriot first division title this season.
To make it even more enticing, a 10-man AEK just defeated Cypriot giants and league leaders APOEL Nicosia 1-0 on Monday. Given it's a Championship round structure, anything can happen from this stage.
It's also worth noting because this would be a huge coup for the Larnaca club, which is only 24 years old and has never won the league title, falling in the shadow of the cashed-up regular Champions League entrants from Nicosia.
What's perhaps more interesting is that the small Cypriot club have done it without regular goalscoring contributions from Giannou, who despite his generally strong Socceroos form (when picked) has barely sighted the net in the top flight.
Despite starting and playing the full 90 regularly (missing a run of games during the Asian Cup), Giannou's only notched two goals and is yet to register an assist in 14 appearances this season.
While his form was decent in Europe, notching a string of assists throughout Europa League qualifying and then performing fairly strongly (again as a set in stone starter) throughout the group phase, it's been a far from prolific campaign from the 29-year-old. 
You'd think if one of their main strikers can find his shooting boots, AEK may cover that lost ground easier than expected.
Copyright ©FTBL All rights reserved.