Fancy a week in Brazil? Playing in Neymar's own 5-a-side tournament against the world's best ballers?
Australian street football great Daniel 'D10' Capellaro's tells FTBL that his week in Brazil at the Red Bull Neymar 5s was one of the most amazing experiences of his life.
Capellaro has returned to Melbourne after a whirlwind week in and around São Paulo.
The Neymar Jr 5s is a global tournament for male and female footballers who competed in over 40 countries in national playoffs to win the right to represent their nation.
It's a five-a-side tournament played at the Brazilian star's own Institute in his hometown.
And it looks amazing!
Dan at the Neymar Jr Fives
Aussie Capellaro, 33, met the Brazilian superstar during the tournament and says he hopes his own skills showcased the best of Australia amongst the world's elite freestyle, Futsal and street football stars.
And with his own Instagram presence close to 300K, the Australian was recognized by many other players at the tournament.
"It was a cool tournament to play, and just meeting Neymar on the last day was unbelievable. There was every media outlet there," he told FTBL after landing back in Melbourne. 
He takes FTBL through his seven days of adventure, luxury and rubbing shoulders with the Brazilian superstar.
Day 1
We flew in the night before to São Paulo, so during the day we acclimatized from the long flight and had a look around the city, had a team meeting and then went to a sports bar to watch the Copa America.
Day 2
We collected our training kit then we all hopped into a bus and traveled about an hour and a half outside of São Paulo to the Red Bull Academy. It was in the middle of nowhere in a jungle but the facilities were amazing.
We had a training session and were shown around, actually, this team plays in the Brazilian second division.
We then played one of the top Street football teams in Brazil and we beat them in the first game they beat us in the second game, in the third they beat as 1-0 with a goal in the last seconds.
Day 3
We left São Paulo for Santos FC the famous club of Pele, Neymar, and Robinho. We toured the club's museum and digital interactive display and went to the pitch where Neymar scored that famous Puskas goal - it was an amazing feeling being at their Villa Belmiro stadium.
Just being on the side of a pitch that has seen the likes of Pele and Neymar score amazing goals. They even have a museum just for that Neymar goal where you can see the boots he wore and you can watch the game on replay.
Then we went to the most amazing hotel I've ever stayed in, the Sofitel. It was six stars. This was our base for the rest of the tournament.
I've never seen a hotel so incredible. 
Day 4
We started with a very cool beach training session and then we had the Red Bull global marketing team making a small story around our team
We were taken to the Neymar Institute And this was our first look at where the tournament will be held, and on the surface, we had a three-hour training session there.
What I remember was the staircase at the Institute, it was built around Neymar's career moments with these amazing murals.
Day 5
We had the draw for the tournament. We had to spin the wheel to see which team you would play and I was named as captain of the global 5.
Then there was a shoot with red bull global and other media. So we got all of that out of the way because the following day was tournament day, where we would play against some great players.
Day 6
Tournament day at the Institute. We had three matches and the first one we lost 1-0 to Kenya. Then Brazil beat us 5-1 and in the last game, we beat Nigeria 5-0.
We got better through the tournament.
It was a topsy turvy group, with Nigeria beating Brazil.
We missed out on the second phase by a goal.
Day 7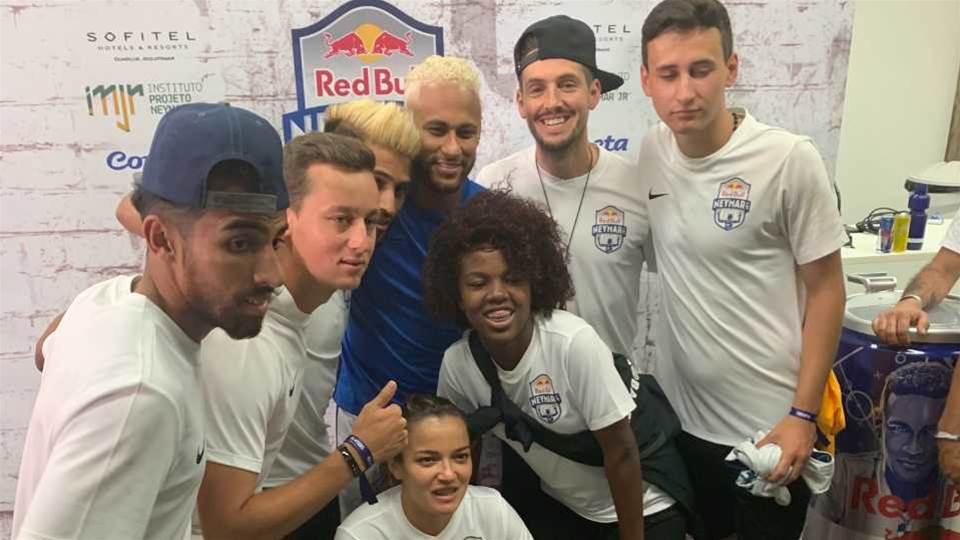 Neymar: "so chilled out and relaxed"
The knockout stages were played plus men's and women's exhibition games with some big names. Some huge names like Cristiane from their Women's World Cup team were also there.
Then we got to meet Neymar. It was unbelievable. We just wanted to be in his presence.
He was so chilled out and relaxed.
He smiled, look me in the eye, signed some things.
He took time with us and I spoke a little to him in Spanish. We got two or three minutes with him. His media minders and PR team around him were moving him along so we only had a brief few minutes.
It was very positive. I like him even more now as a player.
Day 8
We chilled out, took a bus to Sao Paolo and went to the airport, to take the 23-hour journey home. 
What an adventure for an Aussie like me. 
I'll never forget my week in Brazil.
Thank you, Red Bull, and thank you Neymar. 
Copyright ©FTBL All rights reserved.