How to train like an Australian champion of the pool.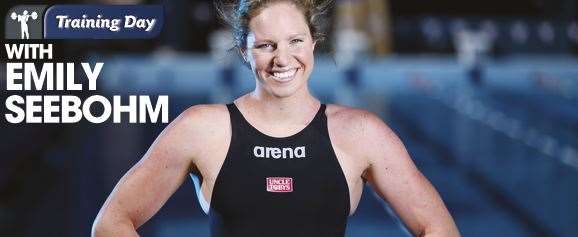 Born in Adelaide and bred in Brisbane, Emily Seebohm comes from strong sporting stock: her mother Karen played rep netball while her father John played 300 SANFL games for Glenelg. True to this pedigree, Seebohm was just 14 years old when she leapt into Australia's swimming spotlight with a stunning victory in the 100m backstroke at the 2007 Nationals. That victory guaranteed her place on the Australian team for the '07 World Champs in Melbourne, where she nabbed both a gold medal and world record alongside Leisel Jones, Jess Schipper and Libby Lenton in the 4x100 medley. Not bad for a youngster two years shy of her P-plates ...
Since that lofty debut, Seebohm's rise has continued at pace. Olympic gold in the 4x100 medley in Beijing was followed by gold in the 4x100 free at London. It was at the Delhi Commonwealth Games, however, where she proved her incredible all-round strength in the pool. Listed in eight events – from the 200 IM to the 50 'fly – she medalled in all of them, including a hat-trick of gold medals.
The ultimate goal for the 21-year-old is now an individual gold at a major world meet. And the 100m backstroke at this month's World Championships in Barcelona will provide the ultimate opportunity. At the Beijing Olympics pre-Games stress played havoc with her health and she missed the final. At the London Games America's Missy Franklin burned her up in the final 10m, leaving the Australian a blubbering mess on the pool deck. The time is now ripe for Seebohm's revenge. Here's the program that will – touch wood – lift her to the top step of the Barcelona dais.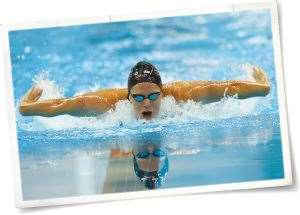 No Drag
"Swimming is very technical. When it comes to backstroke, the three things that my coach Matt Brown is always telling me are: head back; hips up; short, sharp kicks with straight knees. This will give me a good position in the water, minimising any drag. With breast-stroke, the biggest thing for me is keeping my kick narrow. I make my kicks very wide and this slows me down, adding to the drag at the end of each stroke. Instead of being short and powerful, my breaststroke kick tends to be long and slow. So Matt is always hammering it into me: narrow kicks, narrow kicks ...
"With butterfly, my focus is the underwater part of the stroke – the 'keyhole' pull pattern as we call it (so called because the swimmer's hands describe the shape of a keyhole). I need to concentrate on pushing my hands back to get me 'clearing' the water. Freestyle's the same – the focus is what happens underwater. I have to concentrate on pushing as much water behind me as I possibly can. The kick's similar to the backstroke kick – short, sharp kicks without bending the knees."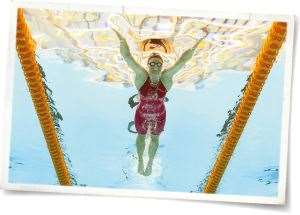 Achilles Heel
"I find breaststroke the hardest – it's definitely not my favourite stroke. Because I'm not particularly strong at it, I find it incredibly physically demanding to do a lot of it. I try to do a lot of breaststroke during my sessions – so I get used to the physical stress of the stroke – but I tend to find I get really sore shins when I do the breaststroke kick. This is because the breaststroke kick is such a whole-leg exercise. I find it really difficult to go fast with my breaststroke kick; it takes me a long time to do a single kick. When I try to speed it up, it puts a huge amount of pressure on my legs ... There are a lot of technical things I need to work on with my breaststroke."
Different Strokes
"Most of the sessions Matt has me doing are designed so that I can incorporate different strokes throughout the workout. Sometimes a session will only incorporate two strokes, sometimes four. This morning, for example, I did a session where I was doing efforts over 15m, 25m, 35m and 50m. I had to work three times through that progression in each set, so I just rotated through the different strokes. Occasionally Matt will say he wants a certain session completed in a certain stroke, but generally he leaves it up to me. I find it pretty easy to cover all the strokes in a session."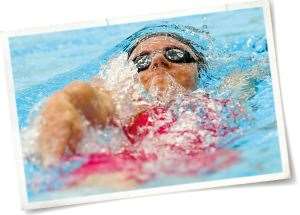 The Pointy End
"As a big competition – like the World Champs – approaches we'll gradually start cutting down the kays in the pool. This is when we'll start doing a lot of speed work to get us prepared for racing. During our peak training phase we'll normally snap out around 6km in a session, so 12km a day. I don't find that load too bad. I've been with Matt for a while now so I know what to expect from his sessions. I don't go in to a session groaning, thinking, 'Oh no, what have we got today? '
"Depending how big the competition is, we generally start our taper around five weeks out. We'll normally drop a couple of kilometres from each session, each week. So, in the first week of taper we'll do 10km a day, then we'll keep dropping it from there. A week out from competition, we'll be doing around 1500m a day. } That's about the lowest our mileage gets. In that final week we'll normally do around eight or nine sessions a week, so we'll get an extra morning a week off, or something similar. Matt doesn't like us dropping too many sessions as a competition approaches."
S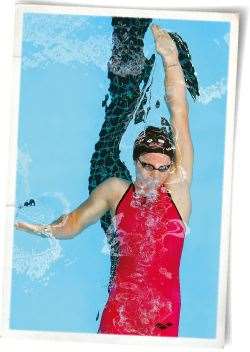 harpening Skills
"Starts and turns become a really big part of our training program during the taper phase. Even in our heavy phase we do a lot of skill-work, but it becomes a particularly big focus in the final few weeks before competition. Matt times our starts and our turns, so we can track our progress. With turns, for example, he'll time us from flag to flag, going into and out of the wall. For me, anything under five seconds is a pretty good time, anything over five seconds ... "
Dry Land
"We have a few different phases of gym-work. In our high-training zone, we're focussing more on heavy weights and lots of reps. In the gym, the focus is very much on full-body exercises that are applicable to swimming: squats, deadlifts, step- ups, chin-ups, pull-ups, things like that. All these movements should somehow relate to swimming: squats, for instance, relate to driving off the blocks quickly. In this heavy-phase, the focus is very much on technique.
"As we move into our power phase, we fizzle down the number of reps but keep the weight high. In this phase, while the movements remain the same, the focus moves from technique to speed. We're in our power phase at the moment. Right now, we're doing about four sessions a week in the gym. As we get deeper into our taper over the next few weeks we're going to start cutting that down."
Healing Touch
"I have massages about once a week, to help my body recover. Beyond that ... Matt usually gives us around 15 minutes before any session to do some stretching, work any soreness out. That's our time to complain about being sore! Once we're in the pool, Matt won't really listen to any complaints ...
"I don't focus on my diet too much. When I'm racing I don't think about what I'm eating, and when I'm training hard it doesn't matter what I'm eating! When we're training hard we need a lot of calories, so we tend to carry a bit of extra weight during those times. When we move into our taper phase – into our 'zone' – it seems to just fall off. I'm not big on dieting or anything like that. I know the foods I should and shouldn't be eating and I go from there."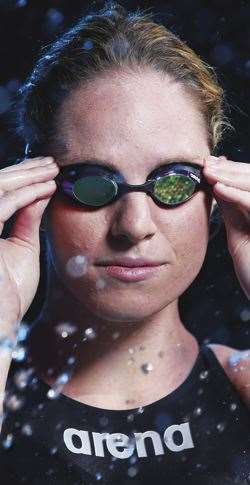 Cometh the Hour ...
"On race day, we assemble in the marshalling room, then move on to the 'cool room' – that little room where you see us sitting and waiting. When we're in the cool room everyone really keeps to themselves and focuses on their own preparation. Not a lot of talking goes on. There are no real mind games being played, or anything like that. Everyone knows what they need to do and they're focussing on that. Sometimes I'll talk a bit, but it really depends on my mood."
Fight or Flight
"After the Delhi Commonwealth Games, there was a bit of talk about my racing load (she competed in eight events – medalling in all of them). But I really enjoy racing so I find it easy to do a lot of events. When I was little I always raced heaps of different events so ... I guess it's just what I do! To be honest, it's nice to have plenty on my plate.
"I don't really do any special mental preparation for a big meet. I do a lot of racing throughout the year so I don't feel like I need to prepare mentally. To me, racing just comes naturally. At the end of a week of competition, however, I normally sit back and say: 'Wow! I'm absolutely exhausted ... ' It suddenly hits me."
Maintain the Rage
"Some people retire from swimming because of injury or because they can't find the motivation any longer. These decisions, of course, rely entirely on the individual. Personally, I'm just going to keep going until I feel like I can't do it anymore. I started swimming at a really young age (Seebohm won her first national title at age 14) but I've been really lucky with injury. I rolled my ankle at the start of the year. That was pretty painful, but it wasn't even swimming related, so... Motivation-wise there have been times where I think, 'Oh, why am I doing this?' I just have to remind myself why I want to swim, what I want to achieve. Usually I'm pretty good. I know what I want to get out of my swimming and I know I haven't achieved that yet. I'm just going to keep swimming until I do."
– Aaron Scott
Photos by Getty Images