The busiest offseason in Australian football history demands a comprehensive A-League 2020/2021 season list of every club's transfers, ins, outs, mutual terminations and re-signings, with some analysis thrown in for good measure.
What's happening to the A-League this season
Due to the financial impacts of COVID19's sports shutdown, border restrictions and Fox Sports' decision to vastly reduce their broadcast funding of the A-League, Australian clubs have suffered a major financial blow over the past six months. 
As a result, A-League clubs and players were forced to come to a new CBA deal with the majority of footballers across the league (except those on the minimum wage) taking significant pay cuts and clubs reducing the sizes of their squads.
This has resulted in many of the A-League's best players, both foreign and domestic, leaving the competition entirely while others have returned to teams in their home states. 
Many have gone to the Indian Super League, which has provided a level of financial security the A-League currently cannot, while a select few have moved to Europe, some to a newly-Australian-owned Greek club, Xanthi FC.
Meanwhile, new A-League club Macarthur Bulls have been signing players for their inaugural season in 2021. Given the unprecedented amount of movement and interest in this A-League offseason, we have collated every in, out and re-signing across the league so far and analysed where each club sits heading into next season.
We've avoided speculating on the many stars across the league that are out of contract and yet to be re-signed, with so many clubs in the midst of revised contract agreements. However, we'll continue to update this article and our analysis as news develops.
For every Socceroo and Aussie abroad who has moved or become a free agent this offseason, read our updated article here:
Adelaide United 
Ins:
Domenic Costanzo, Joe Gauci, Noah Smith, Joe Caletti, Yaya Dukuly
Outs:
Taras Gomulka (Melbourne City), George Blackwood (Oldham Athletic), Paul Izzo (Xanthi FC), Riley McGree (Charlotte FC, loaned to Birmingham City), Lachlan Brook (Brentford FC), Nikola Mileusnic (Randers FC), Kristian Opseth (termination), Mirko Boland, Michael Maria,
Re-Signed:
Michael Jakobsen, 
Already Contracted: Jordan Elsey, Michael Marrone, Ryan Strain, Nathan Konstandopoulos, James Troisi, Ben Halloran, Ryan Kitto, Al-Hassan Toure, Louis D'Arrigo, Stefan Mauk, Kusini Yengi, Pacifique Niyongabire, Mohamed Toure, Ethan Cox,
ANALYSIS
Adelaide United have suffered the most of any A-League club this offseason (so far at least) losing a plethora of their best young stars. There are losses in every area of the field bar defence that will deeply hurt the club, while Adelaide's forward stocks look incredibly bare with the departures of Opseth and Blackwood. It's adding insult to injury that the biggest departures were all young stars, but there remains light at the end of the tunnel.
The club's first three signings were all academy players, however Costanzo packs a sensational NPL goalscoring record. CEO Bruce Djite has revealed that the club won't sell any more players this offseason and will bring in multiple key players before next season begins, giving the Reds an element of certainty heading into next season that many clubs still don't possess. 
The Reds have locked in Carl Veart as head coach, who brings a sensational interim record into next season, alongside an experienced assistant with his own pedigree in Ross Aloisi. But perhaps the biggest positive for Adelaide going forward is their ability to turn a prolific development set up into a moneymaker, with McGree earning the club up to six-times what they paid for him a season ago in his MLS transfer.
Given the strict financial constraints A-League clubs will continue to face for the foreseeable future, Adelaide are perhaps the best positioned in the entire league to benefit from an overhauled Australian transfer system.
Brisbane Roar 
Ins: Joey Champness, Jesse Daley, Joshua Brindell-South
Outs: Aiden O'Neill (loaned from Burnley, transferred to Melbourne City), Brad Inman (ATK Mohun Bagan), Jake McGing (released), Aaron Reardon (released), Matt Ridenton (released), Danny Kim (released), Daniel Bowles (termination), Max Crocombe (Melbourne Victory), Aaron Amadi-Holloway (released), Scott Neville (East Bengal, loan), 
Re-Signed: Scott Neville (loaned out), Corey Brown
Already Contracted: Izaack Powell, Jack Hingert, Kai Trewin, Mirza Muratovic, Macklin Freke, Jamie Young, Tom Aldred, Macaulay Gillesphey, Jordan Courtney-Perkins, George Mells, Jesse Daley, Rahmat Akbari, Jay O'Shea, Jai Ingham, Dylan Wenzel-Halls, Mirza Muratovic, Scott McDonald
ANALYSIS
Brisbane have become the first club to publicly announce their squad for next season, helping to alleviate some elements of uncertainty around the club, with ongoing concerns about the Bakrie Group's management and Suncorp attendances nearing record lows.
The club have lost two key midfield weapons in Brad Inman and Aiden O'Neill alongside one of the league's longest release lists so far. Their current 'in' list is also uncertain. While Champness' arrival is certainly a huge coup in the quest to replace Inman, that deal is currently being disputed by Newcastle Jets.
Robbie Fowler has left for an ISL gig taking Neville with him (on loan) and in his wake, the youngest coach in the competition - Warren Moon - has a big task on his hands with last season's fourth-placed team.
But their form, both in Fowler's peak and after Moon took over at the tailend of last season, entails a lot of room for optimism. Brisbane possess some of the strongest retained youth talent in the league; Akbari, Powell, Muratovic and of course, Wenzel-Halls.
They also still pack veterans at both ends of the pitch. Young between the sticks, Aldred and Hingert (alongside the highly-rated Gillesphey) at the back and McDonald up front. Their engine-room is ostensibly the weakest link, but Brisbane still look to have enough talent to succeed this season.
Central Coast Mariners 
Ins:
Oliver Bozanic
Outs: 
Sam Silvera (Pacos de Ferreira), Michael McGlinchey (released), Jair (released), Jacob Melling (released), Dylan Fox (NorthEast United), Chris Harold (retired), Milan Duric (released), Mario Shabow, Abraham Majok, Ziggy Gordon, Jordan Murray
Re-Signed:
Mark Birighitti, 
Already Contracted: Kye Rowles, Jack Clisby, Adam Pearce, Gianni Stensness, Lewis Miller, Joshua Nisbet, Alou Koul, Daniel DeSilva, Ruon Tongyik
ANALYSIS
The Mariners are used to approaching seasons under a cloud of uncertainty and pessimism, but this season will be their greatest challenge yet. Their future is so uncertain that the club's CEO, Shaun Mielekamp, has been in crisis meetings with the Gosford council and local businesses in an attempt to stop the club leaving the Coast entirely.
This is occurring while owner Mike Charlesworth is in seemingly constant conversations with ultimately retracted bids to buy the Mariners. The hope is that as clubs near independence in the next few weeks from FFA, more investors will be willing to purchase an A-League team. However, desire to invest in the Mariners is largely absent as crowds - already in Australia's smallest sporting market - turn away from a club that have finished in the bottom two for the past three seasons running.
The Mariners have released last season's star strikers, Duric and Murray, alongside a host of club veterans and have lost Silvera to a familiar Australian stomping ground in Portugal, Pacos de Ferreira.
Alen Stajcic has largely put an end to the allegations of a toxic culture at the club, Birighitti has re-signed and ex-Socceroo Oliver Bozanic has joined on a fantastic multi-year deal.
But with the Mariners not possessing a lot more to lose, Harold's retirement - in a blaze of criticism for the A-League as a whole - perhaps sums up the general atmosphere best.
Melbourne Victory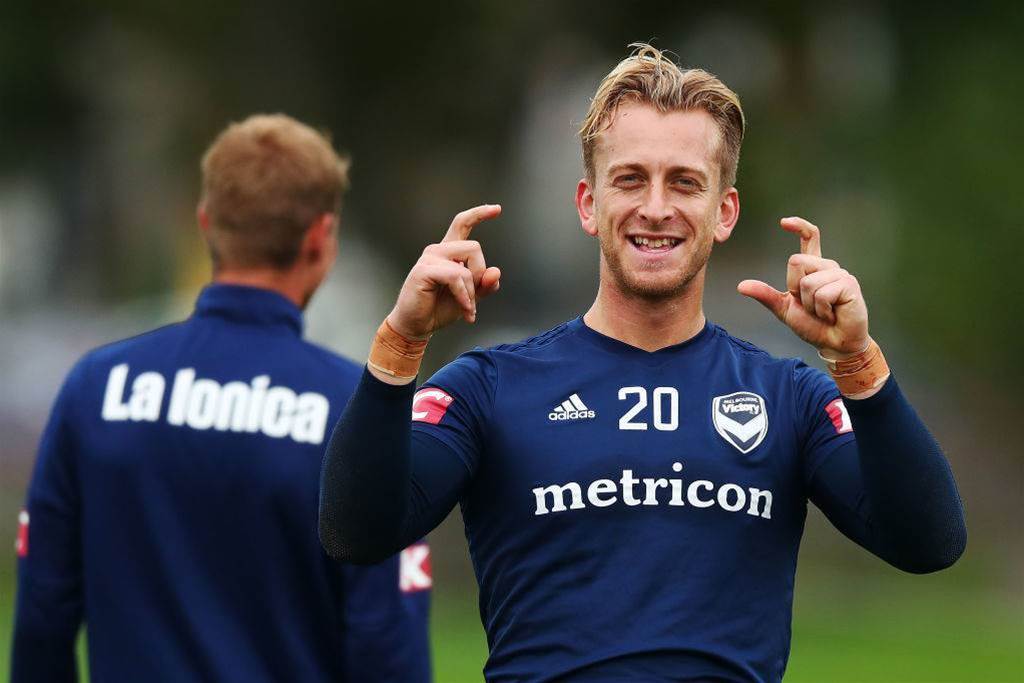 Ins: 
Max Crocombe, Jake Brimmer, Callum McManaman, Nick Ansell, Jacob Butterfield
Outs: 
James Donachie (Newcastle Jets), Matt Sutton (Melbourne City), Lawrence Thomas (Sonderjyske), Migjen Basha (released), Josh Hope (released), Kenny Athiu (released), Ben Carrigan (released), Giancarlo Gallifuoco (released) Tim Hoogland, Ola Toivonen,
Re-Signed:
Matt Acton, Adama Traore, Storm Roux, Elvis Kamsoba, Jay Barnett, Aaron Anderson, Birkan Kirdar
Already Contracted: Leigh Broxham, Robbie Kruse, Marco Rojas
ANALYSIS
Victory are teeing up as one of the most interesting clubs to watch next season, as inexperienced interim boss Grant Brebner attempts to return the Big V to the top of the A-League after the worst season in the club's history.
Melbourne are traditionally one of the A-League's most consistent clubs and have brought that assurance to their finances, backing Brebner by announcing they'll spend their entire salary cap next season - although since that announcement, the cap has been reduced to just $2.1 million. 
As a result Victory have brought in a rare foreign signing, former Wigan FA Cup hero Callum McManaman, with another midfielder still expected to come.
McManaman is now 29 and already slowing down, but he brings an excellent level of trickery that is set to bamboozle inexperienced A-League defences last season. The club have re-signed several key stars across the park and have been appropriately brutal in their offseason cutting of the fat around the squad.
There have been eight exits, but besides Thomas, who has already been replaced by the apt Crocombe, Victory haven't lost any key players so far.
The club appear overstocked on wingers and understocked on genuine strikers, but the biggest question mark is on Brebner. Can he revive them, or will he merely become the latest in Victory's coaching revolving door.
Melbourne City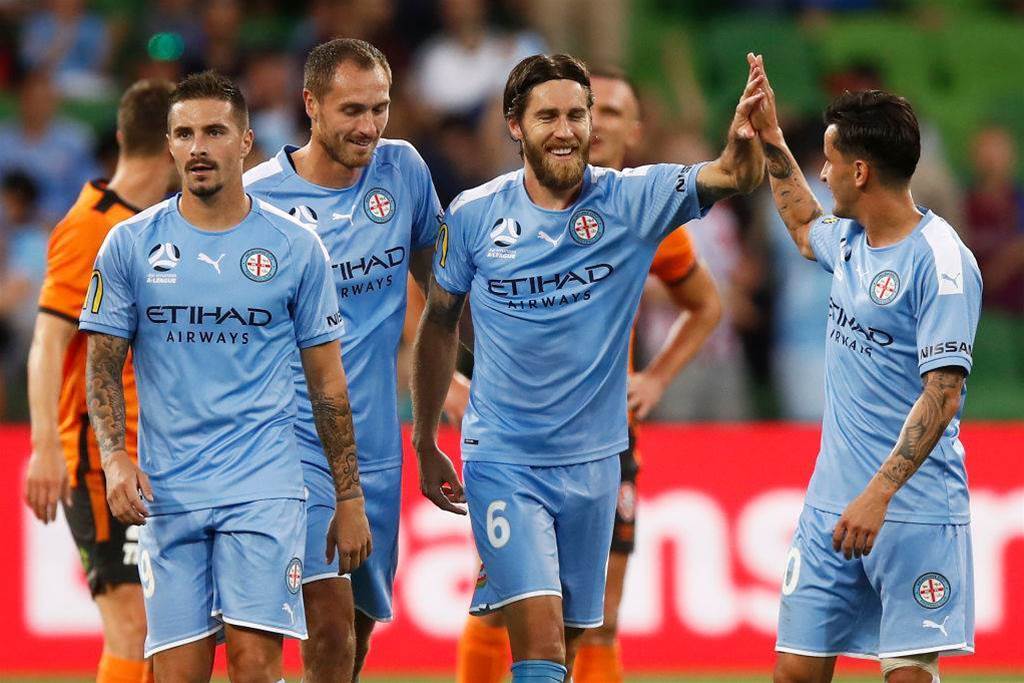 Ins:
Andrew Nabbout, Nathaniel Atkinson (failed Perth Glory move), Taras Gomulka, Matt Sutton, Aiden O'Neill, Marco Tillio, Ben Garuccio
Outs:
Denis Genreau (Macarthur Bulls), Dean Bouzanis (Sutton United), Josh Brillante (Xanthi FC), Lachy Wales (Western United), Joe Gauci (Adelaide United), Ramy Najjarine (Newcastle Jets, loan), Moudi Najjar (Macarthur Bulls, loan),
Re-Signed:
Rostyn Griffiths, Florin Berenguer
Already Contracted: Tom Glover, Richard Windbichler, Curtis Good, Scott Galloway, Adrián Luna, Stefan Colakovski, Markel Susaeta,
ANALYSIS
The A-League's richest club is also its keenest development club, which doubly insulates last season's Grand Finalists from the league's financial disaster.
City were even seemingly in the position to sign Nabbout on a whim, after the former Victory striker's failed move to Perth Glory, and have been similarly bolstered by the unexpected retention of Atkinson. 
The club have interestingly allowed three of their brightest prospects - Najjar, Najjarine and Genreau - to leave (some on loan) alongside the bigger departures of Wales and Brillante, with Craig Noone also expected to leave the club. 
But with O'Neill set to fit straight into the City midfield mold and Griffiths and Berenguer's re-signings proving the club are clearly happy to retain experienced talent, City unsurprisingly appear likely to continue where they left off.
Like their crosstown rivals, City's biggest question mark is over their new coach, Patrick Kisnorbo. His success at both youth and W-League level means less at a club that are powerhouses outside of the A-League, so whether he'll be able to retain Erick Mombaerts' je ne sais quoi remains to be seen.
Newcastle Jets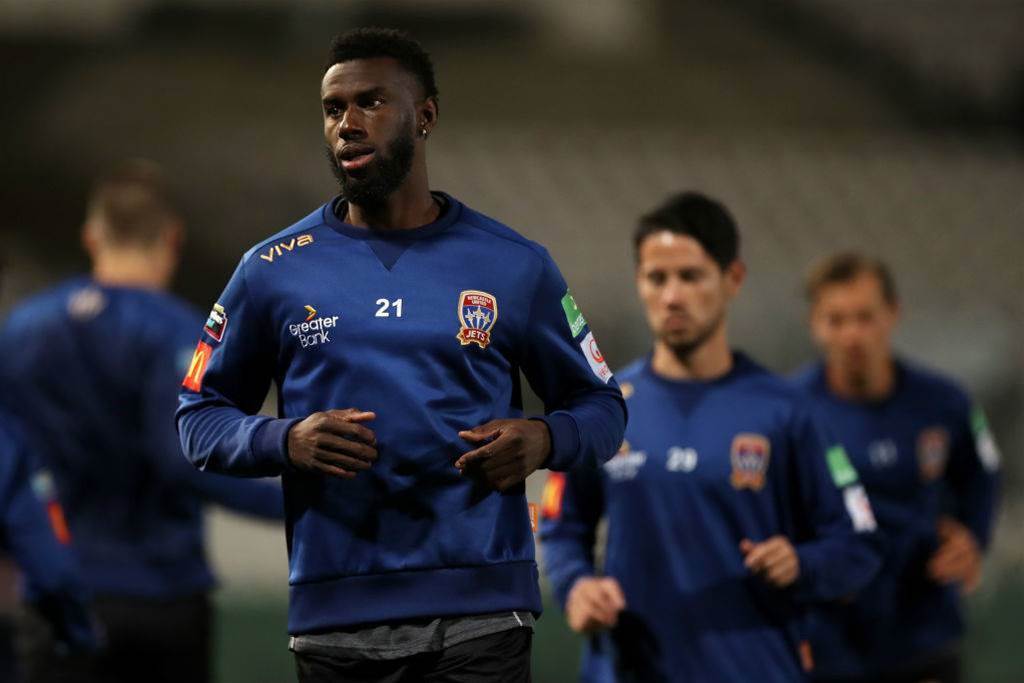 Ins:
Ramy Najjarine (loan), 
Outs:
Dimi Petratos (Al-Wehda), Abdiel Arroyo (Maccabi Petah), Matt Millar (Shrewsbury Town), James Donachie (loaned to FC Goa), Nick Fitzgerald (Jamshedpur FC)
Re-Signed:
Bernie Ibini, Nigel Boogard, Kosta Petratos, Makis Petratos
Already Contracted: Lachlan Jackson, Nikolai Topor-Stanley, John Koutroumbis, Steven Ugarkovic, Lucas Mauragis, Roy O'Donovan, Ben Kantarovski, Jason Hoffman
ANALYSIS
Newcastle are in serious danger with the club's owner, Martin Lee, unable to continue financially backing the club and a recent prospective ownership bid withdrawing late in negotiations.
The club's star turnaround last season was predicated on the coaching nous of Carl Robinson, who is now leaving to join Western Sydney Wanderers, as the club spiral into financial turmoil.
This leaves Newcastle as the direst prospect for next season, despite providing substantial room for optimism in much of their previous three campaigns.
Looking purely at their squad transfers so far, every loss is a big one. Millar is substantial, although he may return if his Shrewsbury loan doesn't work out, while Arroyo and Donachie leave holes in key positions, despite Boogard and Ibini's re-signings. 
However, Dimi Petratos' loss is clearly the largest gap to plug. Well, his, and their owners.
Perth Glory 
Ins:
Andy Keogh, Brandon Wilson, Jonathan Aspro, Nick Sullivan, Darryl Lachman
Outs: 
Ivan Franjic (Macarthur Bulls), Jacob Tratt (Odisha FC), Joel Chianese (Hyderabad FC), Tomi Mrcela (termination), Juande (termination), Vince Lia (released), Tando Velaphi (released), Dino Djulbic (released), Thomas James (released), Jake Brimmer (Melbourne Victory), Kristian Popovic and Gabriel Popovic (Xanthi FC). 
Re-Signed:
Daniel Margush
Already Contracted: Osama Malik, Tarek Elrich, Christopher Oikonomidis, Diego Castro, Bruno Fornaroli, Nick D'Agostino, Liam Reddy, Dane Ingham,
ANALYSIS
Alongside Adelaide, Perth were the most active during the offseason for all the wrong reasons, until a flurry of signings over a single-week period sent them surging up our prospective A-League table. Funny that.
Owner Tony Sage was at the forefront of the A-League clubs' embattled CBA negotiations with the PFA, the club lost their only two signings due to COVID19 border restrictions, and they have one of the longest departure and release lists in the competition, with no arrivals.
The club's 2021 season hinged on the retention of Diego Castro, now 38, and Bruno Fornaroli. Castro has been confirmed while Andy Keogh, now 34, and Olyroo Brandon Wilson have both also joined the club. Curacao international Darryl Lachman brings over 200 Eredivisie appearances to the central defensive line and should prove an apt-replacement for Mrcela at only 30-years-old.
But the departure of Tony Popovic (and his two sons) leaves an inexperienced Richard Garcia with huge boots to fill with an ill-fitting squad. A huge amount of experience has left the squad: Juande, Franjic, Mrcela, Tratt, Chianese, Djulbic and Lia were all A-League stars at one time or another. 
All of which means even if the club are able to secure a raft of attacking talent, their already top-heavy team sheet may still topple over.
Sydney FC 
Ins: 
None announced.
Outs: 
Marco Tillio (Melbourne City), Cameron Peupion (Brighton Hove & Albion), Adam Le Fondre (Mumbai City), Jake Hollman (Macarthur Bulls), Ryan Teague
Re-Signed:
None announced.
Already Contracted: 
Ryan McGowan, Ben Warland, Patrick Flottmann, Chris Zuvela, Rhyan Grant, Anthony Caceres, Alexander Baumjohann, Kosta Barbarouses, Alex Wilkinson, Trent Buhagiar, 
Luke Ivanovic, Joel King, Thomas Heward-Belle, Milos Ninkovic, Michael Zullo, Paulo Retre, 
Andrew Redmayne, Harry van der Saag, Luke Brattan, 
ANALYSIS
The most successful Australian football club were the first to secure a pay deal with their squad, which means what you see is close to what you'll get. 
The big news surrounding the club is the departure of Le Fondre, which leaves the Sky Blues once again looking for an international striker to fill a prolific goalscoring hole. 
Their recent track record at doing so is excellent, however, and Steve Corica, now firmly out of Graham Arnold's shadow, continues to impress more and more in his harbour coaching role.
Sydney's spine remains in strong form and mostly contracted until 2022, with an enviable amount of A-League experience across the park.
As their other departures indicate, Sydney's academy system also goes from strength to strength and its stars are always in-demand.
The club are dominant in the Y-League and the NSW NPL, where they're performing sensationally - far better than any other A-League reserve team - in one of the strongest state competitions.
Wellington Phoenix 
Ins:
James McGarry, Clayton Lewis
Outs:
Callan Elliot (Xanthi FC), Steven Taylor (Odisha FC), Callum McCowatt (Helsingor), Liberato Cacace (Sint Truiden), Gary Hooper (Kerala Blasters), Brandon Wilson (Perth Glory), Matti Steinmann (ISL)
Re-Signed:
David Ball
Already Contracted:
Stefan Marinovic, Oliver Sail, Louis Fenton, Tim Payne, Matti Steinmann, Cameron Devlin, Alex Rufer, Reno Piscopo, Jaushua Sotirio, Ben Waine, Ulises Davila, 
ANALYSIS
Wellington are another club in financial hardship, racking up over $1 million in government bailout payments and other support throughout the COVID shutdown as they attempt to keep both their coach, and what's left of their playing staff.
The Nix have lost big names both this and last offseason and could lose more, with the likes of David Ball and Ulises Davila constantly rumoured to be exiting the club.
With A-League coaches switching more often than ever before, if Ufuk Talay's enticed to the mainland the club's future is bleak, with leaders at Wellington now few and far between.
But despite the departures of the iconic captain that heralded the Nix revival and a host of young stars, there are still numerous positives across the ditch. Traditionally among the poorest A-League clubs at locking down player contracts, the Phoenix now have one of the longest contracted lists in the league. 
Given the revised deals, this is subject to change, but worthy of note nonetheless.
But like Adelaide, the brightest sign for Wellington's future is their sensational academy. Cash injections like Cacace's sale have played a key role in their ongoing financial recovery, and their knack at producing phenomenal talent is set to continue their on-field success as well. 
Western Sydney Wanderers 
Ins:
Mark Natta, Alessandro Lopane, Jarrod Carluccio, Stefan Nikolic (scholarship after failed Celtic transfer), 
Outs:
Nick Suman (Macarthur Bulls), Mitch Duke (Al Taawoun), Matt Jurman (Xanthi FC), Raddy Majewski (Wieczysta), Mathieu Cordier (unconfirmed Salford City trial), Nick Sullivan (unconfirmed), Pirmin Schwegler (retired), Nick Sullivan (Perth Glory)
Re-Signed:
Simon Cox, Nicolai Muller, 
Already Contracted:
Daniel Lopar, Vedran Janjetovic, Dylan McGowan, Patrick Ziegler, Tate Russell, Kwame Yeboah, Daniel Georgievski, Kosta Grozos, Keanu Baccus, Tass Mourdoukoutas, Jordan O'Doherty, Noah Padgen, 
ANALYSIS
Western Sydney have also confirmed their current squad, with many of the club's key players re-signing, and are another really interesting team to watch.
Their failure to immediately capitalise on the Bankwest Stadium move appeared to have made owner Paul Lederer and CEO John Tsatsimas a little nervy. They were in a strange holding pattern with Markus Babbel, which primed the club for the swift and brutal sacking of Jean-Paul De Marigny, with rumours of all sorts of disagreements behind the scenes. Carl Robinson seems like an amazing coach and the Wanderers are nowhere near a  poisoned chalice, but last season's ninth-placed side are in desperate need of a steady hand, consistent playing group and positive culture to entice back their fans.
So far it's purely scholarship signings for the Wanderers, but prolific young striker Nikolic staying put is a very exciting prospect, which may dull the grief from losing captain Duke (alongside Cox and Yeboah, of course). 
The Wanderers have had mixed success with foreign imports, but the quality of their academy and Robinson's excellent track record creates a lot of optimism around the club.
The loss of academy director Arthur Diles to Xanthi FC will be interesting to watch, but the hugely experienced former Ajax youth Patrick Zwaanswijk is an inspiring replacement. The Wanderers have a serious chance to build something special in an increasingly development-oriented league, but it will be a test of the ownership and patience of the club.
Western United 
Ins:
Lachy Wales, 
Outs:
Valentino Yuel (released), Thierry Iradukunda (released), Oskar Dillon (released), Patrick Antelmi (Western United), Jonathan Aspro (Perth Glory)
Re-Signed:
Tomoki Imai, Andrew Durante, Connor Pain
Already Contracted:
Max Burgess, Josh Risdon, Aaron Calver, Tomi Uskok, Jerry Skotadis, Ryan Scott, Steven Lustica, Alessandro Diamanti, Luke Duzel, Filip Kurto, Tomoki Imai, Andrew Durante, Nicolas Milanovic,
ANALYSIS
On the surface there are a lot of grating issues at Western: the lack of fans, the age of their players, the inconsistency of the team and occasional bust-up with Mark Rudan. But it's a huge credit to Rudan that he parlays these concerns so effectively and creates an exciting team with palpable character and desire throughout.
Without many locked-in contracts announced so far, the major positives are the lack of key departures and the retention of key players like Pain. Pain's development over the past two seasons can provide a role model of sorts to new recruit Wales, who is only one or two steps away from being a devastating A-League winger.
Rudan is a coach who can get the best out of his players and Wales move to new attacking pastures will likely be the best thing for his personal development.
Imai is also an exciting re-signing as Western appear to be locking down a solid spine to the squad, but the ages of those key players has to be a concern at some stage: Besart Berisha, Alessandro Diamanti and Andrew Durante are now 35, 38 and 38 respectively.
In an increasingly inexperienced league though, it could go either way.
Macarthur Bulls 
Ins:
Nick Suman, Ivan Franjic, Milisav Popovic, Matt Derbyshire, Denis Genreau, Adam Federici, Mark Milligan, Tommy Oar, Aleksandar Susnjar, Moudi Najjar (loan), Jake Hollman, Aleksandar Jovanovic, Loic Puyo, Antonis Martis, Michael Ruhs, Liam Rose
ANALYSIS
The most exciting part of Macarthur's first season from a neutral's perspective is catching a glimpse of all the foreign Aussies they're enticing back to the A-League.
Susnjar, Jovanovic, Martis and Popovic are all a little exotic, given they've plied their trade in tough European leagues (and at some big clubs), hung around the Socceroos fringes, but never earned mainstream attention.
Susnjar and Jovanovic are our pick for the most exciting centre-back pairing this season. The spine is already there with Federici behind, Milligan in front and Derbyshire, supported by Popovic, ahead of them. 
It's hard to remember another A-League team entering the league with more behind-the-scenes rumours and exits than Macarthur, who have seemed to lose half their original backroom before the season has begun. But looking purely on the pitch, there's good reason to be excited about Ante Milicic's team.
While his coaching record isn't great, Milicic has proven himself an impressive tactician and the occasional tiki-taka interplay during his Matildas tenure was phenomenal to watch.
The Matildas two greatest strengths were depth and speed however, and Macarthur (so far) have almost none of either.
Copyright ©FTBL All rights reserved.