Fans have spoken loud and clear on how they feel about the A-League and its future in the massive BIG Australian FTBL Survey 2019.
With almost 1000 taking part in the survey it's the clearest indication yet of how fans feel about the sport in this country and how they interact with it.
Last week we revealed how disillusioned fans are with the FFA, even after the overhaul of the board late last year, and especially with the performance of CEO David Gallop.
And they also want their voices to be heard on the next round of A-League expansion.
Overwhelmingly they say that the next club into the A-League MUST be from Canberra, with a whopping 73.45 percent of the vote backing the nation's capital's bid to join the top tier of men's football.
But while TV and football bosses are said to favour more big city derbies, fans strongly disagree.
Tasmania was the most popular second choice for a club in the A-League with 38.91 percent of the vote, and Wollongong close behind on 35.15 percent.
A second team in Brisbane was the only big city option that gathered any kind of momentum with 15.15 percent of the vote, with backers of Ipswich/Western Pride potentially split between voting for Brisbane and voting for regional Queensland which drew 7.64 percent of the vote.
After Brisbane though was pretty much daylight, with South Melbourne and South-East Melbourne mustering around 7 percent before votes fell to just four percent or less for areas like regional Victoria, WA, South Sydney – and Adelaide and South Australia both struggling to get even 2 percent backing.
Almost everyone who took part in the survey (90.32 percent) said they followed the A-League (with a few no votes because they were devoted W-League fans only) and four out of ten followed either Sydney FC or Melbourne Victory.
But despite identifying with A-League clubs, more than half said they would only go to five home games or fewer this season, with one in five going to up to 10 – but impressively, a full 25 percent said they intended to go to EVERY home game.
Away games though remain a huge stumbling block for the A-League, with 60 percent admitting they would not go to ANY away games or to see any another club play. A further 35 percent said they might go to five or fewer, and less than five percent would go to any more than that.
Most people reckon the A-League stadium experience is good though, with four out of ten rating it either good or excellent, while one in six reckoned it was poor and one in 20 thought it was awful.
But there was lot of concern about the cost, with 20 percent rating it as expensive.
Just 0.53% thought going to the A-League was scary.
The best stadium was unsurprisingly named as Melbourne's AAMI Park, with Coopers in Adelaide close behind, while the worst was overwhelmingly Western Sydney Wanderers' temporary home at Spotless Stadium in Sydney's Homebush. Its neighbouring ANZ Stadium was its only rival for the title...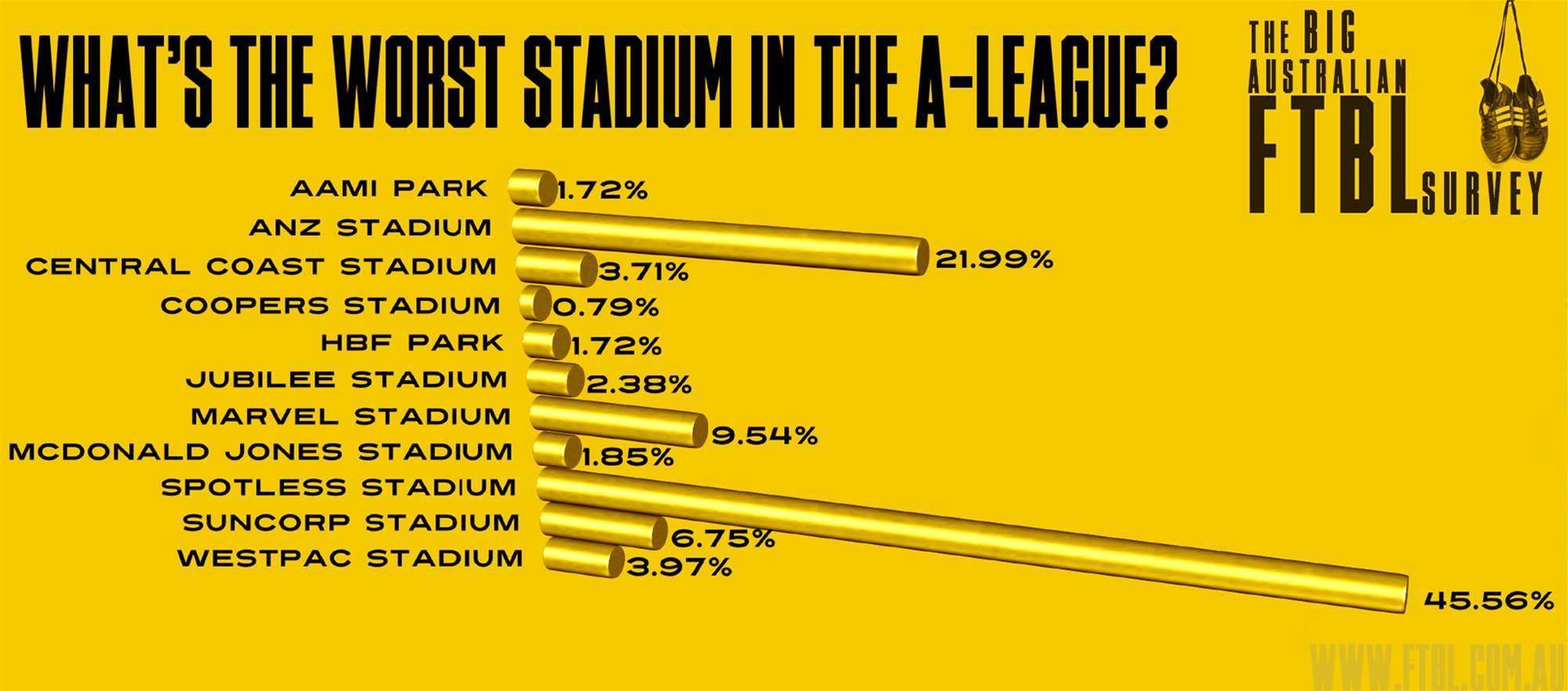 The best weekend kick-off times for the A-League were said to be 7pm on Saturday with 36.42 percent of the vote and 5pm close behind on 23.18 percent. 7.30pm on Friday was the only other close contender, on 12.85%, although a few traditionalists still backed 3pm on Saturday (7.15 percent)!
The worst A-League kick off time was definitely 9pm on a Sunday, winning almost 40 percent of the vote, with 7pm on Sunday not too far behind on 17.88 percent. Curiously, 8pm on Sunday was less harshly judged – and 7.30pm on a Friday was almost as UNPOPULAR (5.7 percent) as it had been popular in the best kick-off time.
Ticket cost was the number one complaint among fans as the reason they don't go to more games, but football quality and the cost of food at stadiums were strong reasons too. Public transport and parking issues were also major problems and on a par with the way A-League games are policed.
The least of the A-League's problems was fans behaviour, with just 3.79 percent concerned by it.
The biggest response though was "other" reasons - most of which were simply the time and distance involved in going to games while others cited a poor match day experience overall, covering the game day entertainment, poor stadiums and treatment by security.
On ticket prices, the sweet spot for fans is around $20, with almost 40 percent backing that price point, while another near 30 percent reckon they should be just $15. 
One in seven reckon it should be around $25, but only a few dozen people in total believed it should be any more...and one in eight want to pay just $10 a game.
Fans of clubs were split over the way they felt treated by their teams, with just 54.53 percent feeling like they were part of things, and a solid 45.47% saying they were not made to feel that way at all.
Unsurprisingly both promotion and relegation and a national second division got a big thumbs up from fans with 83.15 percent backing pro/rel, 11.52 percent opposing it and 5.33 percent undecided.
The figures were almost identical for a second national tier with 84.12 percent backing a new Championship-style league, 10.91 percent disagreeing and 4.97 percent still to make their mind up.
The ultimate target for the A-League should definitely be 16 teams at the top tier, say FTBL readers.
Nearly half backed the 16 team, 30-home and away matches a season model, but 14 teams got a healthy 29.82 percent backing as well, while almost 10 percent could imagine a league with 18 teams or more.
Just 2.42 percent wanted to keep the A-League at 10 teams, and a mere 11.03 want to see it stay at 12 teams after South-West Sydney and Western United have joined.
And after 14 seasons, who is the most popular A-League player of all-time?
While the Other vote was split between (mainly) Diego Castro and string of other A-League legends like Alex Brosque, Milos Ninkovic, Archie Thompson and Carlos Hernandez, the runaway winner was Alessandro Del Piero.
Thomas Broich put up a worthy challenge but the Italian hero has cast a long-standing spell over fans that even the German's sustained brilliance can't break.
Shinji Ono's two seasons at Western Sydney Wanderers are still fondly remembered and fiery Besart Berisha's basket of goals earned him a look-in...but nothing could defeat Del Piero, even five years after he left Australia, coincidentally as captain of the A-League All-Stars team that played Juventus...alongside Berisha and Broich.
Copyright ©FTBL All rights reserved.