The 2018 World Cup began with hosts Russia dismantling a poor Saudi Arabian side.
The greatest show on earth has just begun.
Hosts Russia dominated the scoreline, despite possession belonging in favour of Saudi Arabia whom found their poor mistakes cost them. 
Despite pre-tournament fears of Russia's lack of quality going in to the tournament (and of a dull opener), a 5-0 win to start off their campaign will do a lot to allay such worries.
The hosts were rarely tested by their opposition throughout the ninety minutes, as Saudi Arabia succumbed largely to the incessant high pressure of the Russians.
Russia's Aleksandr Golovin, 22, is no doubt key to his side's chances of getting out of the group, acting as the focal point while driving much of his side's forward play. Two assists and a deserved free kick was the showing of a truly class talent.
Despite losing midfield creative spark Alan Dzaegov to an untimely injury, his replacement, Denis Cheryshev of Villarreal, more than made up for their side's loss, notching a quality brace.
Here are our player ratings
Russia
Igor Akinfeev 6 —
Untested by the Saudi attack, mainly due to the efforts of his defence.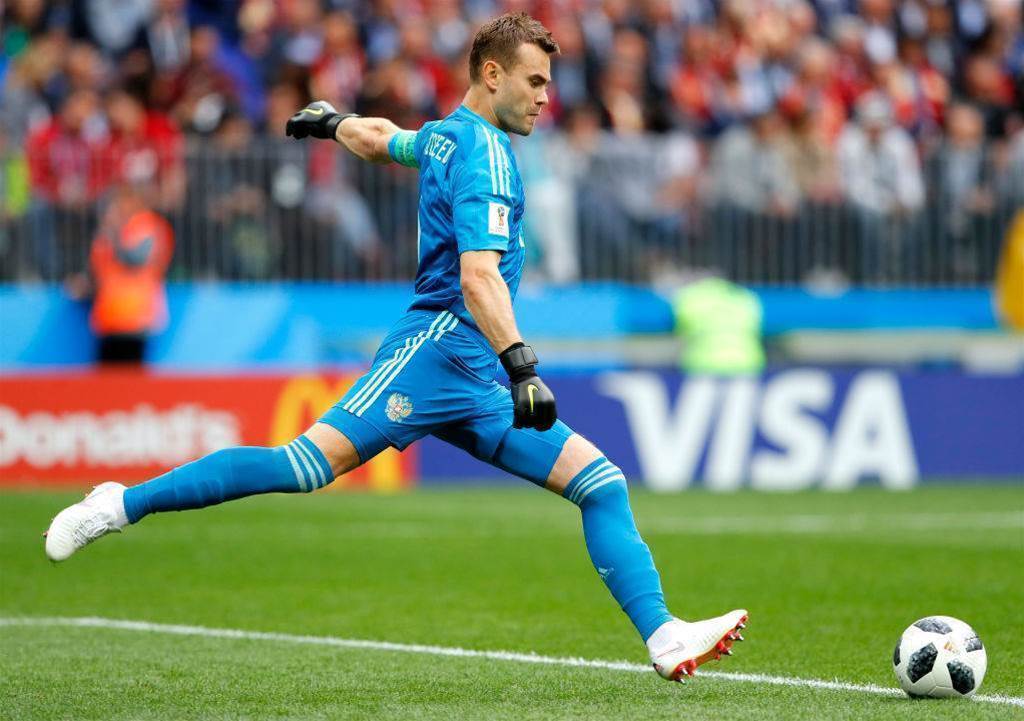 Mario Fernandes 7 —
A one-time man for Brazil in 2014, now a Russian international, Fernandes exhibited the flair of his roots at times throughout the match to push his side forward.
Ilya Kutepov 7 —
Had little to do due to the presence of central defensive partner, whom raised Kutepov's quality.
Sergei Ignashevich 7.5 —
Being the ripe old age of 38 did not hurt his side, as he contended with the physicality of the Saudi side well throughout the contest.
Yuri Zhirkov 6 —
Composed throughout and linked up especially well with Golovin down their shared flank, although he was inconsistent in his crossing.
Yury Gazinsky 7 —
The FC Krasnodar man made history as the first goalscorer at this year's edition of the tournament with a well taken header. Stuck to his role efficiently and thus effectively for his side.
Roman Zobnin 8 —
Impressively won possession back in crucial moments and drove forward dominantly through midfield. Rewarded with an assist to Cheryshev with his layoff.
Aleksandr Samedov 6 —
A heavily experienced member of the squad and a fierce competitor throughout, leading the pressing in attack.
Alan Dzagoev N/A —
Cruelly, Dzaegov went down injured in the first half, an emotional sight for not only Russian fans but for all watching on. It was clear these would likely be his last minutes at the tournament.
Aleksandr Golovin 10 —
Displayed much of the qualities that have him touted as Russia's best upcoming talent throughout the match. Put a sumptuous cross in for Gazinsky to finish and was integral in the build up to Russia's second, putting his previous lack of decisiveness in the front third behind him. His movement and pinpoint cross for the third goal was simply exquisite. The final kick of the game was deservedly taken by Golovin, whom absolutely dominated the game, with the free kick hitting the back of the net with some style.
Fyodor Smolov 5 —
Worked tirelessly to trouble the Saudi defence, but rarely had the chance to add a goal.
Substitutes —
Denis Cheryshev 9 —
Replaced Dzaegov following his injury and immediately caused troubles for the Saudi defence. Brilliantly sent two Saudi defenders flying as he cut in to score with a thumping finish. His second of the night was undeniably world class.
Daler Kuzyayev 6 —
Came on to provide an added outlet, which he did comprehensively.
Artem Dzyuba 7.5 —
Brought on to replace Smolov and threw himself at the defence immediately, heading in the third of the match following his entrance. Set up Cheryshev's second goal with a well-placed header.
Saudi Arabia
Abdullah Al-Mayouf 4 —
Clearly nervous throughout but was arguably unable to do anything to prevent Russia's goals as he was largely left open by his defence. Confidently collected crosses at times yet the following distributions were poor. Additionally, what looked like a routine save turned in to a nearly horrible fumble.
Mohammed Al-Breik 3 —
At fault for some poor touches and therefore loss of control in possession for his side. Left his defence wide open at times.
Osama Hawsawi 5 —
The captain of his side demonstrated the qualities that have earned him that role as he rescued Saudi Arabia in pivotal moments.
Omar Hawsawi 3 —
Undeniably at fault for Russia's second, with a poor control of the ball leading to Golovin reclaiming possession and subsequently, a goal.
Yasser Al-Shahrani 6 —
Displayed exceptional pace at times to drive forward and immediately return to pressure the Russian efforts down his side of the pitch
Abdullah Otayf 5 —
The defensive lynchpin in midfield was largely consigned to attempting to stop the likes of Golovin and Smolov.
Taiseer Al-Jassim 4 —
Being inches away from connecting with a ball across goal was the highlight of his match.
Salman Al-Faraj 6 —
Brought a poise in his play, settling his side with his passing when it was needed.
Salem Al-Dawsari 5 —
Had to work constantly in defence, which he did superbly. Was responsible for a few of the Saudi's rare sights at goal, missing just slightly with a brilliant hit.
Yahya Al-Shehri 3 —
'The Saudi Maradona' (in appearance rather than his play) was essential to his side's attempts to maintain control of the ball in midfield, but he became flustered on many occasions due to the pressure of the Russian midfielders and his own lack of strength on the ball.
Mohammed Al-Sahlawi 5 —
The Al-Nassr striker was mostly invisible in the match, which was largely due to the lack of chances created by those around him.
Substitutes —
Fahad Al-Muwallad 5 —
Scorer of the goal in qualifying to send his country to the World Cup, his arrival did little to shift the match.
Hattan Bahbir 5 —
Largely unnoticeable following his arrival.
Muhannad Asiri N/A —
Could not contribute anything with his team so battered.
VAR 6 —
Had nothing to do, but was a calming presence over the pitch.