Football, eh? Last week's UEFA Champions League semi-finals a dramatic reminder of the heart-stopping theatre of a comeback. Australia, of course, has similar stories.
The first Orange Sunday Grand Final often springs to mind, a thrilling shootout win for Brisbane over the Mariners in 2011.
And if Sydney FC wants inspiration on how to engineer a comeback win on Grand Final day in Perth, they may be inspired from within. 
The club's community programs manager Paul Reid's story of the 2000 NSL Grand Final is remarkable. 
"Reidy" was integral to one of the greatest ever comeback Grand Final wins. 
It was a sunny June 11, 2000.
The NSL Grand Final between hosts and league winners Perth Glory and second-placed Wollongong Wolves at Subiaco Oval.
Over 43,000 made for a carnival atmosphere.
Reid at 20 was the youngest player in the Wolves squad. One of five Sydney boys who'd travel down three times a week for training in the 'Gong. 
He was also a full-time student.
In fact, he was studying for his radiology exams that were due two days after the Grand Final.
Reid was hitting the books in the hotel room he shared with Fijian striker Esala Masi, studying for his final exam while preparing for the biggest game of the season.
Back then, the South Coast club trained three times a week with a mix of Sydney and Wollongong-based players.
But under inspirational coach Nick Theo, the tight-knit Wolves stormed into the Grand Final after a season in which they scored for fun (72 goals in 34 league matches).
However, Perth Glory were the league behemoths at the time: fully professional, with the financial power to bring in the best players and with the city behind them, pulling massive crowds.
This Grand Final was set up to crown the club as the new powerhouse of the NSL.
And it was all going to script.
Ljubo Milicevic scored as Glory took a 3-0 half-time lead
After Glory stormed to a 3-0 half-time lead through Despotovski, Milicevic, and Harnwell, it looked like game over - the crowd was already in celebration mode.
But, after Wolves calmly got themselves back in it at 3-2. Chipperfield and Horsley with the goals.
And it was Reid who slotted an equaliser on 89 minutes to go to confirm the comeback at 3-3.
Glory was stunned, Wolves were in ecstasy.
The drama of an unlikely comeback had the nation on the edge of its seats watching on Channel 7, the Subi crowd were stunned.
Extra time. No goals.
After a rollercoaster shootout and with just three penalty takes left for Wolves, Reid stepped up.
He kept his composure to drive home the Wolves' final penalty in the shootout.
And Wolves keeper Les Pogliacomi's save confirmed an extraordinary comeback win for the Wolves moments later.
Cue utter mayhem on the pitch. The Great Wolves Comeback was complete. 
As Reid, now 39, tells FTBL, it was a day he'll never forget.
"It was 19 years ago but I can remember it very clearly," he says. "It was my first-ever Grand Final experience. Three-nil down at half-time and we probably didn't deserve it.
"But I remember our coach Nick Theodorakopoulos. He was so calm. Most coaches would've ranted and raved, but not him.
"Calm, assured and confident, he told us, 'We've scored goals all season. We've got a team that can score goals And we can do it again here in the second half. If they can score three, we can score three'.
"It's nice when a coach shows that much faith in a team.
"And I never thought we were out of the game. Even at half time."
Two changes were made at half-time.
Reid was going to be taken off, but the Wolves assistant coach convinced Theodorakopoulos to keep on the youngster.
Smart move.
"I got put through by I think Dino Mennillo," Reid recalls of his fabulous equaliser. "Then taking the first touch towards the goal I just thought, 'Get this on target'.
"And since that goal, keepers have told me where I put it was exactly the position where keepers don't like it - low down and right next to them."
Shirt off, a yellow card for the skinny midfielder didn't matter - the Wolves were back in it as Glory's superstars were beginning to feel the strain.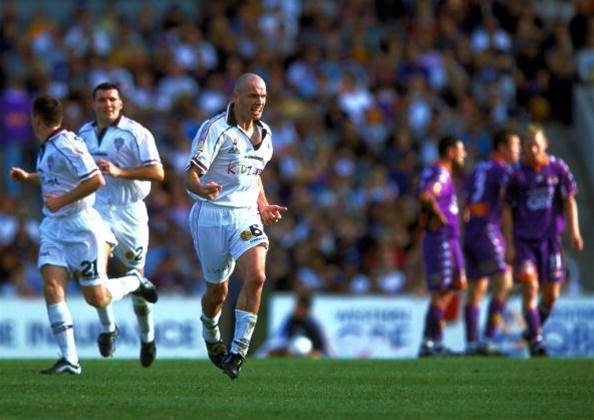 Matt Horsley got the Wolves back into the contest after the break
Wolves had some good chances in extra time but it remained 3-3.
The pressure was now firmly on the hosts to not let this slip.
Onto one of the most epic penalty shootouts. And Reid was once again integral for the red shirts from the south coast of NSW.
"Every player in the first five pens on each side scored. So it was 5-5," he recalls. "We missed then they missed, and suddenly each team was missing their pens.
"But it got to 6-6. Our keeper Les Pogliacomi had already taken a pen, with three of us left on the halfway line.
"Robbie Stanton, George Souris and me - a player who'd never taken a penalty for Wollongong.
"I looked at George and Robbie - we used to travel down to Sydney together to training in Wollongong - and I thought, 'they're defenders, I'm a midfielder, I have to go now.
"I went, picked the spot, keeper dived the wrong way, scored and then they missed.
"And that was it, we won 7-6."
He adds: "People still say it was the best grand final ever.
"Who knows but for the drama and a team like Wollongong who had never ever pushed for a title, to come from nowhere to win like that, I'll never forget it.
"It was the biggest crowd I'd played in front of till that time in my career.
"These are the moments you play football for."
Around 300 Wolves fans celebrated with their team at a rapidly emptying Subi, as fans filed out in disbelief.
The Wolves team and staff celebrated back at the team hotel, then went to the airport for the red-eye flight back to Sydney (where an exhausted Chipperfield famously used the trophy as a pillow to sleep on).
A flight delay meant the team didn't arrive back till around 8 am.
And the coach ride to Wollongong where the fans were waiting from the Bulli Pass onwards, was the stuff of fairytales for the south coast. 
Les Pogliacomi was huge for Wolves in the shootout
But Reid wasn't anywhere to be seen.
He left the airport, went straight home to continue studying for his uni exams.
"I wasn't part of the celebrations in Wollongong when 'Chippers' drove the team bus!" he recalls. (Chipperfield, so the story goes, was a bus driver before his professional football career). 
So, how did Reid's exam go?
He smashed it, earning average distinctions.
But he has yet to move into the medical imaging game. Radiology's loss is football's gain. Football remains in Reid's DNA.
He went on to play another season for Wolves before going to England to play for Bradford City and Brighton, and he was briefly a fringe Socceroo.
Reid later returned to play A-League with Adelaide and Sydney FC. He is currently the U-10s SAP team coach at Rockdale.
But many still remember him for that day in Perth.
On Sunday, Reid will be at Star Casino with other Sydney FC staff and fans to see his Sky Blues pull off what he believes will be a win.
A regulation win, though.
"A 2-1 win in regular time to Sydney," he tips. 
"But I want it to be a really dull game, though, so ours remains the best Grand Final!"
Copyright ©FTBL All rights reserved.