The Socceroos' Golden Generation have become the lightning rod for a much-needed discussion over proposed changes to the structure of the A-League and football in Australia.
Now is the time.  
The terrible COVID-19 situation has allowed those with a vested interest in the A-League and national game time to stop, reflect, and refocus. 
If we're all smart and work together the entire game - not just the A-League - can benefit for years to come. 
Repeat: If we're smart, have a clear strategy and work together. 
The FFA has unveiled 'The Starting Eleven', an advisory panel made up of ex-golden generation Socceroos. This includes the much-respected Lucas Neill, the former national team skipper who has been almost silent since his retirement from the national team. 
Former national technical director Rob Sherman has also been vocal in what needs to change, as have FTBL along with Socceroos coach Graham Arnold and former A-League boss Archie Fraser. 
There are other forward-thinking minds inside the game who are putting the game first and ready to work towards a stronger future. 
Here are some of the mooted changes that have been raised around the A-League and other areas of football in Oz. 
What do you think?
Calendar change to a 'winter' A-League from March to November
Pros: Proponents include the Golden Generation (and FTBL) who believe for a raft of reasons, aligning the entire game - A-League, W-League, NPL, and grassroots - will boost commercial revenues, crowd numbers, quality of play, media coverage, the Socceroos. 
"I think [moving to winter] makes a lot of sense," says former Socceroo Craig Moore.
"The majority of the football in this country is played from March to September so I think the adjustment wouldn't be a crazy one, but it would be something that probably suits us."
Cons: Stadia will be a challenge, but it's one worth exploring with this being the catalyst for a boutique stadia strategy, allowing bigger A-League matches to be played at larger multi-use venues. 
Verdict: If it's going to happen, now is the time given the fluid A-League calendar. 
Will it happen? 75% chance
Voting power curbed for state federations on national issues 
The politicization of the game's decision-making has been a sad and pathetic blight. 
Pros: Proponents argue by removing state federations from national decision-making, politics, and deal-making is contained. 
They also argue it reduces a bloated administration and allows federations to focus on their own (and in many cases booming) grassroots numbers. 
Cons: Opponents point to the game needing a national voting voice. 
Will the turkeys vote for Christmas? Or can JJ find a solution to keep all parties happy and invested? 
Verdict:  This could be James Johnson's lasting legacy. 
Will it happen? 50% chance (but with Johnson we have the CEO to pull this one off)
A-League fans have enjoyed some fabulous moments thus far but changes are afoot
Owning content and streaming A-League, FFA Cup, W-League, and NPL. 
If Foxtel decides to discontinue a relationship that is currently in the middle of a six-year broadcast rights deal worth around $57 million a year for the A-League, then how is the game's broadcast product monetized? 
Pros: "We would love to be able to see in the future that the game has got some stake or some ownership of its content, of its game, of its television rights," Moore added.
And with multiple devices and rapid improvements in screen resolution, OTT and streaming are strong options for these times. 
Cons: Guaranteed, albeit fixed, income from a broadcast deal primarily for A-League but also potentially across the board. 
Verdict: Technology is now robust enough to stream the A-League and every other FFA league at a significantly reduced cost compared to the linear broadcast model. 
Will it happen? 80% chance
Promotion and relegation between A-League to the second division
Pros: Proponents believe this will be a unique selling point for the A-League, with promotion and relegation playoffs giving the league both excitement boosts and a European style improvement in players' standards with more opportunities for coaches. 
Cons: This idea could only really work if the game was aligned (see earlier point) playing from March to November. 
Verdict: There's still a lot to be worked out in terms of the financial model, the geographic selection basis, cost of staffing, how to select the clubs, and the levels of professionalism at each club.
Will it happen? 50% chance within the next two years. 
A-League fans at Melbourne City
A-League reserve competition (A2)
Pros: From development and logistical points of view, is it easier and quicker to set up a national reserve league (perhaps a conference system) below the A-League? 
This ticks boxes as both a "second division" (without promotion) and a national youth league, which is currently a short tournament with little value. 
Featuring all A-League clubs' academy players, fringe first-team squad members plus a selection of NPL clubs in a 16-team league, this would tick the box for player development, pyramid alignment, game time for younger players and there may be a chance to stream these games, thereby offsetting the cost with sponsorship).
Some games could be A-League curtain-raisers. 
Cons:
Would this take precedence over a mooted second division that has promotion and relegation? 
Verdict: Great idea. 
Will it happen? 60% chance within the next two years. 
Fee-free grassroots football post-COVID 19
Australians are doing it tough. Unemployment has skyrocketed.
The economy could be in a recession for a few years as we deal with the fallout from the COVID-19 situation.
Pros: Is it time to offer registration relief for a two-year trial period? With the plan reviewed over time? 
This idea is for fees to be replaced by a modest single membership fee (or family membership) with members assisting the club as a way of offsetting the loss of revenue from registrations. 
So, aside from social cohesion and inclusivity outcomes and benefits, this will allow football to take advantage of the expected population boom at the grassroots level. 
As an example, in 2017, Balga Soccer Club in Perth implemented a fee-free model for players aged between five and 18.
Club president Ken Shorto stated publicly that since the change came in, his club had doubled the number of registered players — with the vast majority being newly arrived migrant families. 
According to pre-COVID data will be key drivers of our population growth in the next 20 years. 
Cons: Potential revenue shortfall. 
Verdict: Smart idea. It's preferable to have these 'members' in our system rather than forced away by costs and playing other sports that offer cheaper registrations. 
Will it happen? 70% chance 
Expansion of A-League to 16 clubs by 2022
That's two years from now. Four new clubs would be needed. 
Pros: More games. More broadcast products to show. More revenue drivers. Tougher league compared to previous versions when the A-League had very long off-seasons. 
Cons: The questions remain: where do these new A-League and W-League clubs come from?
Is it geographically based? Or only newly formed clubs only, such as Canberra and Team 11? Or a mix of new clubs and existing ones from the NPL system? 
A lot of questions still to be explored. 
Verdict: Expansion of the A-League is vital. The league is too small right now.  
Will it happen? 60% chance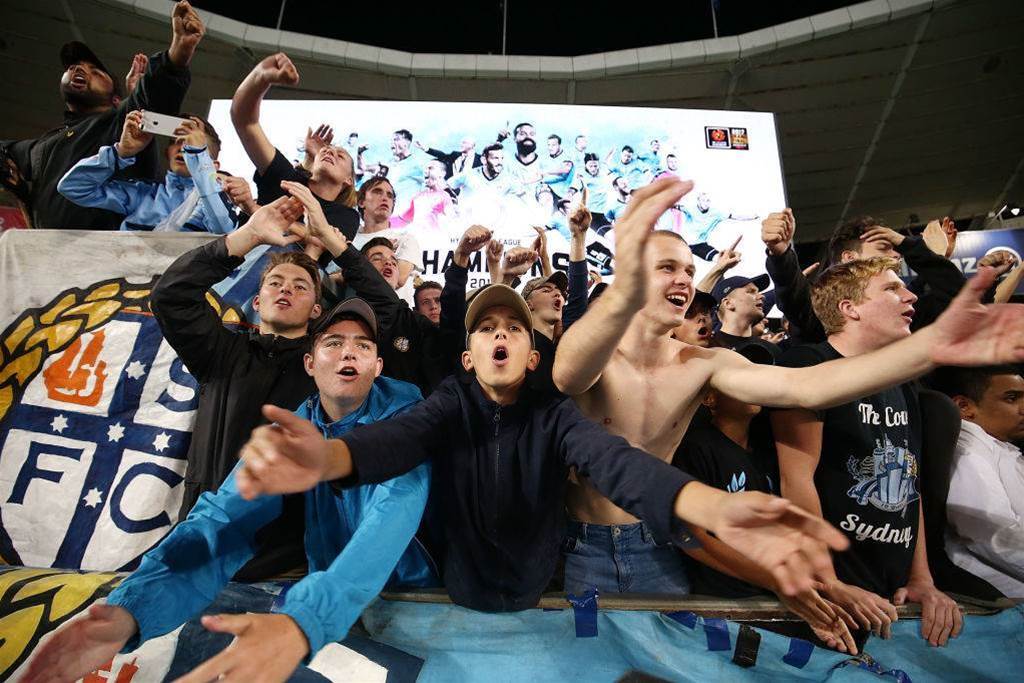 A-League fans at Sydney FC
Salary cap review
As it stands, the CBA states clubs can spend on marquees as they need to, but for their squad of players the salary cap is at $3.2m (expansion clubs have $3.6m and additional PDP funding). 
A-League clubs must spend at least the salary floor at $2.88m (90% of the cap). 
This cap has largely been funded by the broadcast deal which has given clubs around $800,000 each quarter. 
Pros: Some argue scrapping it will help ambitious clubs prosper rather than a ceiling on spending.
Those who argue the cap hasn't fulfilled its original justification point to the large gap between the bottom and top-placed A-League clubs, with the cap originally designed as an equalization measure as well to curb clubs from reckless spending that could jeopardize their viability. 
Cons: Potential for financial mismanagement that could lead to clubs going bust. 
Verdict: Could be tweaked to allow more financial freedom, but financial safeguards need to be put in place so clubs don't go bust. 
Will it happen? 60% chance 
Visa players capped at five
The visa cap has largely been a success to date. 
Pros: The quality of players such as Serbian Milos Ninkovic, Spaniard Diego Castro, and German Thomas Broich has given the league a huge lift in quality. 
And with the market bottoming out in Europe, better quality players may be available to fit under the cap while maintaining a balance between local and visa players. 
Some are even calling for a lift in the number of marquees rather than a cap. 
Cons: Less opportunity for local talent and fewer chances to learn from other football cultures and star players. 
Verdict: Five has worked well, but more would not benefit the game broadly. 
Will it happen? 90% chance 
Copyright ©FTBL All rights reserved.