How to train like an Australian champion of the pool.
"I don't focus on my diet too much. When I'm racing I don't think about what I'm eating, and when I'm training hard it doesn't matter what I'm eating! When we're training hard we need a lot of calories, so we tend to carry a bit of extra weight during those times. When we move into our taper phase – into our 'zone' – it seems to just fall off. I'm not big on dieting or anything like that. I know the foods I should and shouldn't be eating and I go from there."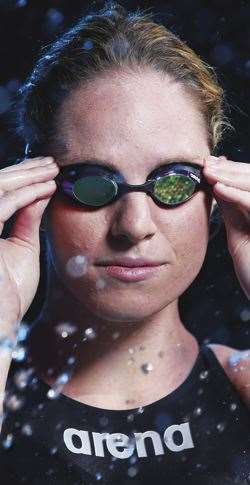 Cometh the Hour ...
"On race day, we assemble in the marshalling room, then move on to the 'cool room' – that little room where you see us sitting and waiting. When we're in the cool room everyone really keeps to themselves and focuses on their own preparation. Not a lot of talking goes on. There are no real mind games being played, or anything like that. Everyone knows what they need to do and they're focussing on that. Sometimes I'll talk a bit, but it really depends on my mood."
Fight or Flight
"After the Delhi Commonwealth Games, there was a bit of talk about my racing load (she competed in eight events – medalling in all of them). But I really enjoy racing so I find it easy to do a lot of events. When I was little I always raced heaps of different events so ... I guess it's just what I do! To be honest, it's nice to have plenty on my plate.
"I don't really do any special mental preparation for a big meet. I do a lot of racing throughout the year so I don't feel like I need to prepare mentally. To me, racing just comes naturally. At the end of a week of competition, however, I normally sit back and say: 'Wow! I'm absolutely exhausted ... ' It suddenly hits me."
Maintain the Rage
"Some people retire from swimming because of injury or because they can't find the motivation any longer. These decisions, of course, rely entirely on the individual. Personally, I'm just going to keep going until I feel like I can't do it anymore. I started swimming at a really young age (Seebohm won her first national title at age 14) but I've been really lucky with injury. I rolled my ankle at the start of the year. That was pretty painful, but it wasn't even swimming related, so... Motivation-wise there have been times where I think, 'Oh, why am I doing this?' I just have to remind myself why I want to swim, what I want to achieve. Usually I'm pretty good. I know what I want to get out of my swimming and I know I haven't achieved that yet. I'm just going to keep swimming until I do."
– Aaron Scott
Photos by Getty Images