One day soon, Australian football might want to thank Carlo Ancelotti's former right-hand man Paul Clement.
NOOSA ADVENTURE AND GOSFORD STINT
He began playing for Noosa Lions but his innate ability to coach players was soon seen, and he began coaching Queensland's elite juniors (he'd coach Josh Nisbet, currently Mariners, and Henry Hore, now at Perth Glory).
"That was when I rediscovered my love for football, at Noosa Lions," Cahn recalled.
He became the first team coach at Noosa aged just 25 ("I've always been younger than many of my players!").
Under Cahn, the Lions fell one round short of the FFA Cup Round of 32 in 2015.
Fortuitously, though, through a contact at an A-License coaching course, Cahn got an interview and began working for the Mariners.
His career was kicking into gear. It gave him a good insight into the top level in this country.
Working as Mariners' youth team coach and head of the performance phase in 2016 and 2017, it gave him the belief he won't be out of this depth on the big stage.
"I began working with the first team too. It was a difficult time at the club but a good learning curve.
"I enjoyed it, I gained a lot of confidence after seeing the level that the majority of the A-League was at and I knew it was possible to get there very quickly and exceed it.
"And I built long-lasting relationships with players. Some of the younger players, some people questioned me about them, but now they're showing their value in the A-League, like Lachy Wales, Josh Nisbet and Peter Kekeris.
"These were players who I was told by some people in the organization to not waste my time with. They're not going to make it.
"So it's nice to see them go on and that I had a part to play in that."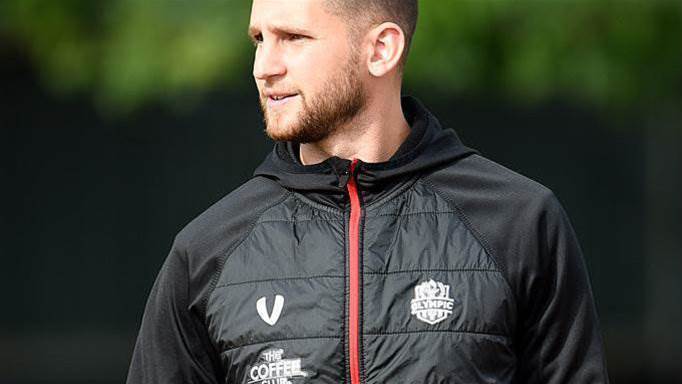 Ben Cahn, manager of Olympic FC
Cahn left Gosford due to  a "difference of beliefs in the future direction of the club and to take the opportunity at Olympic FC."
Read into that what you will, but he took that opportunity with both hands.
Last season, he turned the Brisbane club around in the QLD NPL.
Olympic finished second in the league and made the grand final. Not a bad first season.
And with some big names in his squad, including former A-League championship winner with Roar and former Socceroo Shane Stefanutto, plus ex-A-League talent in Alex Smith and Matt Mundy, he showed he can get the best out of big names as well as his NPL boys.
Cahn's now signed on for 2019 at Olympic FC as their full-time coach. He is in at 10 am each weekday and leaves after the evening training session.
He may only have the players for maximum six hours a week, but he's set up the culture and environment.
"I say to the players, the only difference between us and a professional club is the time we spend together."
Cahn's philosophy is what you'd expect from a modern-day coach.
"How you manage your people is very important. I'm very people and relationship driven," he said.
"It's impossible to get buy-in on any tactical ideas however good they are if you haven't got the trust and respect of the players and staff.
"I take a lot of care that the relationships within the environment are positive and effective for the team.
"But I like to innovate too."
This includes manual entry of data analysis rather than being able to use, for example, Opta Pro. The club's analyst works very closely with Cahn on a shoestring budget.
Copyright ©FTBL All rights reserved.