Fans have spoken loud and clear on how they feel about the A-League and its future in the massive BIG Australian FTBL Survey 2019.
The best stadium was unsurprisingly named as Melbourne's AAMI Park, with Coopers in Adelaide close behind, while the worst was overwhelmingly Western Sydney Wanderers' temporary home at Spotless Stadium in Sydney's Homebush. Its neighbouring ANZ Stadium was its only rival for the title...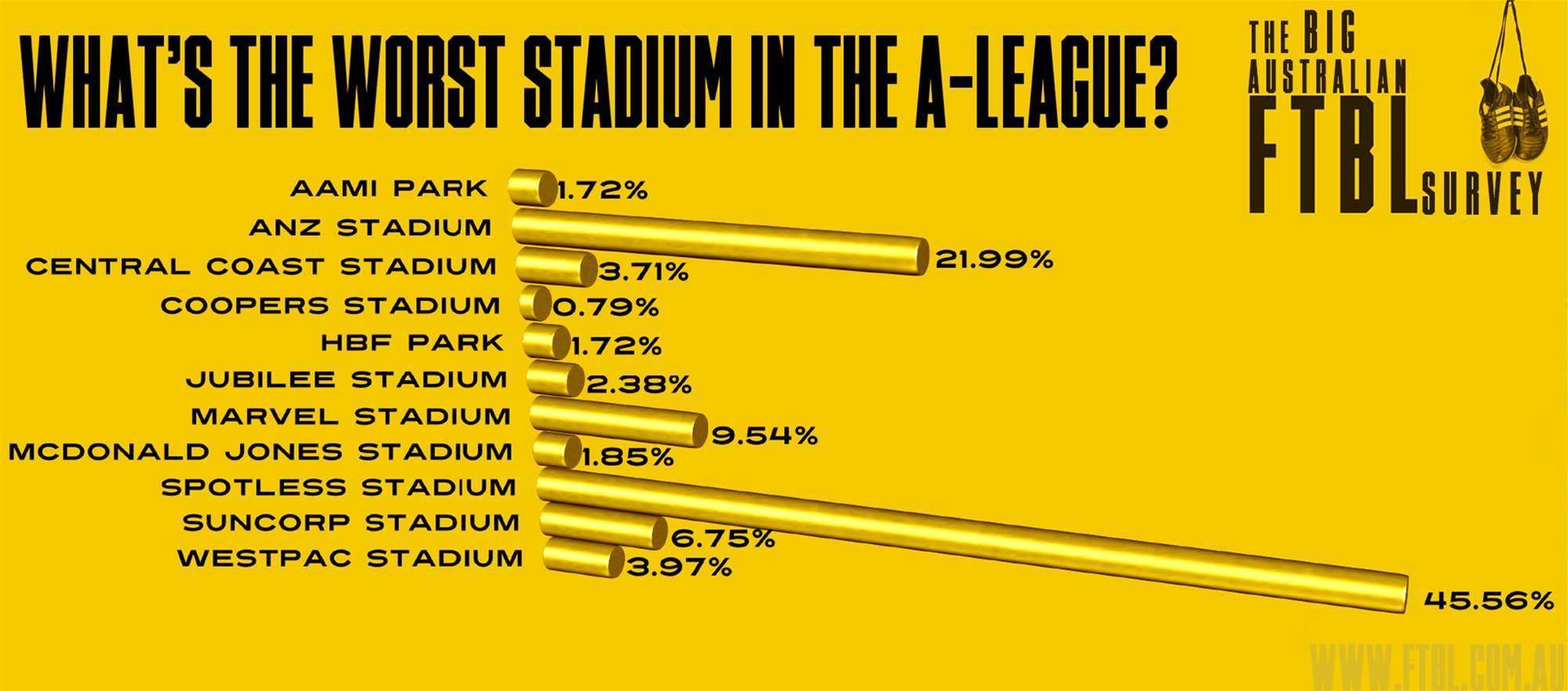 The best weekend kick-off times for the A-League were said to be 7pm on Saturday with 36.42 percent of the vote and 5pm close behind on 23.18 percent. 7.30pm on Friday was the only other close contender, on 12.85%, although a few traditionalists still backed 3pm on Saturday (7.15 percent)!
The worst A-League kick off time was definitely 9pm on a Sunday, winning almost 40 percent of the vote, with 7pm on Sunday not too far behind on 17.88 percent. Curiously, 8pm on Sunday was less harshly judged – and 7.30pm on a Friday was almost as UNPOPULAR (5.7 percent) as it had been popular in the best kick-off time.
Ticket cost was the number one complaint among fans as the reason they don't go to more games, but football quality and the cost of food at stadiums were strong reasons too. Public transport and parking issues were also major problems and on a par with the way A-League games are policed.
The least of the A-League's problems was fans behaviour, with just 3.79 percent concerned by it.
The biggest response though was "other" reasons - most of which were simply the time and distance involved in going to games while others cited a poor match day experience overall, covering the game day entertainment, poor stadiums and treatment by security.
On ticket prices, the sweet spot for fans is around $20, with almost 40 percent backing that price point, while another near 30 percent reckon they should be just $15. 
One in seven reckon it should be around $25, but only a few dozen people in total believed it should be any more...and one in eight want to pay just $10 a game.
Fans of clubs were split over the way they felt treated by their teams, with just 54.53 percent feeling like they were part of things, and a solid 45.47% saying they were not made to feel that way at all.
Copyright ©FTBL All rights reserved.